Our Living Room and a B.O.P. Giveaway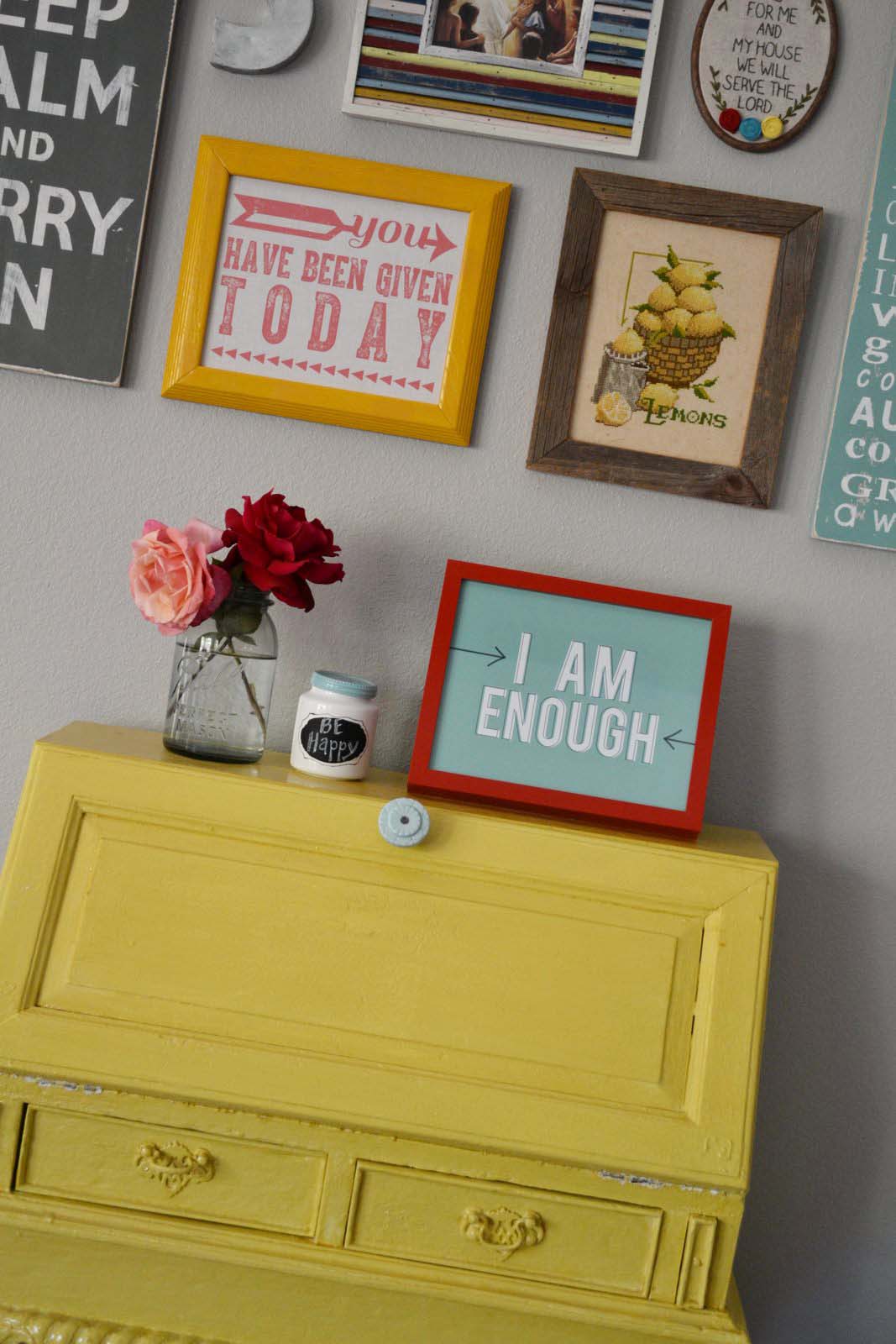 GIVEAWAY CLOSED and Winners selected:
Congrats to Natasha Flores and Denise Burridge. 
You have been sent an email with details about claiming your prize.

***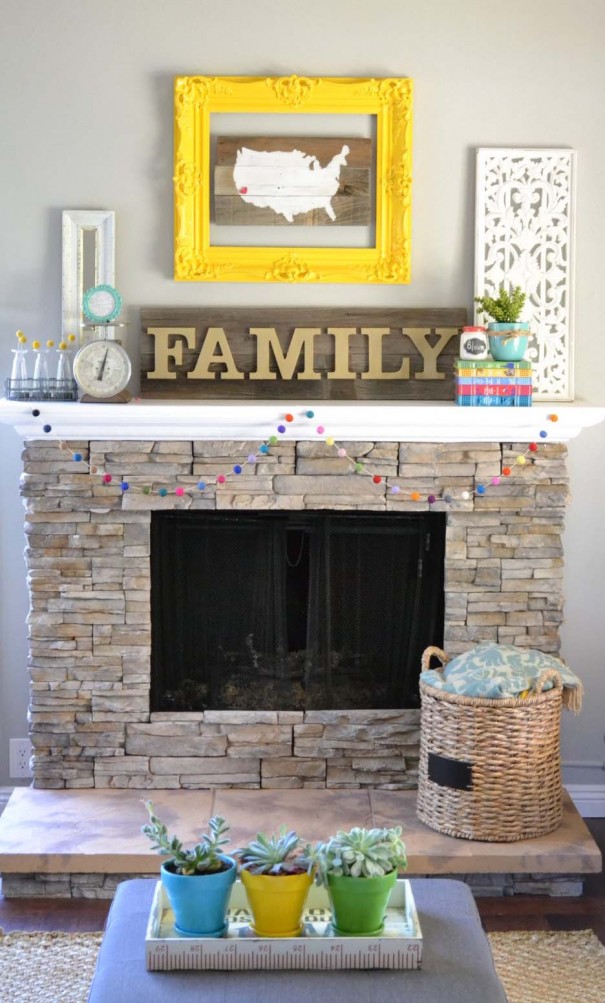 I call this my happy room. The room I go to when the boys are fast asleep. And I need to kick up my feet and rest. Or write. Or cozy up by the fire.
When we first moved into this house, I was too nervous to hang anything on the walls. This was our first "real" home together and I wanted to be absolutely certain about the nails I hammered and the items I selected to represent our family. But after weeks (which eventually turned into months) of indecision, Ben finally sat me down to have a talk.
Ben: They're just holes.
That was it. That was all he said. And it was all I needed to hear.
I was free to make mistakes. Free to change my mind.
Free to hang up whatever I felt best reflected our family at this stage of life.
And you know what?
Once I stopped thinking, and just started hanging–I found that the results represented us more accurately than if I would have approached the project with a detailed set of plans.  Because we're not a detailed set of plans kind of family. We're a bit whimsical. We're a bit neutral with pops of color. We're happy and optimistic. And I think this room captures that now.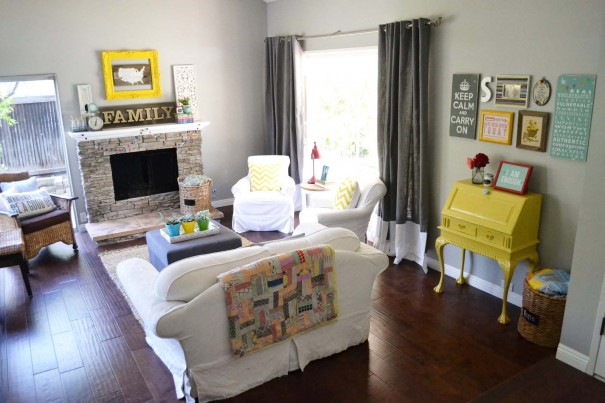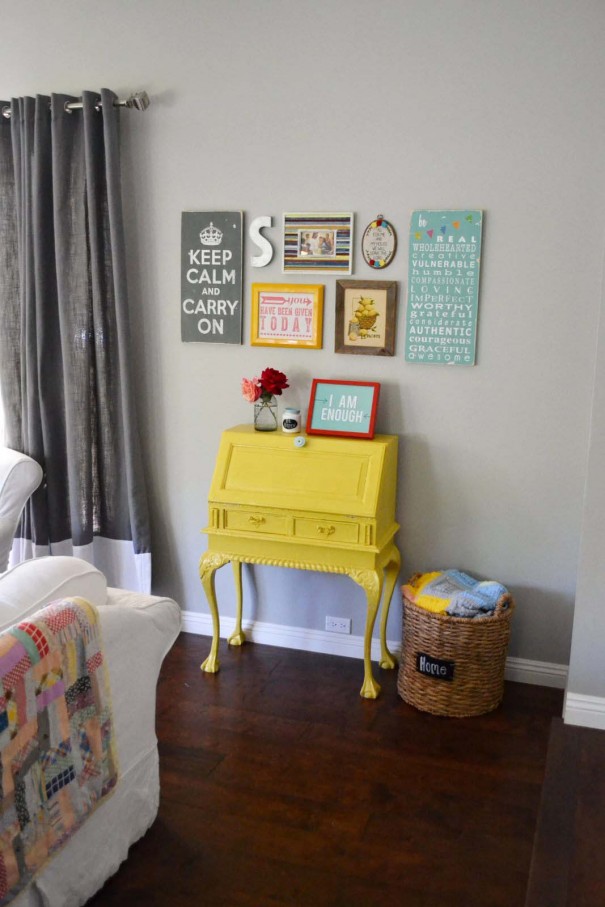 "Keep Calm and Carry On" sign and "Be Real, Be Wholehearted" sign c/o: Barn Owl Primitives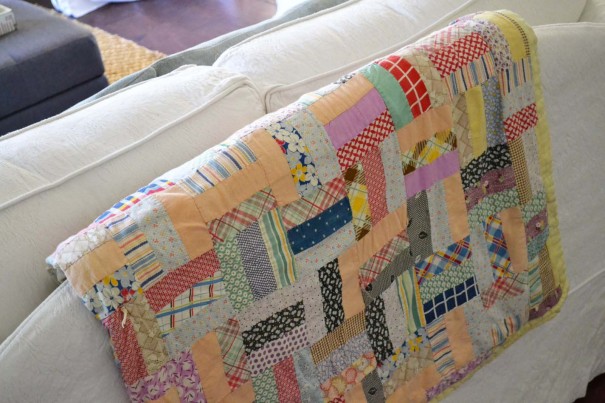 This is one of the fab, vintage quilts I snagged while at Whatever Craft Weekend.
This little collage wall is extra special to me.  For me, words are art. They have power. And the words found on this wall are the words I hope will be etched in the hearts of my boys forever. These are the words I whisper into their ears as they drift off to sleep each night. These are the words I repeat in our nighttime prayers. These are the words I will remind them of when faced with important life lessons and decisions. These are the words that matter in our home–and I want there to be no doubts about that.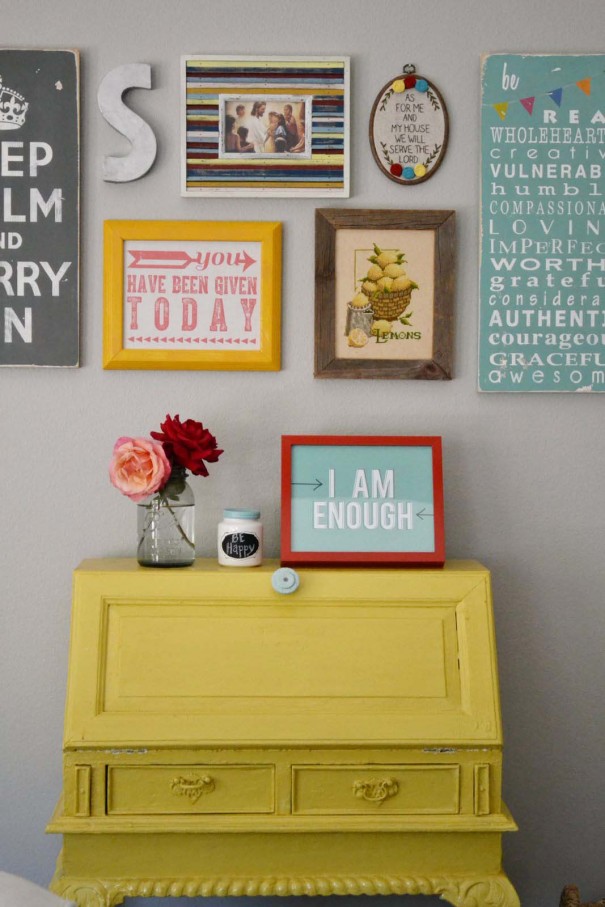 You Have Been Given Today print c/o: Katy Girl.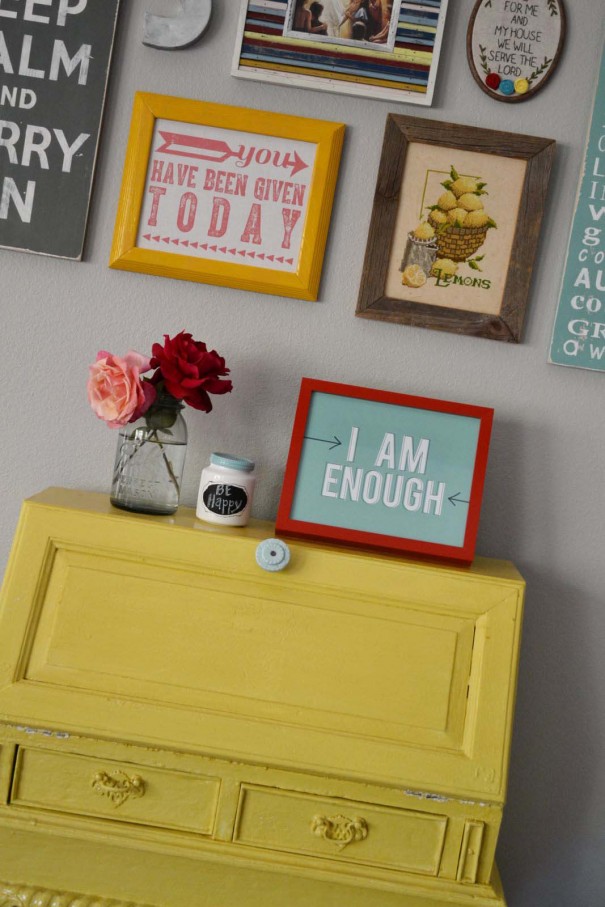 "I Am Enough" made for me by this girl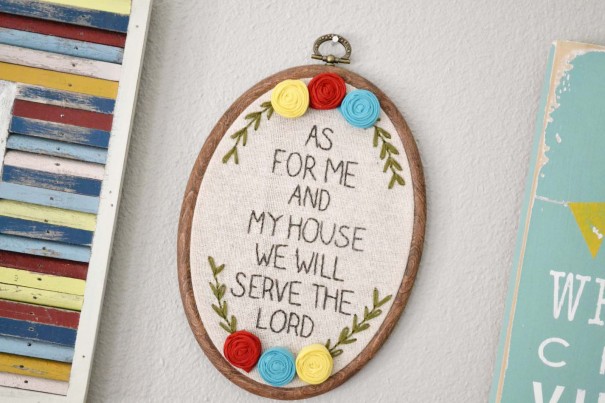 Hoop Art c/o: Take the Cannoli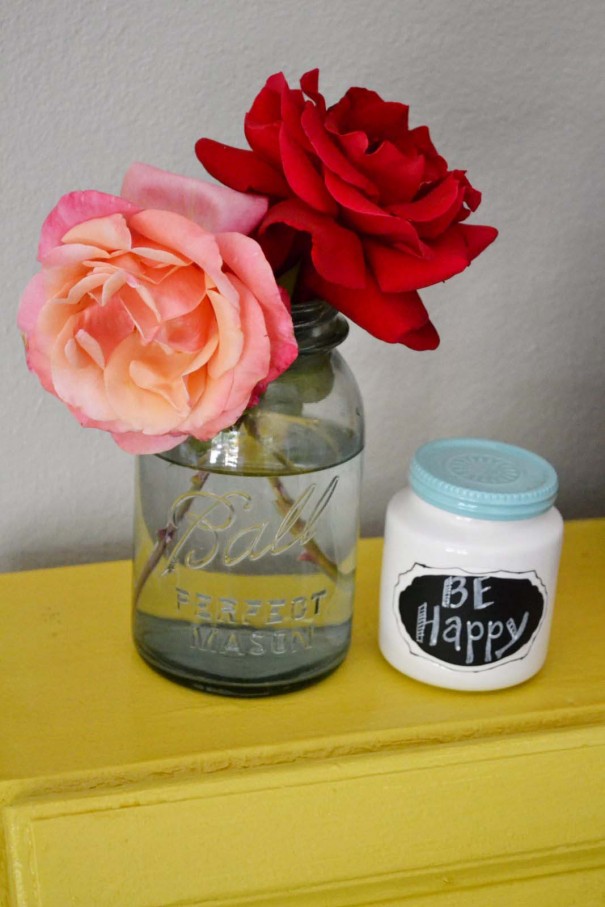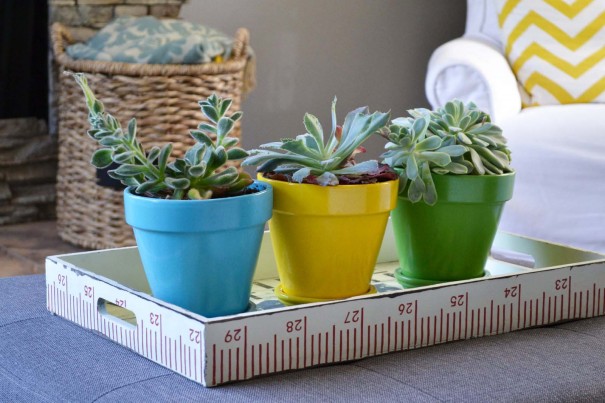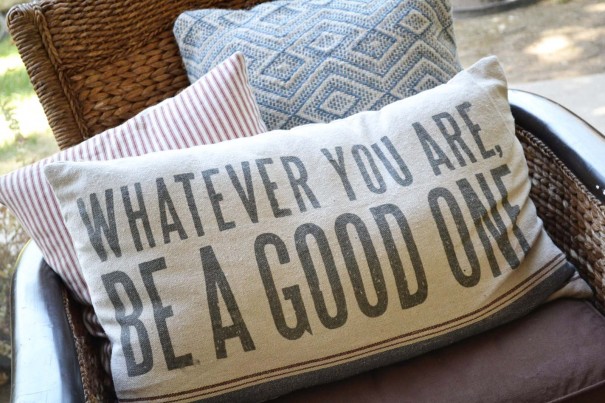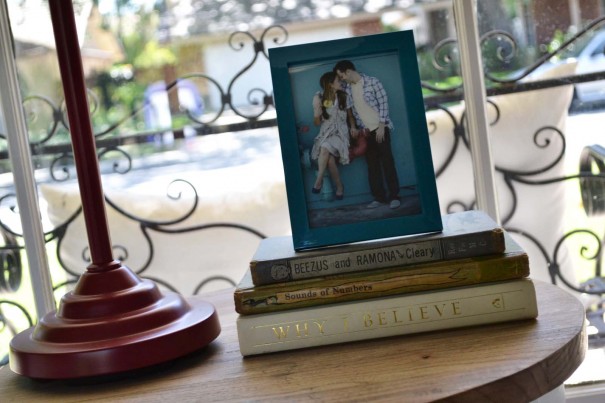 A few weeks back, Ben and I lay in bed telling stories about our childhood.
He began telling me a story about some family home evening gone awry.
And then another story about an impromptu family vacation to Mt. Rushmore.
And then a story about a road trip he and his dad took to visit colleges.
Several stories, some good laughs, a few sentimental head nods later…
and suddenly I found myself overwhelmed with appreciation.
Appreciation for the sacrifices made and the love freely given by two parents who love Ben oh-so-much.
Me: What about your family motto growing up?
Ben: What about it?
When Ben was growing up, his four siblings and parents sat down around the table one evening and came up with a motto–something to hold them all together, something to serve as a reminder of what really matters in the face of life's obstacles and oppositions.
Me: I think that's a really special thing your family did. And I think we should do it too. For the boys, and for us.
So we stayed awake a little while longer. And we thought long and hard.
I pulled out my trusty notepad and a pencil.
Then we came up with a list of mottos that touched our hearts.
Some of them were deep.
Some made us laugh.
Some were scripture.
But when we found the ONE, well…we just knew.
Be Awesome Today.
In our home, "awesome" doesn't mean "being cool".
It means making good choices.
Choosing love.
And kindess.
And optimism.
And compassion.
And charity.
Being awesome doesn't mean being perfect.
It simply means,
be the best version of yourself.
Today.
And everyday.
I got in touch with my pal, Kristi of Barn Owl Primitives the next day and I told her my idea.
She got to work on yet another special treasure for my home.
When it arrived, I knew exactly where it was going to hang.
There was no anxiety about nailing these holes in the wall.
Now when you visit my home,
you'll find "Be Awesome Today" hung right above our front door…
And in the morning,
when things are pure chaos,
and lunches are being thrown together,
and we're frantically looking for a matching sock,
and the Disney Chanel is blaring in the background..
On these mornings and every morning,
as Ben leaves to take our son to school,
I quickly wrap my arms around Wesley's tiny toddler body,
pull him in close, ruffle his hair…and whisper in his ear:
Be Awesome Today buddy, be awesome.
And then I plant a big kiss on his lips
and trust the world to take care of my baby for the day.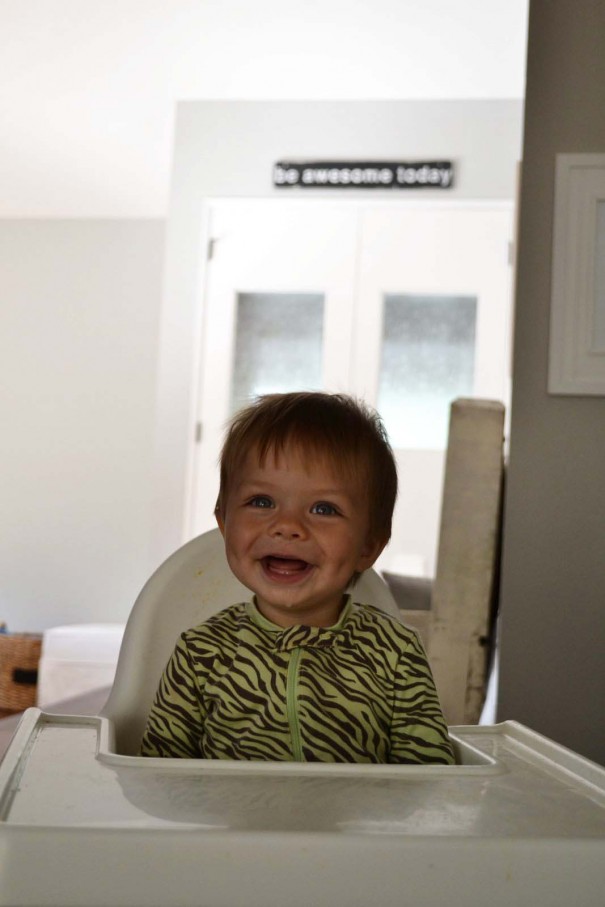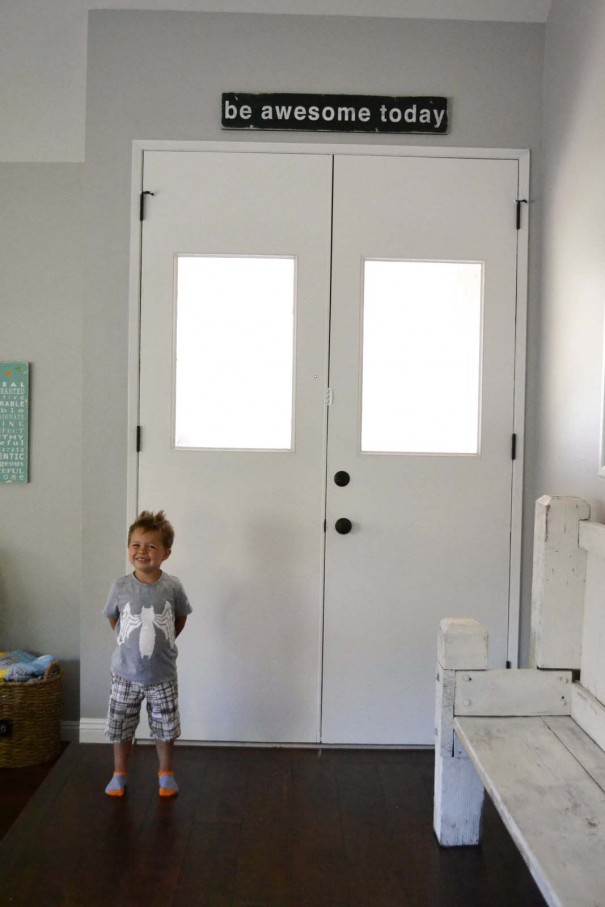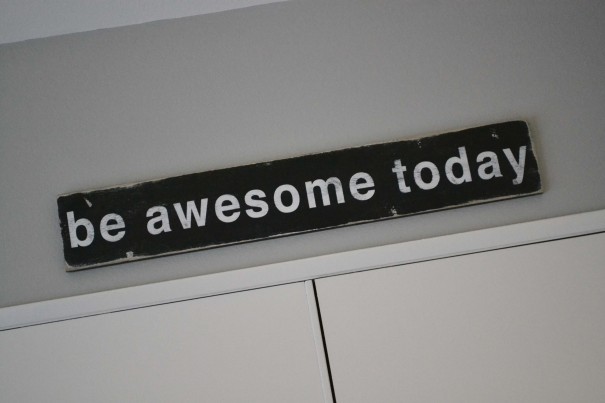 You guys, Kristi is literally one of my favorite people in the world–no exaggeration.
Some people enter your life that are just different in the best way possible.
I call them game changers.
Those people who leave footprints on your soul.
Kristi is my game changer.
THE GIVEAWAY: 
Today Kristi is giving away TWO "be awesome today" signs just like mine!
That means two of you guys have a chance to WIN a piece of love from my favorite shop ever!
To enter, leave a comment telling me what your family motto would be.
For a second entry visit the Barn Owl Primitives shop and leave a comment here telling me your favorite item.
For a bonus entry, tweet or facebook a link to this giveaway and leave a comment with a link to your post.
*Leave a separate comment for each entry. Three total entry options.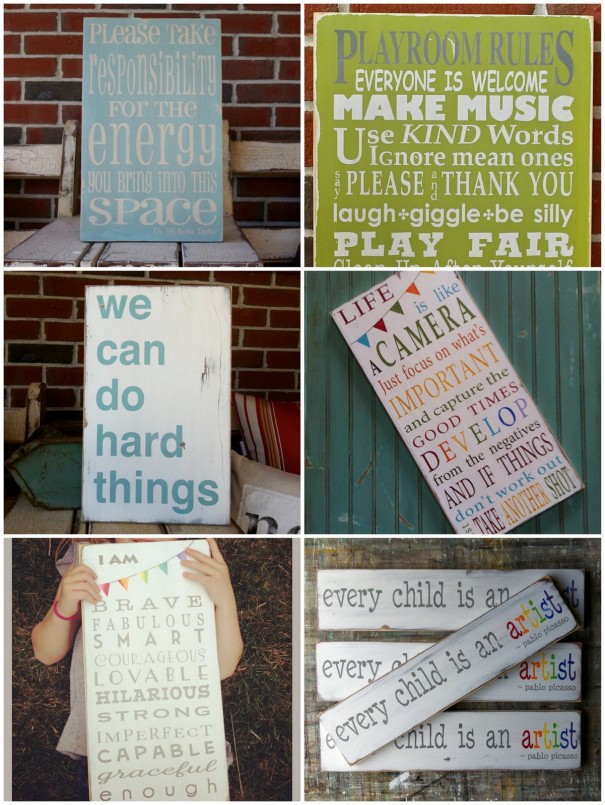 Connect with Barn Owl Primitives here: