Our Kitchen Remodel With Paint: The Before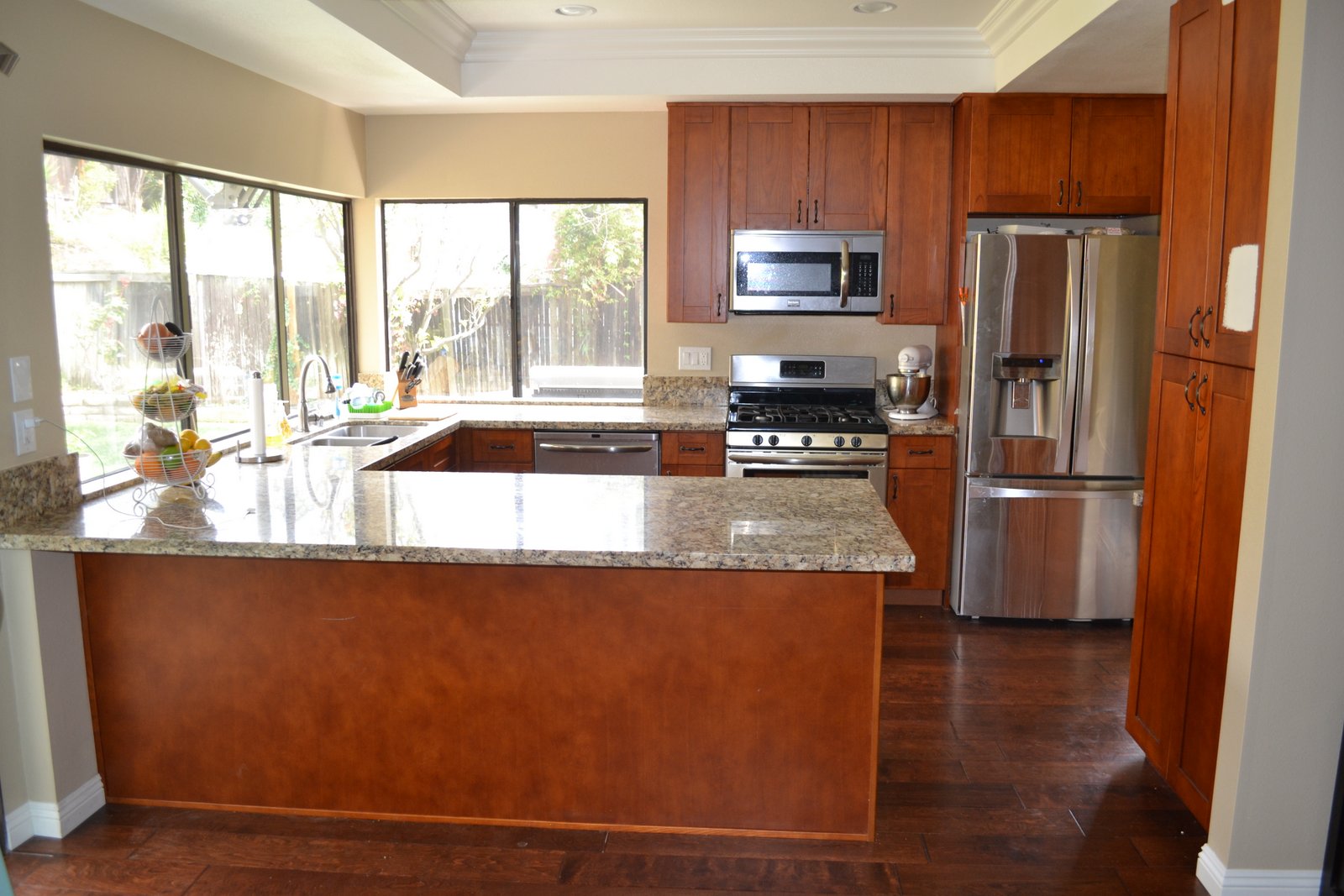 We moved into our first home in November.  Most of the houses in our town are old, and ours is no exception.  However, we were excited because most of our house had been upgraded by the seller just before we moved in.  For the first time in my adult life, I have a kitchen with actual working appliances. In the past, I have used my dishwasher as extra storage, and it was 50/50 whether or not I was going to burn dinner in our 30-year-old oven. It was easy to say that I was grateful for my new kitchen, but I wasn't over the moon.  While the cupboards were beautiful, they didn't reflect our style. If you've been reading here for a while then you know that I love bright, crisp white with pops of color–a far cry from the kitchen we moved into. So even though we were nervous, and even though most people thought we were absolutely crazy–with the help of Sherwin-Williams and their color selection tools, we decided to strip down our brand new cupboards and paint them white.  Ahhhhh! Here is the beginning of our adventure: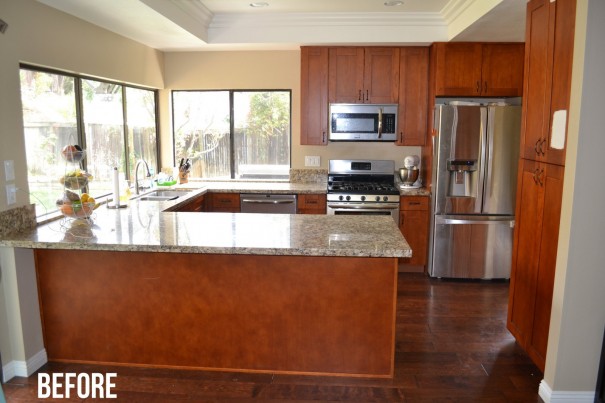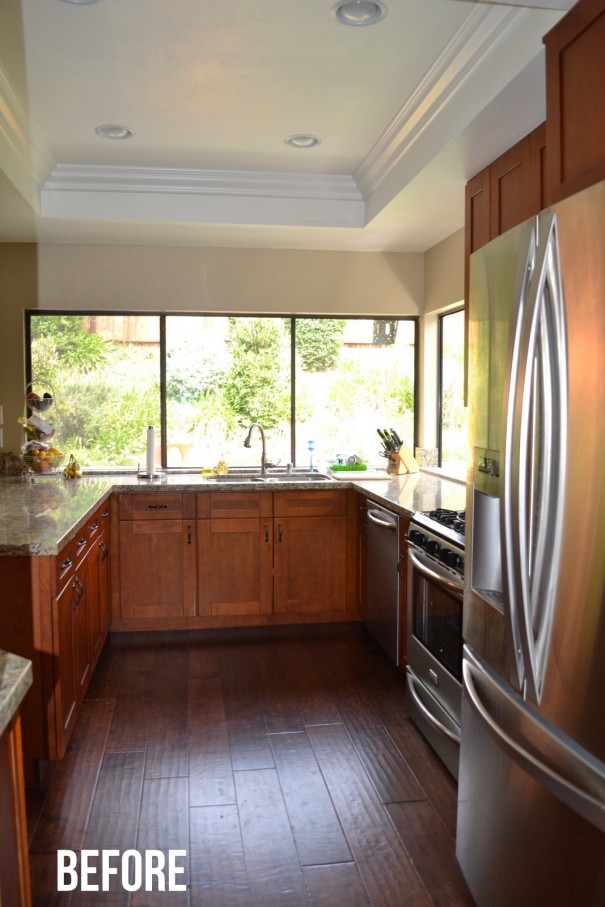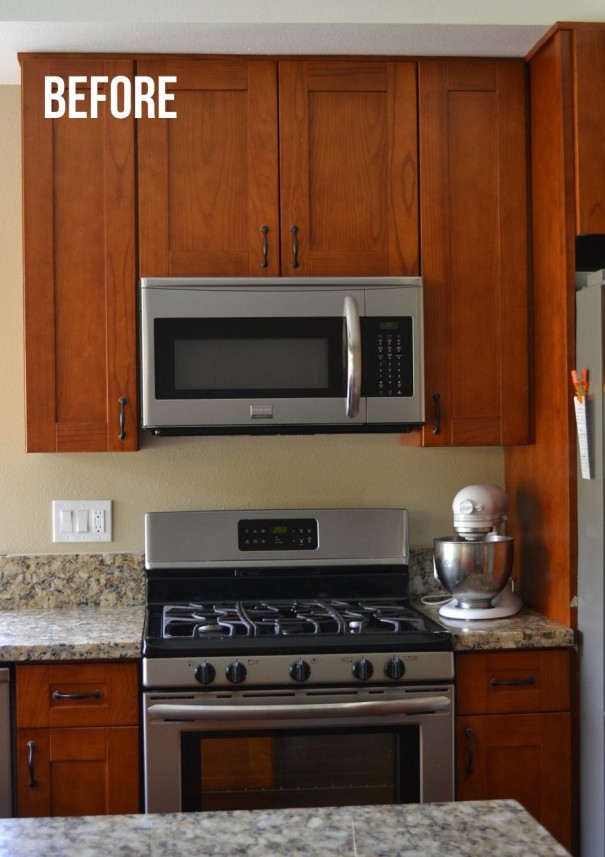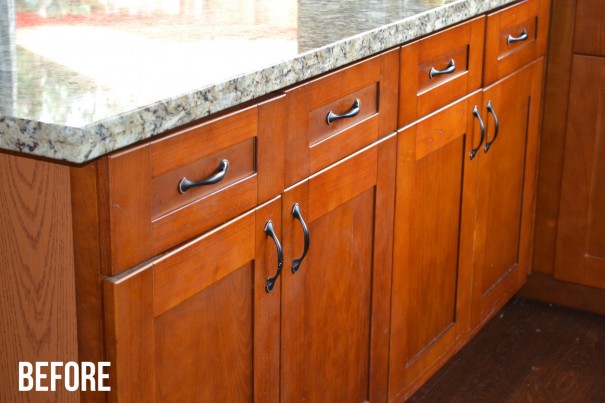 I think the hardest part about painting is actually choosing the color. Our kitchen opens up to our family room, so, in addition to painting the cabinets, I knew we were going to paint the walls in both rooms as well.  The previous wall and cabinet color were very "warm," while my furniture and decor were "cool." Everything seemed to be clashing. I needed help selecting a "cool" white for the cabinets and a "cool" wall color to help tie in all my current decor. The way I see it–painting is cheaper than buying all new furniture!  I knew I wanted to go with some shade of gray for the walls, but Sherwin-Williams has so many options that I had no idea where to start. So I turned to their color selection tools: ColorSnap Studio™ for iPad and Chip It!™.  The ColorSnap Studio for iPad app is really neat because it offers all the ease-of-use of a tablet, as well as pinch, zoom and swipe features to interact with images of your own room, or one in the app. I was able to explore over 1,500 colors, get color inspiration from a photo and even virtually paint my wall with a swipe of a finger.
Here is a screenshot of one of the many palettes I created using a picture I liked online: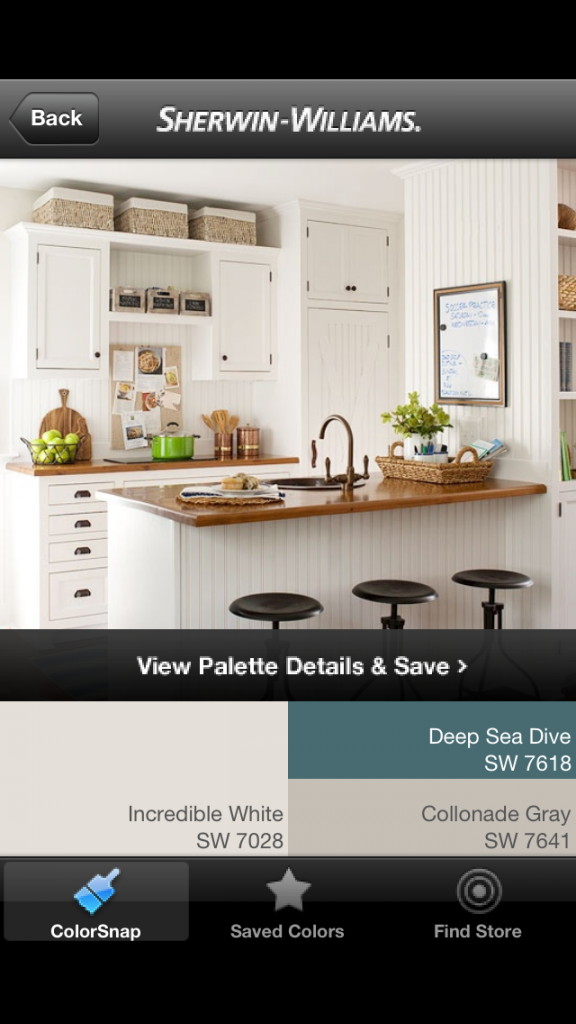 The other tool I spent hours playing with was Chip It!™.  Once you download it to your computer, it places a little "Chip It!" button on your browser toolbar (similar to the "pin it" button).  Chip It! by Sherwin-Williams is an interactive tool you can use to instantly turn any image into a paint palette. Select a picture and Chip It! will give you up to ten Sherwin-Williams colors that match.  Anytime you come across a photo on the internet that has colors that inspire you, you can click "Chip It!" and one of these color boards will be created for you.  Be careful, it's addicting. Here is a sample of one of the many color boards I created with Chip It!.  It does the hard part for you.  No more spending hours trying to place colors together and debating on whether or not they actually match.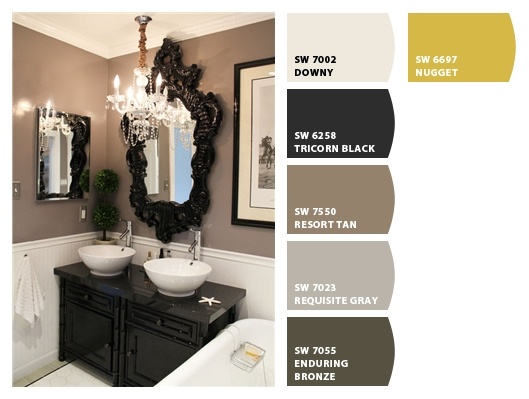 After playing with these tools for a few days, I had a pretty good idea of the direction I was going in. I headed to the Sherwin-Williams shop down the street from my house to get samples. I narrowed down to three grays for the walls and a white for the cabinets: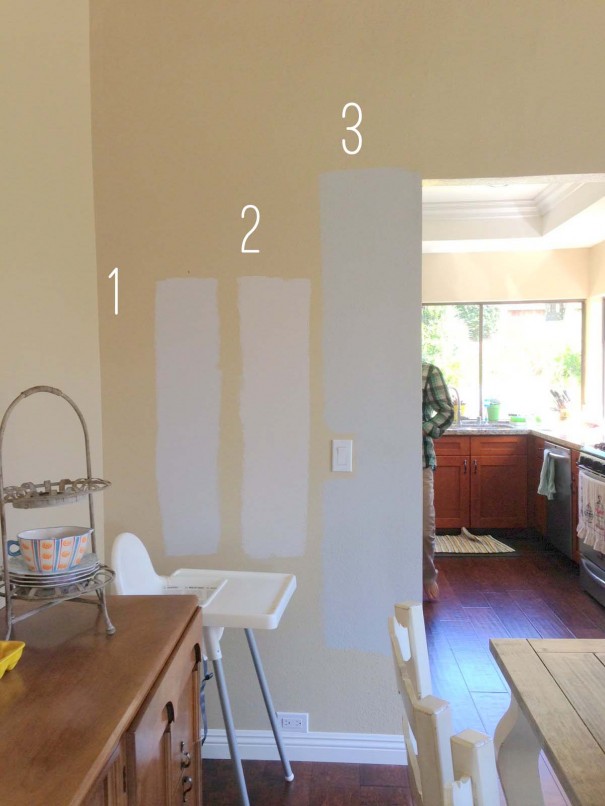 1. Grayish (SW 6001) 2. Pediment (SW 7634) 3. Light French Gray (SW 0055)
After testing the grays on our walls, we decided on Light French Gray.
By the way, did you know that there are like a bazillion different shades of white? Because I had no idea until I started this little project. After using ColorSnap Studio for iPad over a dozen times, it became obvious that our favorite shade of white was Snowbound (SW 7004)–very white, but not too bright.
Now that we had our colors selected, we were ready to get started on the painting. Other than an impromptu bedroom painting session, Ben and I have NO painting experience–let alone any expertise on resurfacing kitchen cabinets.  So we brought in some professional help to show us the ropes and to make sure we were happy with the results.
Here is the breakdown of the paint we selected:
For all the colors we selected Duration Home® (read the description and you'll know why): With Duration Home Interior Acrylic Latex paint, you'll enjoy superior durability and washability for your active home. It is ideal for high use areas like kitchens, hallways, and bathrooms. Preferred by parents with young children due to its durability and washability.
Living Room Walls: Light French Gray, satin finish
Kitchen Walls: Light French Gray, semi-gloss finish
Kitchen Ceiling: Snowfall, semi-gloss finish
Kitchen Cabinets: multi-purpose zero VOC latex primer
Kitchen Cabinets: Snowbound, semi-gloss finish
We went with the semi-gloss finish in the kitchen to make it easier to wipe down the cabinets from inevitable food ickiness and kid fingerprints. The next order of business was clearing out all of my kitchen accessories, taping off everything that we didn't want to get paint on and removing all the cabinet faces and hardware.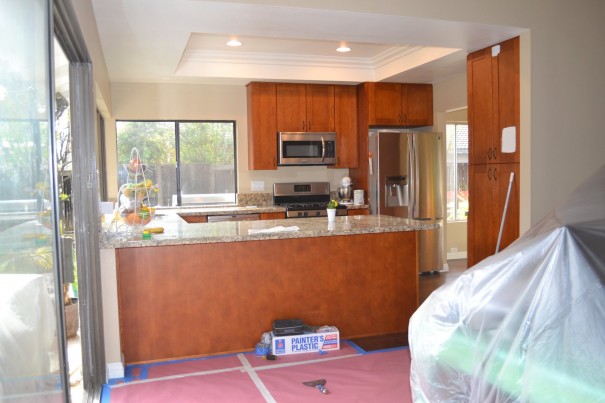 That Sherwin-Williams Painter's Plastic pictured above was a life saver–protected all my furniture and dishes from getting ruined.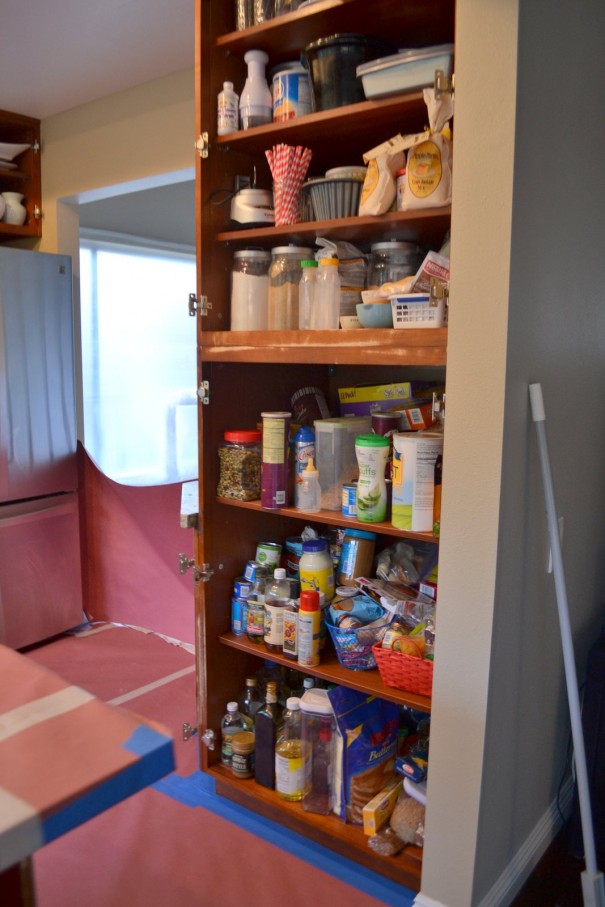 While my cabinets are always pretty chaotic, I promise this is an extreme as I was left shoving food from other drawers that we needed to remove.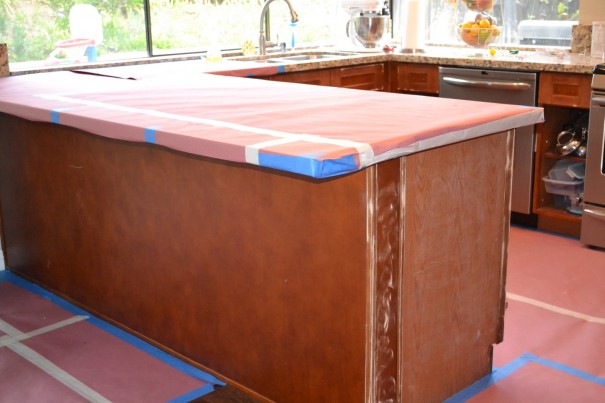 All of the cabinet surfaces were then sanded down.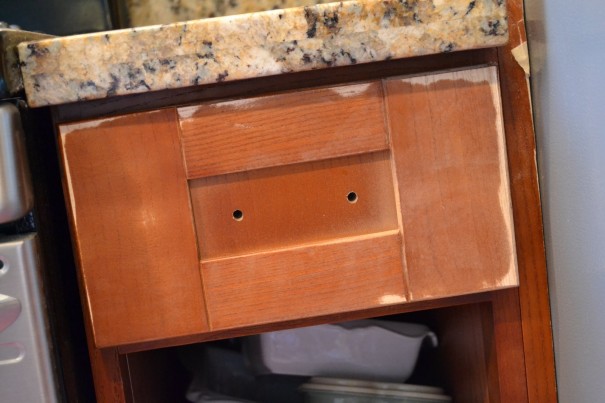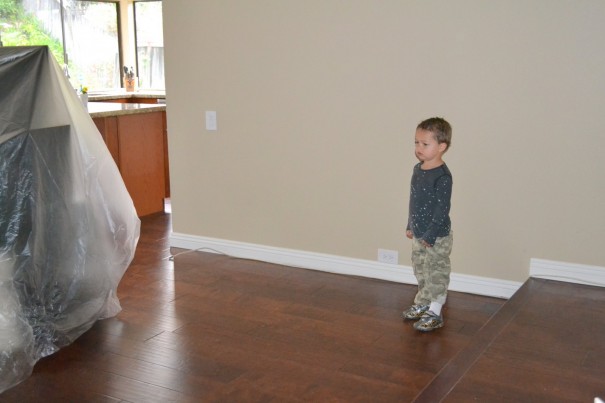 Here's Wes, super confused about what's happening. My cutie pie.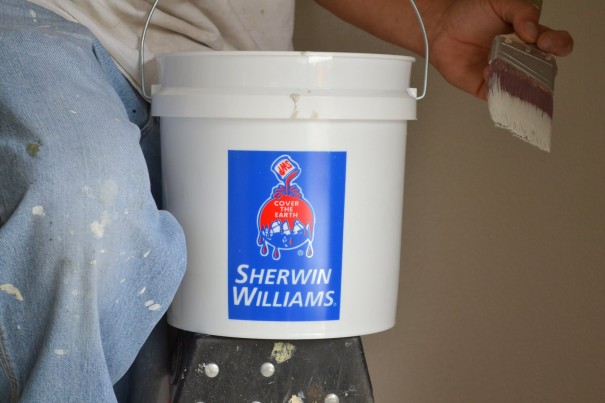 And with all that prep work done…there's only one thing left to start doing–the painting! Stay tuned for the "reveal" of our new Sherwin-Williams Snowbound kitchen! And more information on the process for the cupboards.
How do you find color inspiration for your home projects? Tell us in the comments below, and you just might win a $100 Sherwin-Williams gift card from BlogHer!
No duplicate comments.
You may receive (2) total entries by selecting from the following entry methods:
Leave a comment in response to the sweepstakes prompt on this post
Tweet (public message) about this promotion; including exactly the following unique term in your tweet message: "#SweepstakesEntry"; and leave the URL to that tweet in a comment on this post
Blog about this promotion, including a disclosure that you are receiving a sweepstakes entry in exchange for writing the blog post, and leave the URL to that post in a comment on this post
For those with no Twitter or blog, read the official rules to learn about an alternate form of entry.
This giveaway is open to US Residents age 18 or older. Winners will be selected via random draw, and will be notified by e-mail. You have 72 hours to get back to me, otherwise a new winner will be selected.
The Official Rules are available here.
This sweepstakes runs from 5/1/2013-5/19/2013.
Be sure to visit the Sherwin-Williams brand page on BlogHer.com where you can read other bloggers' reviews and find more chances to win!