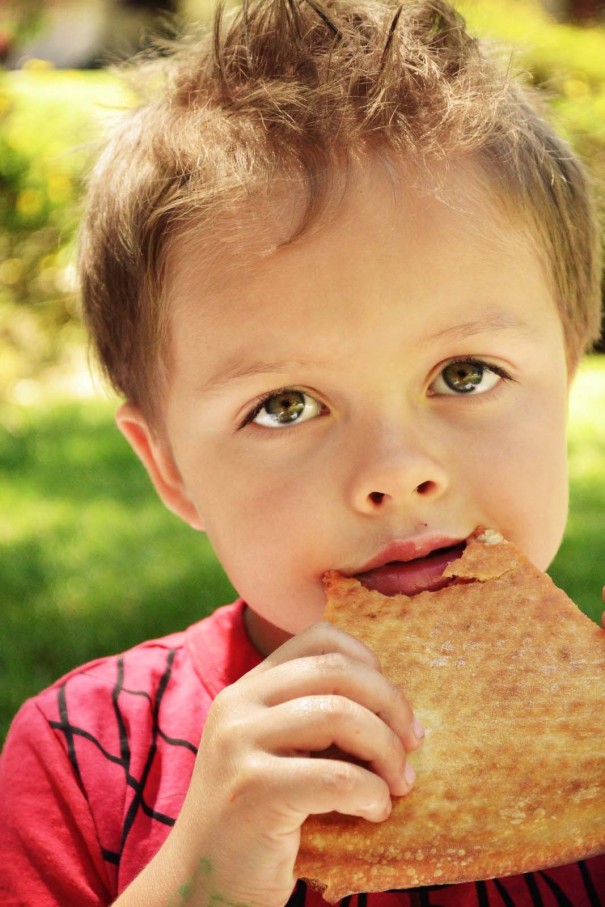 Even though his expression shows his obvious irritation with all my "picture taking", his eyes and cowlicks are melting my heart.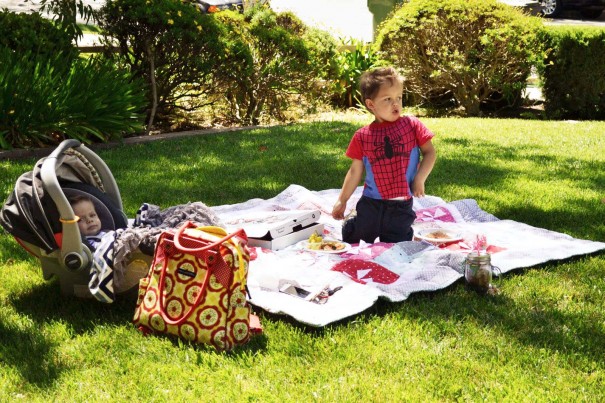 Sometimes we wear pajama shirts as regular clothes–because we choose our battles wisely.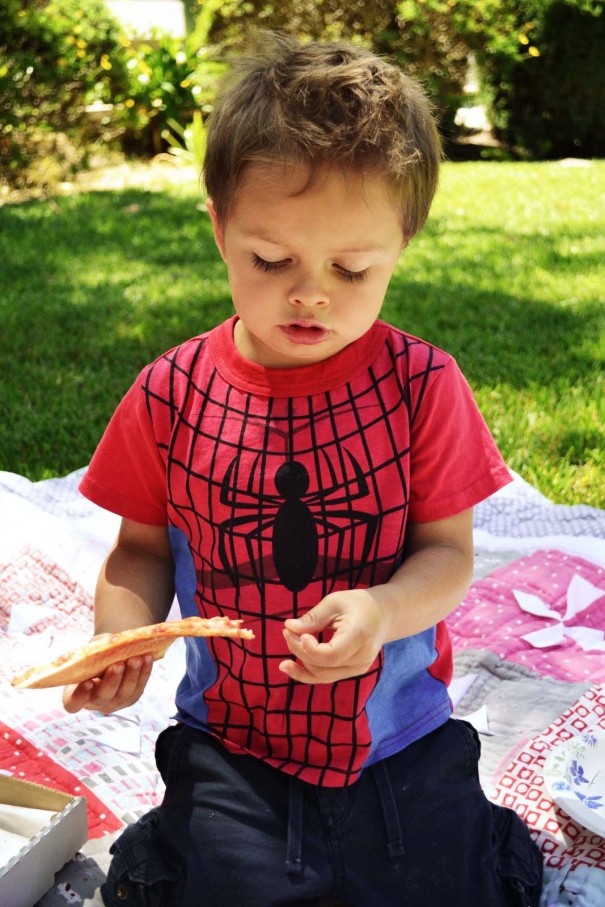 Wednesday is pizza day around these parts.  We switched things up this week, and rather than eat at the parlor, we decided to have a pizza picnic.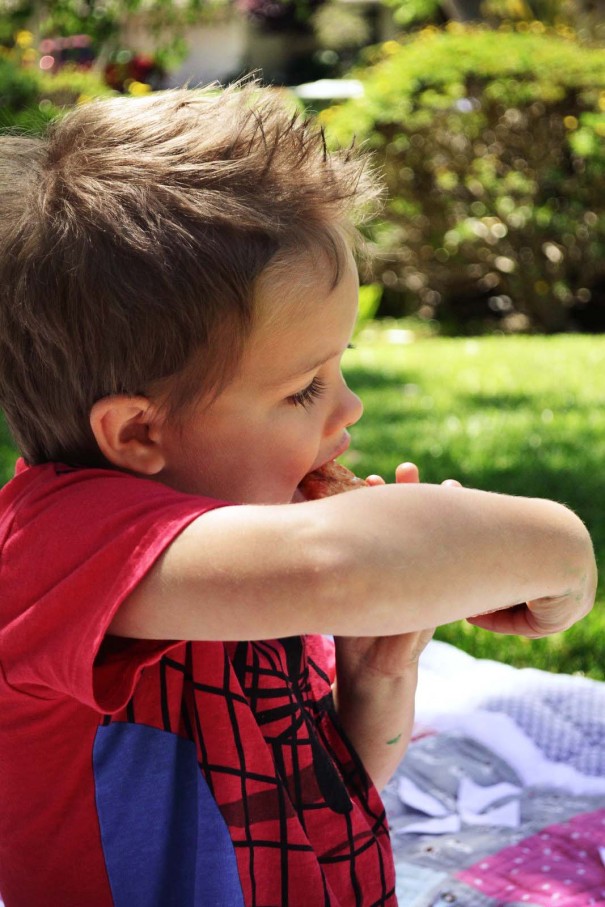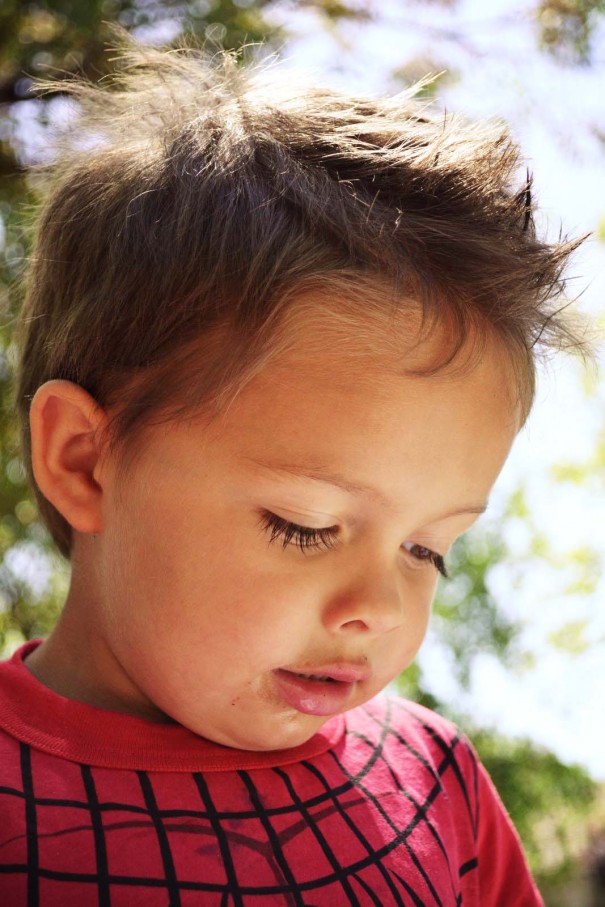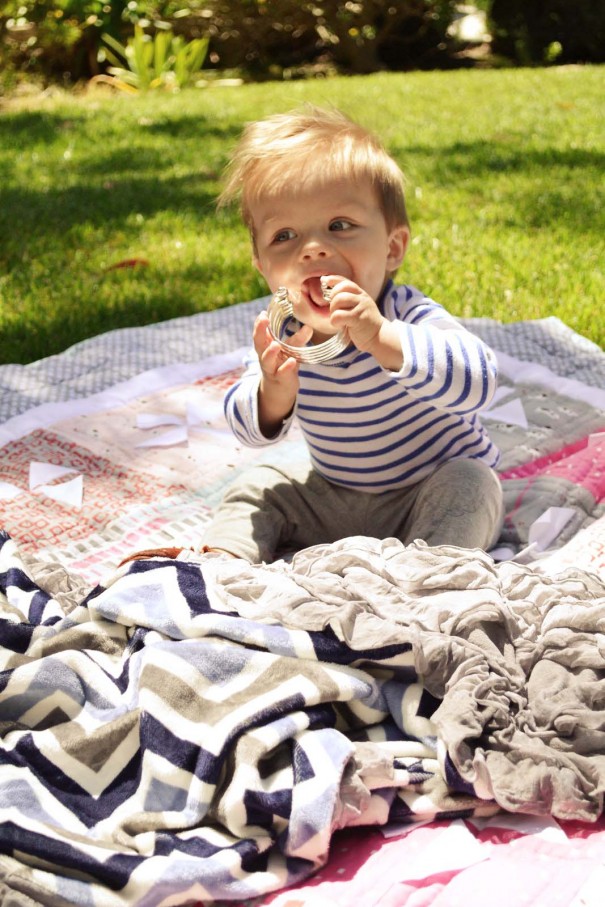 ruffle/chevron blanket c/o: Tulip Taffy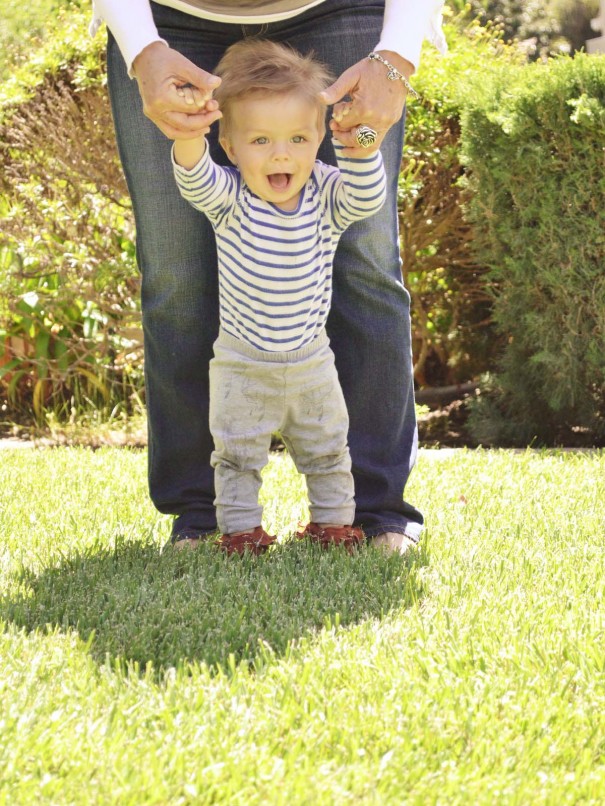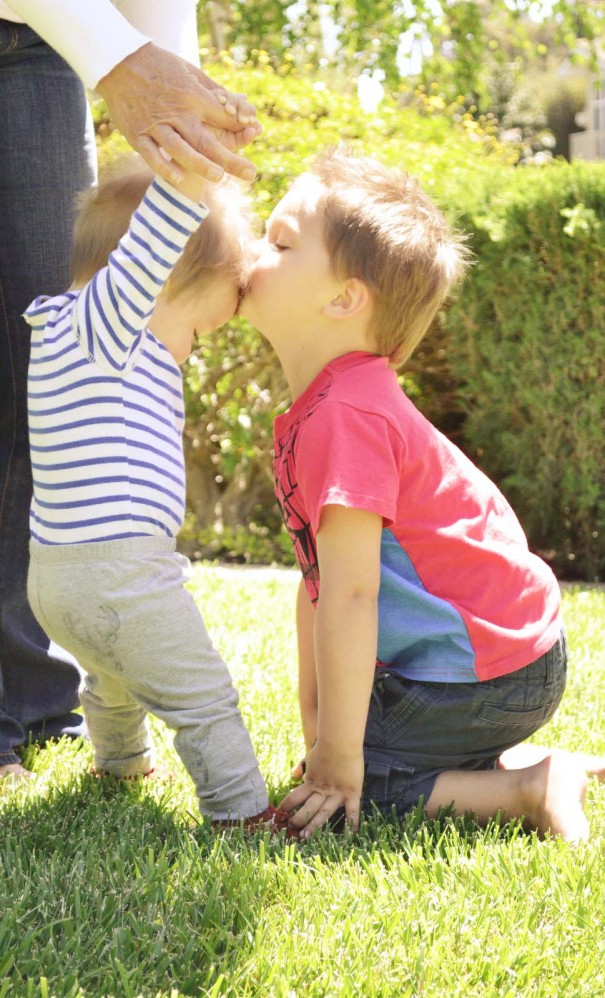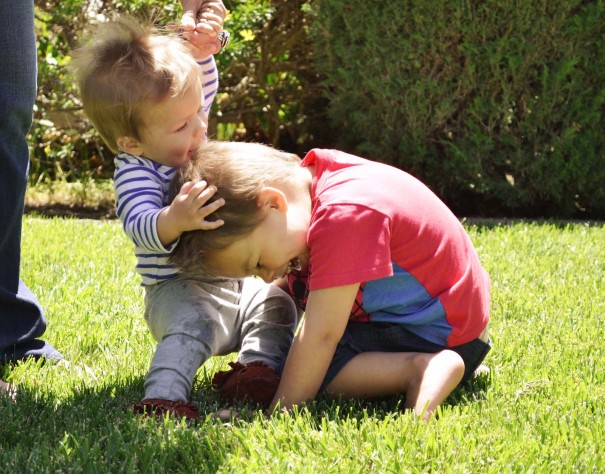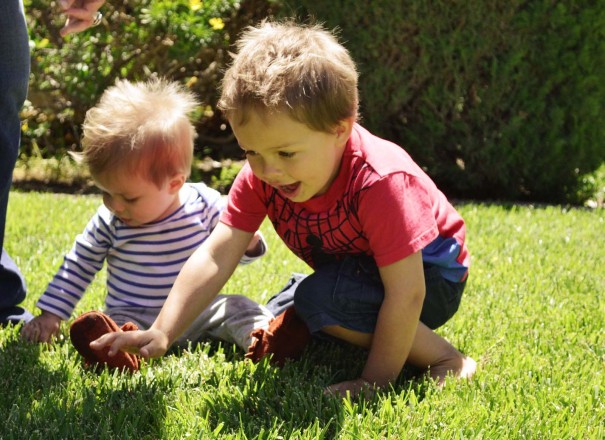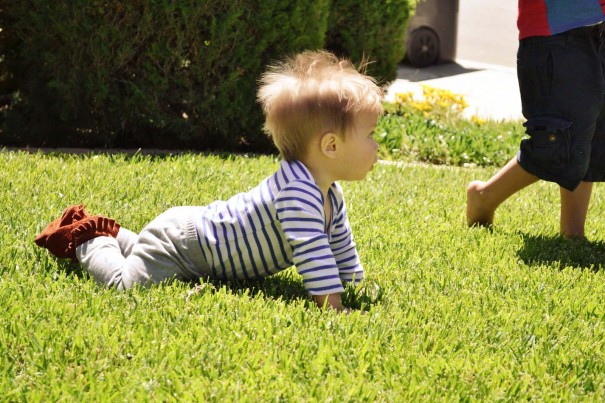 Wesley eats his pizza upside down, for whatever reason.
And I never want to forget that.
Because I know it won't be this way forever.
He won't always let the greasy cheese drip down his chin,
or wipe his hands on the grass instead of his napkin,
or insist on pepperoni pizza knowing full well that he won't take a bite until he has picked off every last one.
For now, the way he eats his pizza is a reflection of exactly who he is.
And that's something I can always count on from my Wesley–he will be exactly who he is.
Not what others think he should be, 
or pressure him to be, 
or tell him he should be
 (or tell me he should be).
Sometimes this makes my job as his Mom a lot tougher.
And sometimes I think about how much easier life could be if he would just let the world mold him a little bit.  But then I replay that thought in my mind, I hear how it sounds and I don't like it–not one bit.
Because those thoughts are a reflection of my own shame and doubt.
Not in him, but in my ability to be his mom.
It's so easy to allow perceived judgment (the kind of judgment that might not even exist, but we assume it does) make us feel inadequate.
Make us feel like we aren't enough.
It's really silly actually–when we become our own worst enemy.
But here's how it sometimes goes:
Sometimes I take what I'm most afraid of or what worries me,
and then I picture those worries and fears in the form of a conversation between those I love most—between those whose opinions I value. I imagine them discussing my shortcomings as a mother. Not berating me, or insulting me–because they are my friends and family and they love me. But I hear them questioning me…and not understanding my decisions, my choices, my way of holding us together. I take what I know to be my weaknesses, and I magnify them. Focus on them. Blame them for every challenge and heartache my children will ever have to face. Because it must be my fault, and surely everyone knows it.
I'm at a place in my life now where I can admit that those thoughts sometimes creep in, knowing full well they sound ridiculous and make me seem weak–or even (gasp) insecure. Yet, despite these negative thoughts, I'm in a good place. I'm growing.I'm seeing my weaknesses for what they really are—strengths.
My weaknesses give me compassion.
And perspective.
And authenticity.
There is no shame in having them.
Having weaknesses does NOT mean that you are weak.
Just as being sensitive does NOT mean that you are fragile.
And just as getting hurt does NOT mean that you have been broken.
So I banish those thoughts, and I focus on my job.
My job as his champion.
His cheerleader.
His mom.
As the one who must always have faith in his greatness
and in his purpose both in this world
 and in my own life.
Because there comes a point in parenthood when we realize that what matters most are those that live and grow within the four walls of our own home. We can't expect anyone else to understand our choices as a parent, nor should their opinions have weight on the value we place on an honest job well-done. All of our trenches look different. Each of our battles involve a wide range of artillery. And it would be insensitive for us to assume that the plan of attack used within our own home should be adopted by others. Just because it works for me, doesn't mean it will work for you. So when you find me ringing your doorbell, before I step through the threshold, you can rest assured that I have left all judgment at the door. My trials may be my own, but I know we're in this together.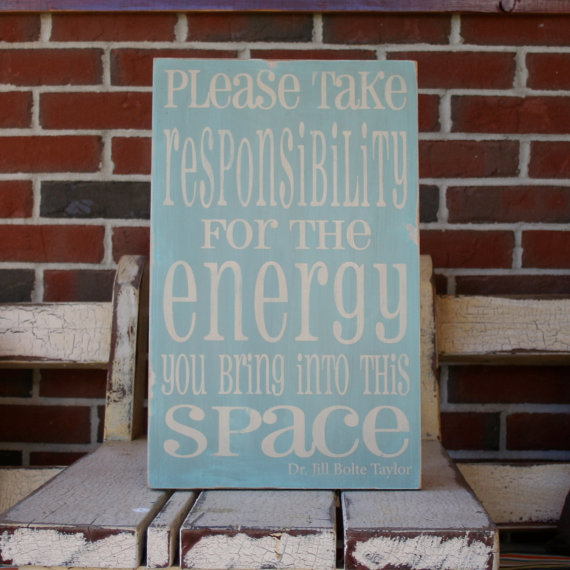 (via)