The Out To Dinner Bag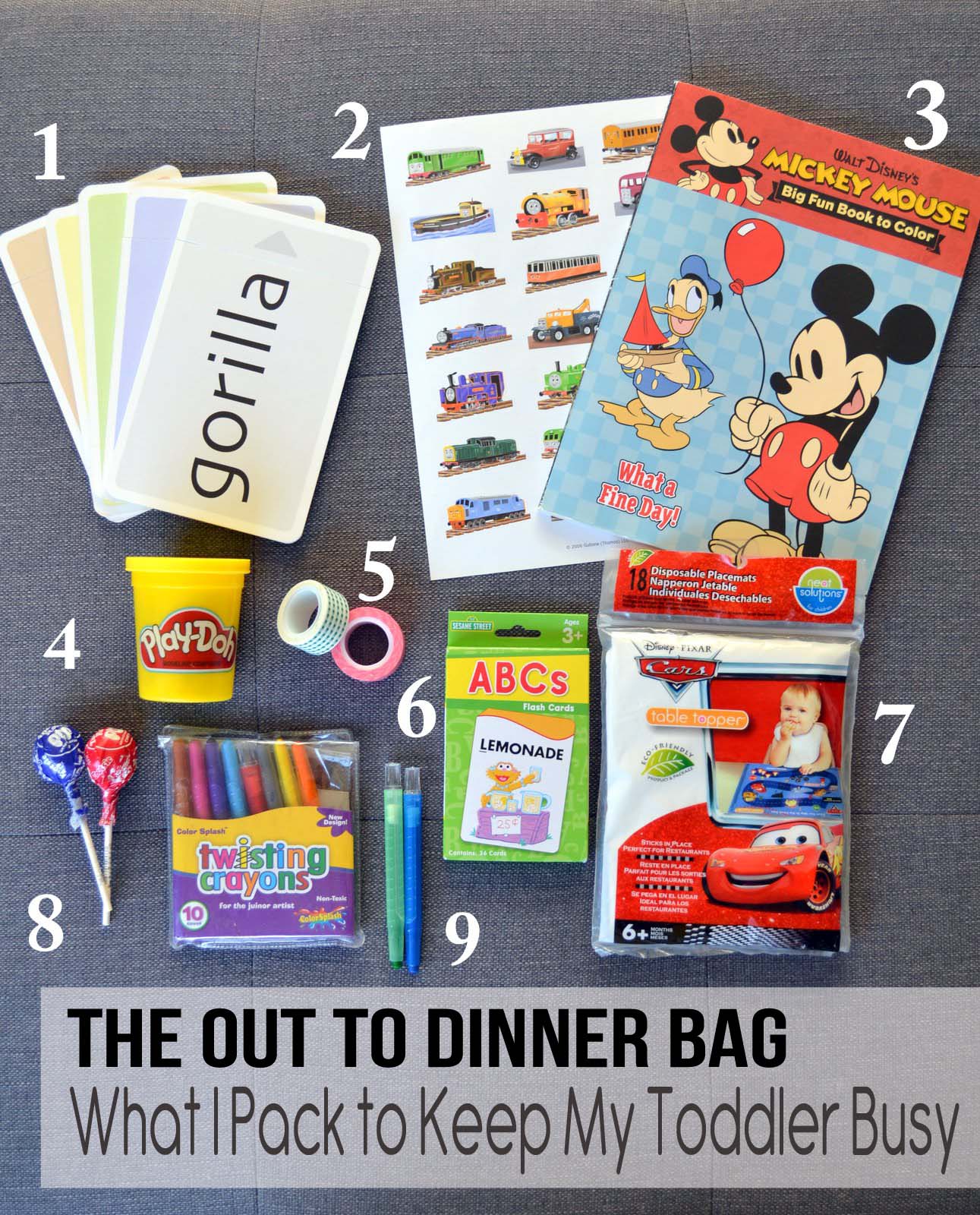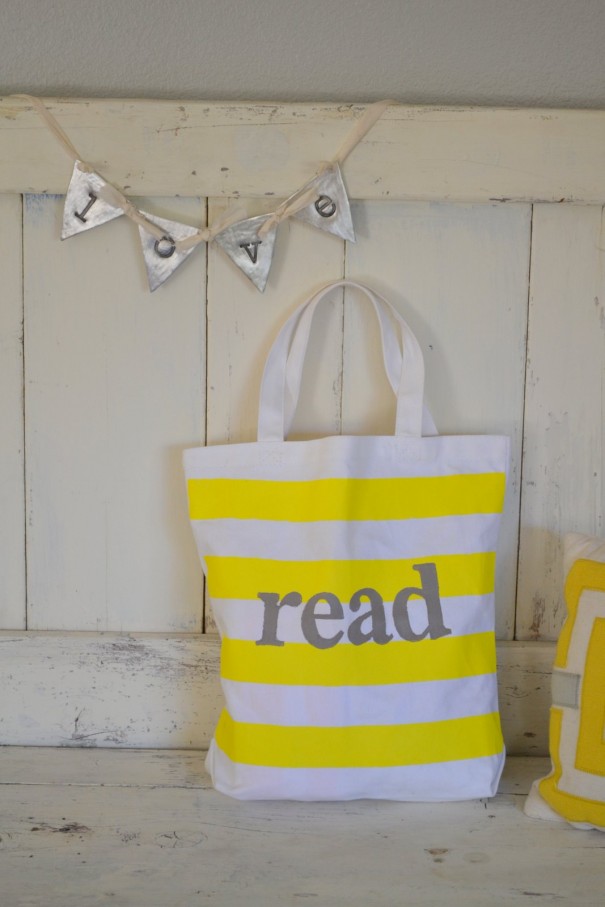 Someone I admire and respect a lot, met our little family for an early dinner the other night.
By the time we arrived at the casual pasta place around the corner from our home, I knew I would be lucky if I had even remembered to pack diapers.  It had been one of those days.  One of those days where your baby has a blow out, most likely because it's the first day you have forgotten to pack an extra outfit. One of those days where you forget to put your kids lunch in his backpack before he heads off to school. One of those days where you leave your keys in the front door for over an hour (shh, don't tell Ben about that one).  So yeah, it was one of those days.
And when Pam (the gal I respect a lot) showed up for our dinner and pulled out some simple coloring pages and a pencil to keep my already anxious 3-year-old boy busy, my first reaction was: I should have thought of that.
Throughout our meal, just as Wesley began to become distracted or disinterested, Pam pulled out yet another very simple toy or activity from her Mary Poppins bag and then she redirected him to stay engaged in our "out-to-dinner-expereience".
Two more bites, and then you can draw us a circle.
Ok, two more bites and then you can color in this picture.
Two more bites and then I'll let you use the pen.
Watching Wesley finish his meal and stay seated for the duration of our stay was a bit of a miracle. Going out to eat hasn't exactly been an enjoyable experience for us over the last three years. Dinner usually ends with one of us staying to pay the bill and ask to get our food to-go, while the other heads to the car with an unhappy toddler. But this little experience was giving us hope. We left that dinner with homework. Homework to put together a regular "out to dinner bag" with specific, simple activities designed to help Wesley stay on his best behavior. It was such a simple concept. And it's not as if I had never attempted to bring something to entertain Wes while we're out (ahem, iPad), but I suppose I had never made such a deliberate a purposeful effort to select items I knew would engage his active mind and body.
So I went home, and this is what I came up with. And then I tested it. We had to eat out every night last week, as our house had been covered in tarps and wet paint for 4 days–so with us, the bag went.  It worked.  I took some items out, added a few others, until I ended up with what you see below.  The key for me, was not letting him pick things from the bag himself and not allowing him to pull out multiple items at once unless they went together.  As a reward for good behavior, I would sometimes pull out two items and allow him to chose the one he wanted to play with most. Even though it wasn't always pretty, we made it through every dinner last week.
I realize what I'm suggesting may be against many peoples "every-parenting-rule-ever-made".  And in a perfect world, my children would sit quietly enjoying their meal following my every request. But my parenting isn't perfect, its real–and this is what works for our family.  It might not works for yours. We're all different, and that's what makes us beautiful.
This bag stays in my trunk so that it is ready whenever we need it.  I think I am going to pack a second bag as well, for variety. Here is a quick explanation on the items I selected: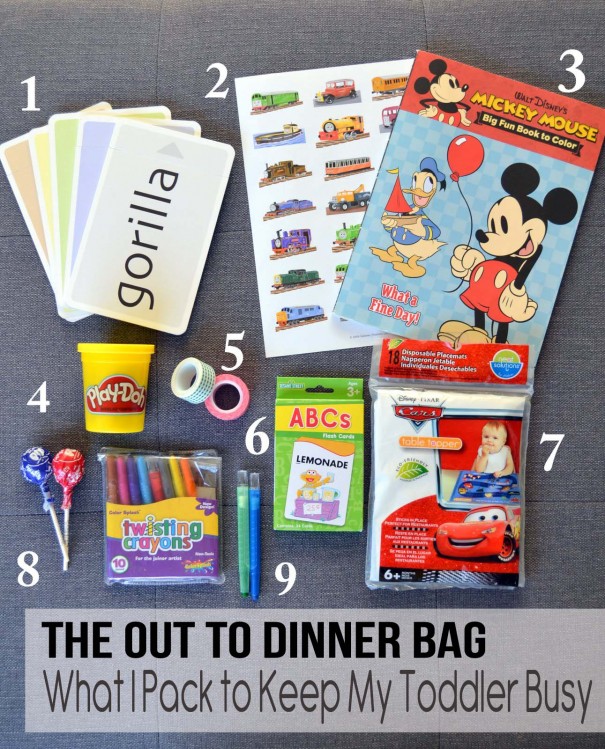 1. Sliding Flashcards: The novelty of "sliding" is the element of interest to Wesley with these cards. He loves to take guesses at what he'll find inside.
2. Stickers: I pack a single sheet of his favorite stickers (more than one sheet would be overwhelming).  He can put the stickers on the place mat or on a disposable paper menu from the restaurant.
3. Coloring Book: I don't hand Wesley the entire coloring book because he tends to get distracted by too many options. Rather, I pull out one sheet at a time, and then he will put more attention and effort into completing a single coloring page.
4: Play-Doh:  This is a last resort, because it can be messy and it collects anything it touches–but when all else fails, I pull out the Play-doh. It's his favorite. We make snakes, and play food and shapes.
5. Washi Tape: This is my favorite. And it allows him to be the most creative.  The best thing about Washi tape is that it doesn't ruin any surface it sticks to, and it is very easily removable (a lot like painters tape).  I break off about a dozen 2 inch strips and allow Wesley to create a small train track on the table. Then he can use one of his toy trains (not pictured) to run the course he designed. Then I quickly peel it up before we leave.
6. ABC Flashcards: Wesley likes to flip through these, stack them, organize them, and even quiz us on what the cards say.
7. Disposable Place Mats: I just got these, and I'm anxious to give them a try–especially for Sawyer, who isn't eating from a plate yet.  They stick to the table so that they don't slide around and fall onto the ground.
8. Lolipop: Reward for good behavior, AFTER dinner.
9. Twisting Crayons: Way better than regular crayons because I don't worry about them breaking or getting dull.
I'm so proud of this kid.  Every day he teaches me to be better. He has my heart in a way I'll never be able to put into words. And he's growing up right before my eyes. Too fast I tell ya, too fast.