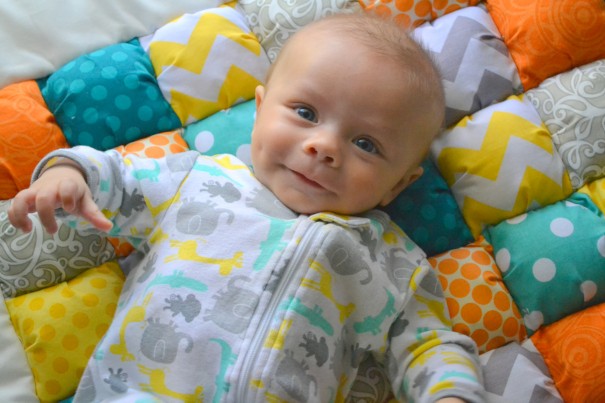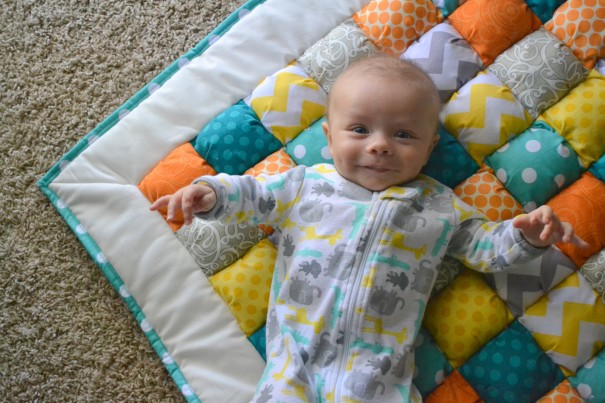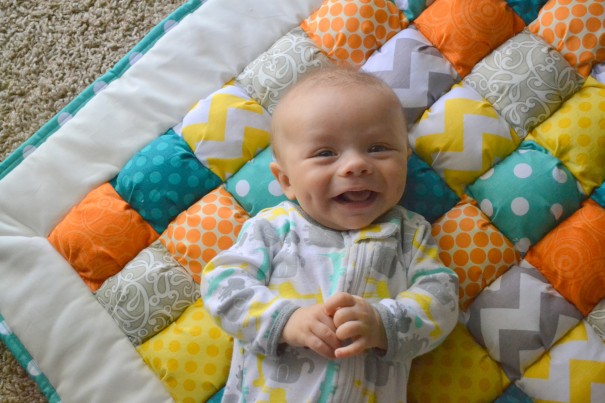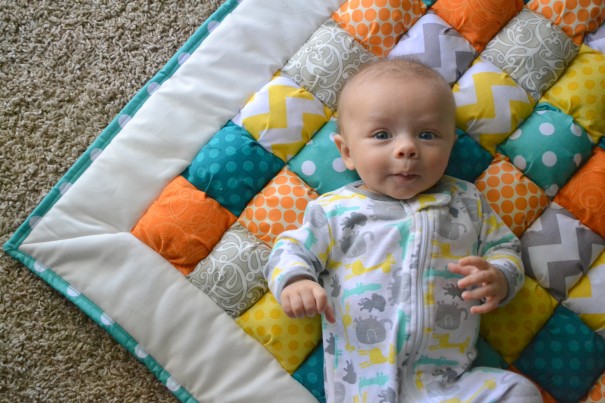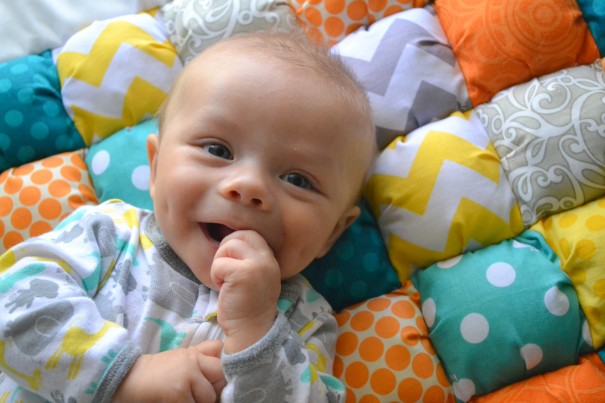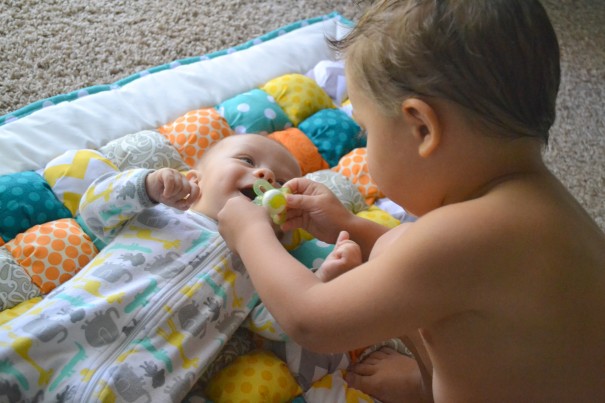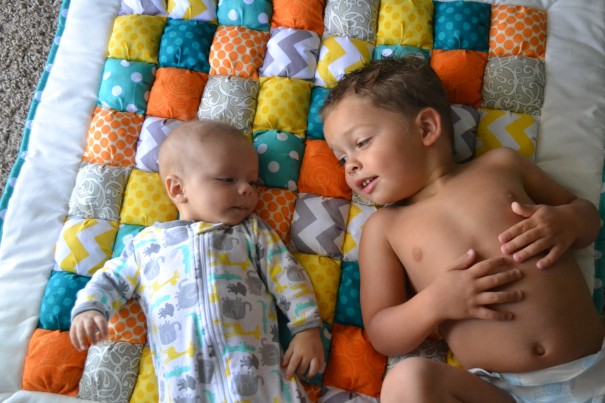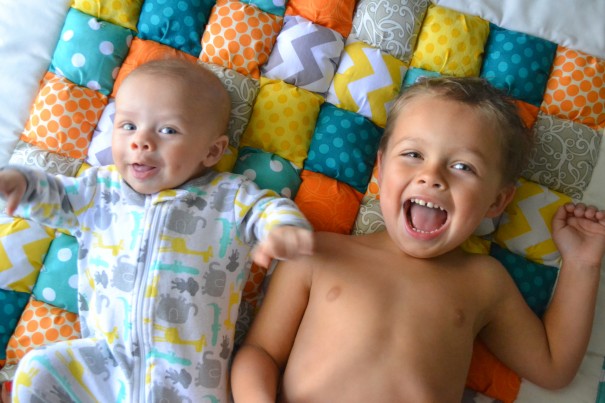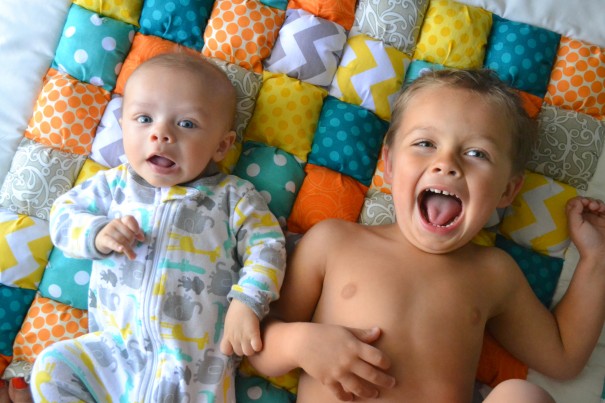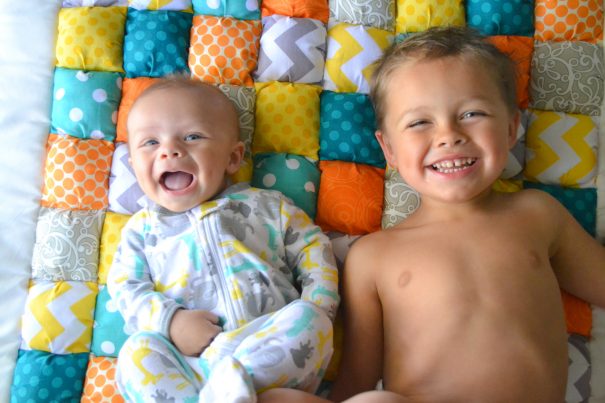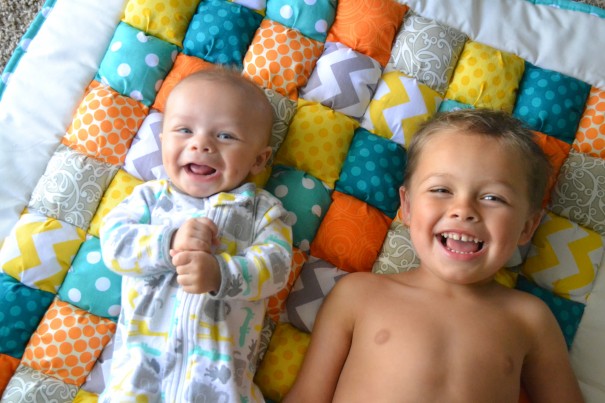 Puff Quilt c/o HoneyBear Lane
Dear Sawyer,
It turns out I've been telling people that you're 10 weeks old for a little over a month now. I think that's called denial. Because after doing the math, it turns out you're actually 3 months old already. In fact, 3 months and 1 week—and quite honestly, I have no idea where the time has gone. Sniff. Sniff.
Kiddo, there aren't even words to explain just how much I love you.
Before I was pregnant, I prayed for you.
Then, when the ultrasound revealed your strong little heartbeat,
I prayed that your birth would provide the balance our little family needed.
Now, here you are…
Only three months old, and you've already exceeded all my hopes.
I know with every ounce of my heart that your sweet spirit has been an answer to our prayers.
Your smile and your calm disposition have brought peace to our home.
Your perfectly timed dimpled smile and positive attitude have succeeded in softening the heart of a once skeptical big brother.
Speaking of your brother, you and Wesley couldn't be more different.
But already, when I see you two look at one another, I can tell that you will share a bond that will only be strengthened by your differences.
He loves you—your big brother.
Even when he gets jealous, he loves you.
Even when he wants Mommy's attention all to himself, he loves you.
Even when he doesn't want to share his blankie, he loves you.
And there's nothing in the world that makes me more proud than when I watch the smile cross his face when he eagerly rushes to your bedside every morning to tell you good morning. Or when you're crying in your bassinet, and he tells you: It's okay Sawyer, Mommy will get you. Or when he insists on putting your binkie in your mouth after it falls out. And his hugs—oh his hugs! Wesley would hug you 24 hours a day if we would allow it.
Not only are you his companion,
his friend,
his future playmate
and rough housing partner in crime…
But even as his younger brother,
you are an example to him.
You are his balance.
You are MY balance.
You are the first sweet sound I wake to every morning.
You are the answer to our prayers.
You are the Peacemaker of our sweet little family.
And there isn't a second that goes by that your Daddy and I don't realize just how blessed we are that you chose us to be your forever family.
Love, Momma
****************
Sawyers beyond adorable Puff Quilt was a sweet gift to me from my friend Heidi of Honeybear Lane. It is literally the softest, and cushiest quilt ever—Sawyer loves to take little cat naps on it. And YES, she sells these quilts too–in pretty much any fabric you can come up with! She even sells the Puff Quilt patterns, so you can make one for yourself (or farm it out to a sewing friend)!