Fall Harvest Table Decorations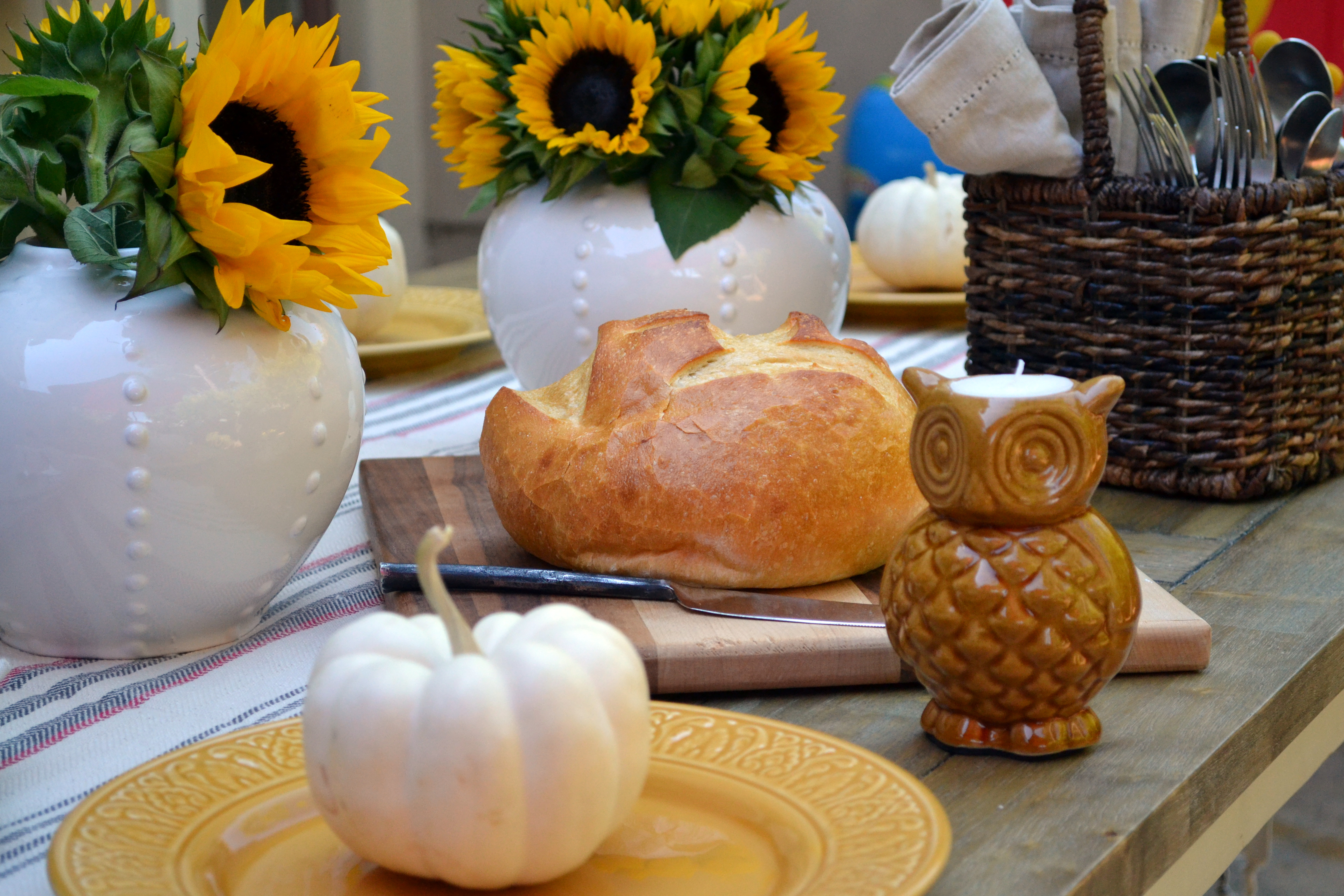 It's no secret that I like to entertain.
I like an excuse to take out my cute dishes and fabric napkins,
to make yummy treats and sugary drinks,
to sit around the table with dear friends and laugh the night away.
And then there comes that time of year (my favorite time of year),
when the smell of fireplaces, and fresh rain on the pavement,
and soup simmering on the stovetop, and pumpkins on front porches
with twinkle lights glimmering in the branches…
It's this time of year, that I enjoy entertaining the most.
It's this time of year that I like to put on a sweater with my ruffle apron over the top,
that I like to cook things from scratch,
that I like to eat a little more than usual,
that I like to sit by a fireplace,
and spend even more time with those I love.
At the beginning of this Fall season I was given the opportunity to  go on a bit of a shopping spree at one of my all-time favorite stores–World  Market.  And given that this is my favorite time of year to entertain, I knew exactly how I was going to spend my gift certificate.  Although, it wasn't easy to pass up their fabulous accessory section…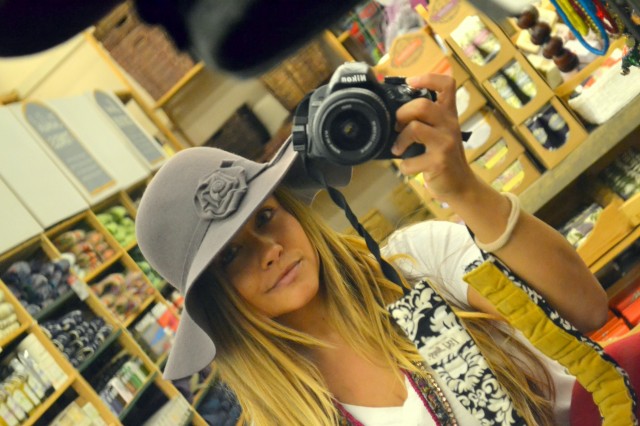 After 2.5 hours of pure shopping bliss, with my newborn strapped to my chest, and the toddler off at preschool…I brought all my exciting Fall decorating/entertaining goodies up to the register.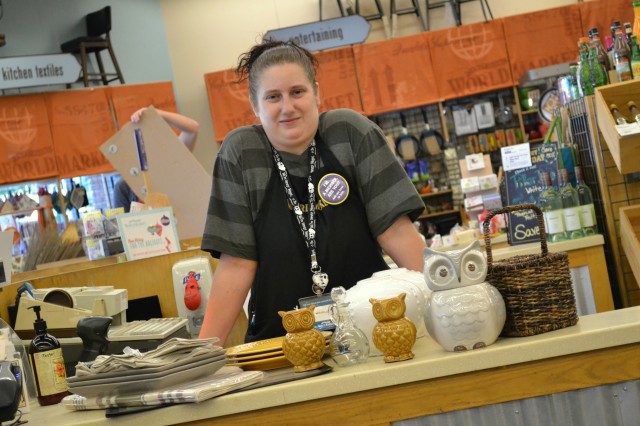 First things first, I spruced up the kitchen a bit with these fun produce crates, a new utensil holder, mini spice jars and the world's most precious owl cookie jar.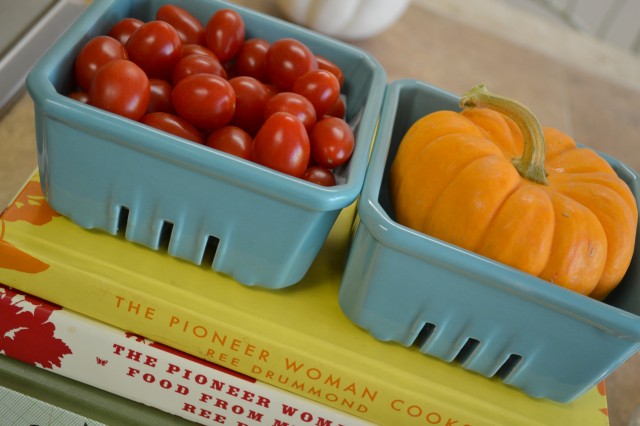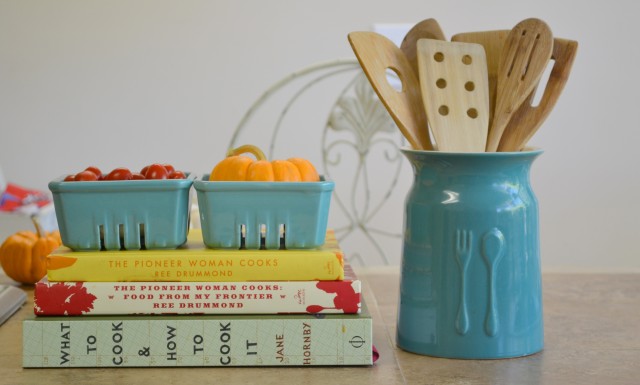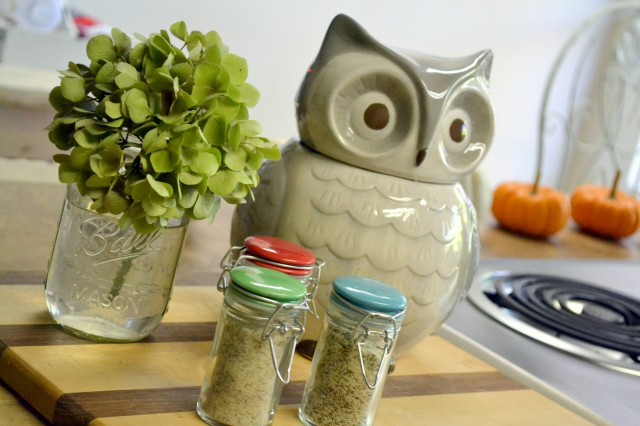 Every year since I have been married, as soon as the Fall season arrives, I head over to World Market and stock up on all their seasonal yummy food kits.  I've tried almost every soup they sell, but this time it was all about the desserts.  I haven't made the cake pops yet, but I can honestly say that these were some of the BEST cupcakes ever–and five grateful taste-testers totally agreed!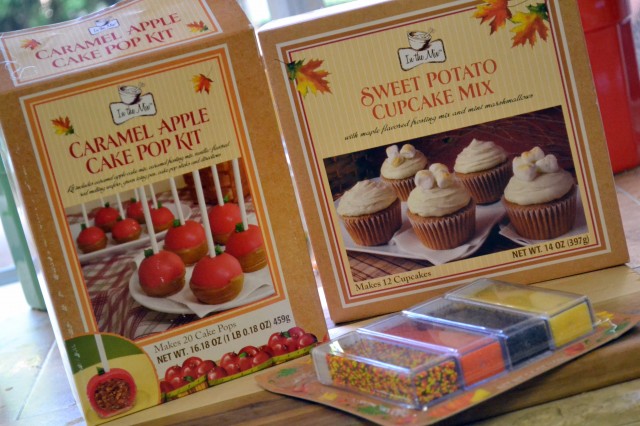 When World Market asked me to transform my dining space for the Fall season, I had something a little less traditional in mind.  Most times when I entertain, I go for a more formal place setting arrangement.  You can check out this post to see what I mean.  But I wanted to create a different "feel" this time.  I wanted my guests to feel like they could come and go from the table as they pleased–like they could move around, perhaps even switch seats depending on where the conversation was taking them.  So I decided on a Fall/Harvest themed dessert and milk spread—with my favorite decor items whimsically placed around the yummies.  This is what I came up with. (Nearly every item pictured is from World Market).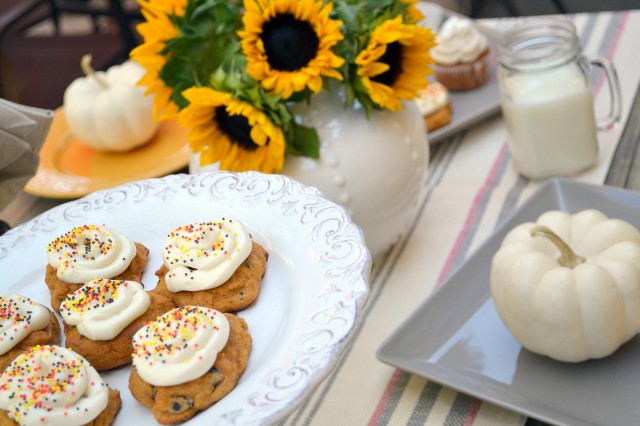 These are my homemade Pumpkin Chocolate Chip Cookies with Cream Cheese Frosting. Recipe found here.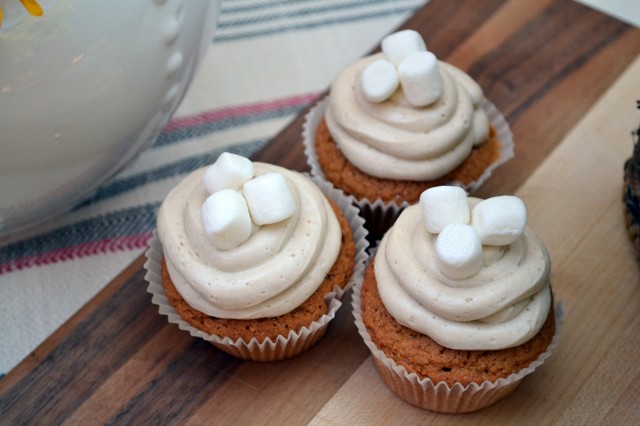 These are the cupcakes from the World Market kit pictured above. Divine!  The frosting is pretty much butter.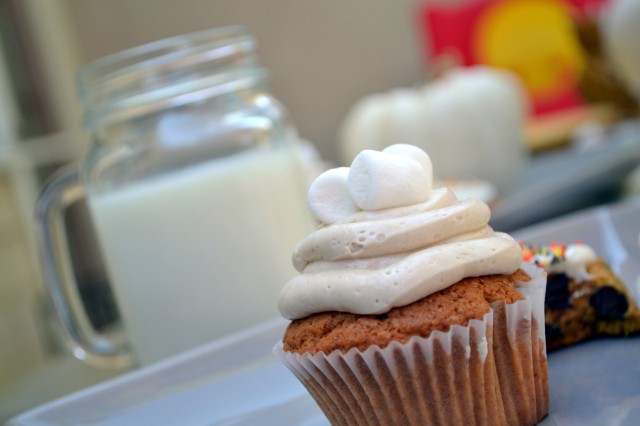 Mason jar drinking glasses with handles (in the background).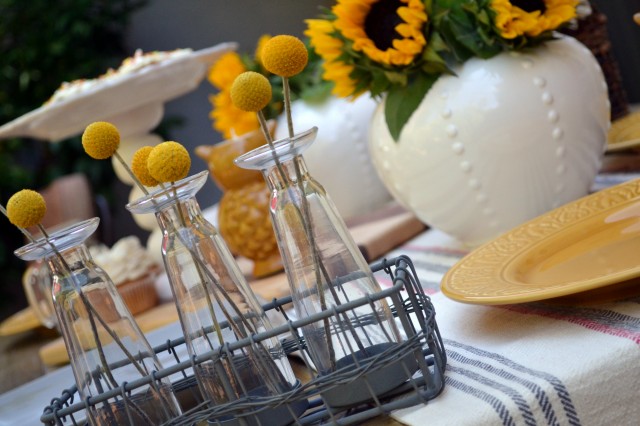 My absolute favorite glass vase trio in a wire holder.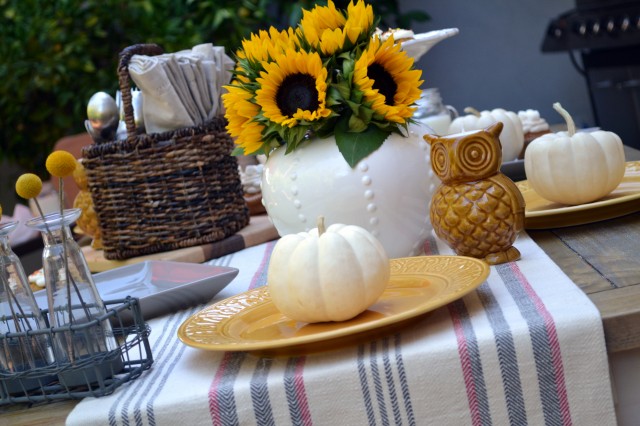 I picked up a bunch of small white and orange pumpkins from the grocery store–a super inexpensive way to add some Fall flare to a tables cape. Also pictured: feedsack table runner, adorable owl candle holders, yellow circle dinner plates, utensil and napkin basket caddy.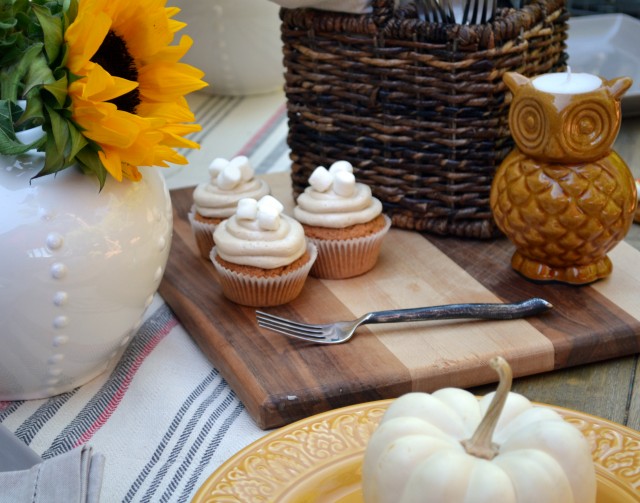 Branch inspired fork–the entire set of cutlery is amazing. Cutting board made for me by Ben.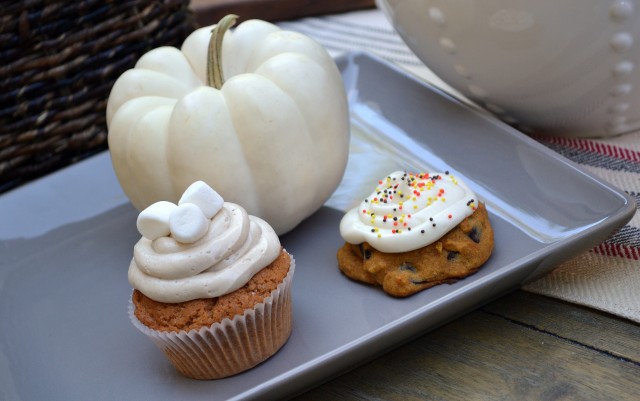 Square, gray dinner plate (above).  In keeping with my whimsical approach, I purchased 3 square gray plates and 3 circle yellow plates, rather than all 6 of the same.  Plus, square plates have been on my wish list forever now, and I always look for any opportunity to mix yellow and gray.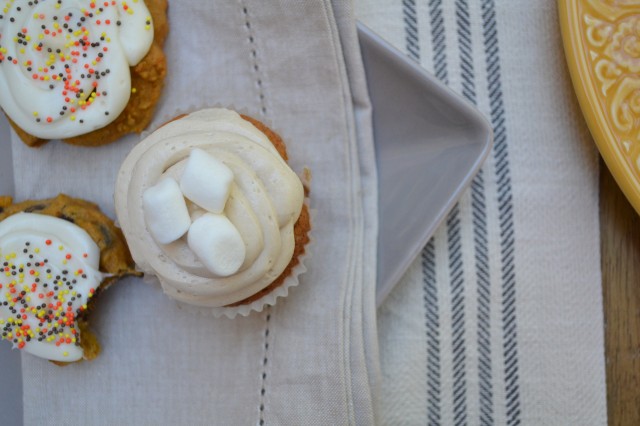 Cream linen napkins (pictured above).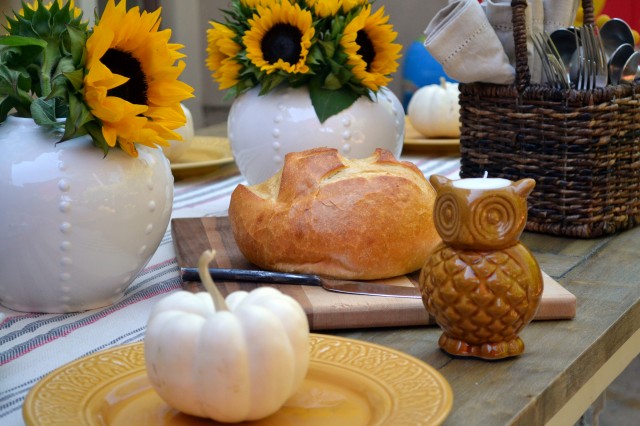 Basket utensil and napkin caddy.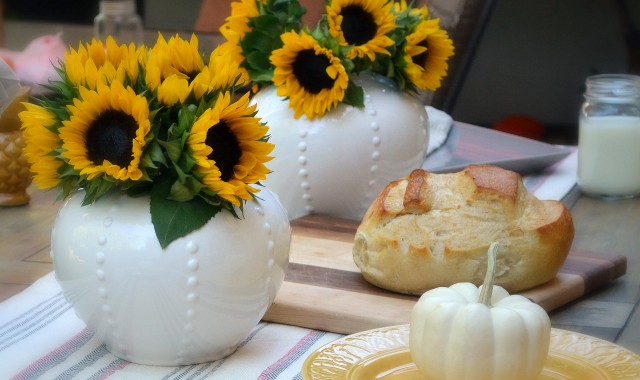 These gorgeous white vases, that I have grand plans of using ALL year round.
My dining room table set also happens to be from World Market (purchased last year).
I really don't need an excuse to shop at World Market.  It has quickly become my "happy place"–my retreat when I need to get away, when I need a little "me" time.  And while this post is part of a social shopper marketing insight campaign through Pollinate Media Group™, all opinions stated here are my own.
World Market would also like you to know about an exciting Sweepstakes they have going on right now–with an off-the-hook grand prize package! You can bet I will be entering to WIN.
HGTV Passport to Style Sweepstakes
Grand Prize package includes: A $10,000 World Market shopping spree and design consultation with an HGTV Designer
There will also be 3 runner up prize winners that will each receive a $1,000 World Market gift card!
The HGTV Sweepstakes runs from September 22, 2012 until October 26, 2012.
If you share the sweepstakes with 5 of your friends (via FB share or email) you can receive 5 additional bonus entries. This is part of the registration process when entering. Users can also enter daily for more chances to win.
Enter online at WORLDMARKETSWEEPSTAKES.COM or FACEBOOK.COM/WORLDMARKET
You can find more awesomeness from World Market here:
Facebook  /  Twitter  /  Pinterest  /  Google+  /  Instagram