Christmas Hot Chocolate Recipe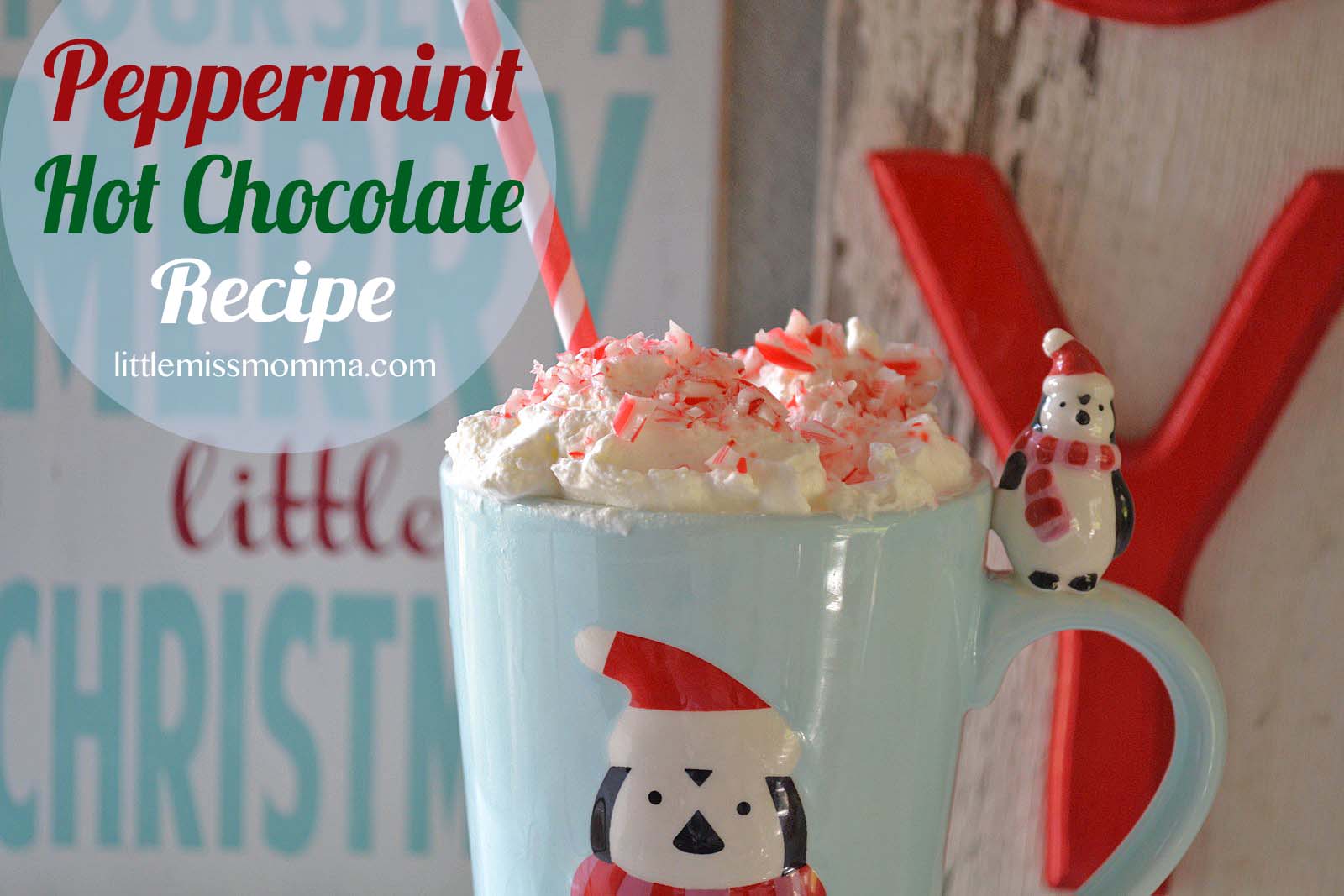 Scroll down to see the easy stove top Peppermint Hot Chocolate Recipe.
Can you believe it is the 10th of December! Yikes, how did that happen?? Well, we're back with another amazing Blog Hop. Peppermint is definitely the flavor of the season and it is also our theme for the month. We've got lots of peppermint flavored treats to share with you as well as some darling peppermint inspired crafts! Be sure and visit all the blogs to check out the details on their peppermint project. We'd love for you to pin the collage below, check out my Christmas Hot Chocolate and then go see all of the other fabulous projects created by some of my blogger friends too. Wishing you all a wonderful holiday season!! Click HERE to visit our past projects together.
Your Homebased Mom sharing Peppermint White Hot Chocolate Float
Lolly Jane sharing Striped Peppermint Wreath
Capturing Joy with Kristen Duke sharing Peppermint Brownie Bites
Little Miss Momma sharing Christmas Hot Chocolate
Or So She Says sharing Peppermint Creme Brulee
Simply Kierste sharing Peppermint Striped Candlesticks
Six Sisters Stuff sharing Peppermint Fudge
Eighteen25 sharing Peppermint Santa 'Staches
30 Handmade Days sharing Frozen Peppermint Pie
Landee Lu sharing Andes Peppermint Crunch Cookies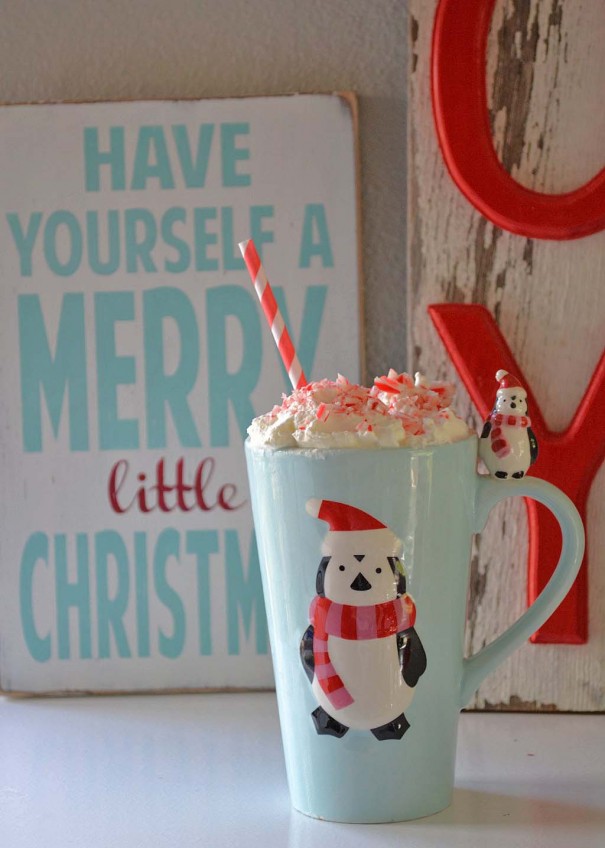 Every time we visit Ben's family in Wyoming, his Mom makes her delicious hot chocolate.  Ben starts talking about it a few days before our trip, and then again at the airport, and then again when he calls his mom to tell her that we've landed. That cup of homemade hot cocoa is like a taste of childhood for Ben. It's how he knows he's home.  On this last visit I asked his Mom to share her special recipe with me so I could surprise Ben with a taste of his childhood home while back in California. And because it's the holiday season, his Mom gave me the special peppermint version of her stove top hot chocolate.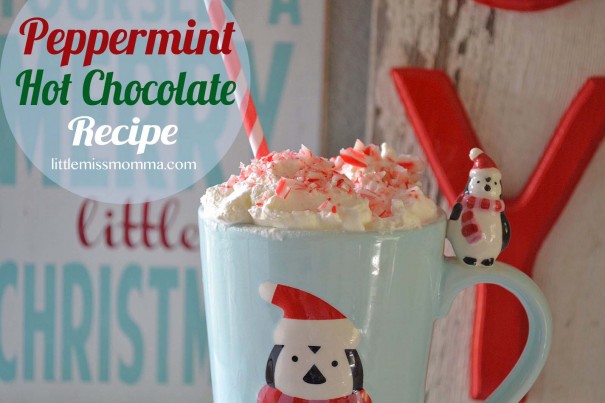 Christmas Peppermint Hot Chocolate Recipe
Delicious, from scratch, easy peppermint hot chocolate.
Ingredients
Hot chocolate:
½ cup of sugar
just under ¼ cup of cocoa (I use Hersheys)
dash of salt
4 cups of milk
½ tsp vanilla extract
¼ tsp of mint extract or candycane (see instructions)
Whipped Cream:
heavy whipping cream
sugar (to taste)
Instructions
Use a whisk to combine all dry ingredients. See photos below for what I consider a dash of salt. The salt gives the cocoa a little edge.
Combine dry ingredients to 4 cups of milk and bring to a low boil in a saucepan.
While the hot chocolate is heating, make your fresh whipped cream. Whip the heavy whipping cream until peaks form. Add a tablespoon of sugar at a time to taste.
Put a candy cane in a plastic bag and use a rolling pin or another hard surface and break apart a candy cane into tiny pieces. This will be the garnish for the top of your whipped cream.
Once boiling, remove from heat. Add the vanilla extract. To get the peppermint taste you can use a SMALL amount of mint extract--OR I like to toss in a whole candy cane into the pot and let it melt. Be careful not to use too much--we don't want it tasting like tooth paste 🙂
Serve hot chocolate with a dollop of whipped cream, marshmallows, candy cane bits. For added peppermint flavor, you can hang a candy cane from the mug to use a a stirring stick.