Inspired by my favorite commercial.
You can watch it here.
And you can play along even.
Write a letter to you, as if written by your child.
Be sure to give yourself some credit in the letter.
Acknowledge those things you do well.
This can be your Mother's Day gift to yourself *wink*.
And then, link up in the comments.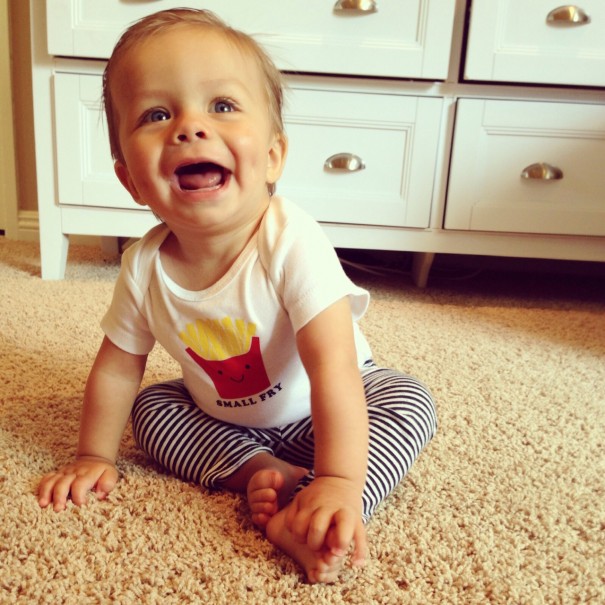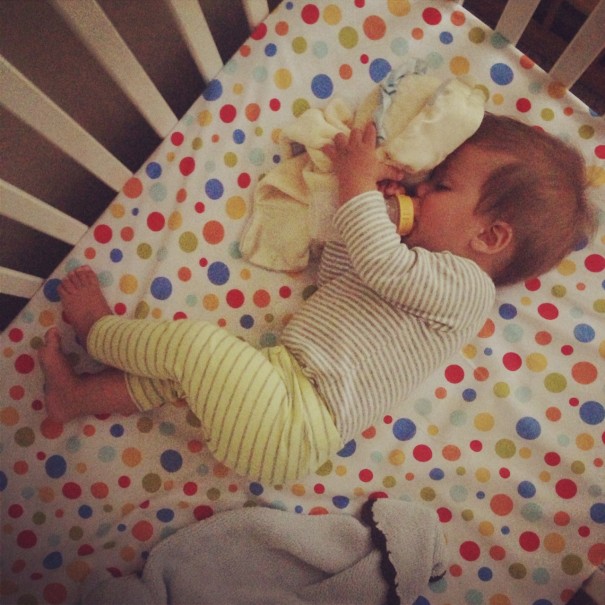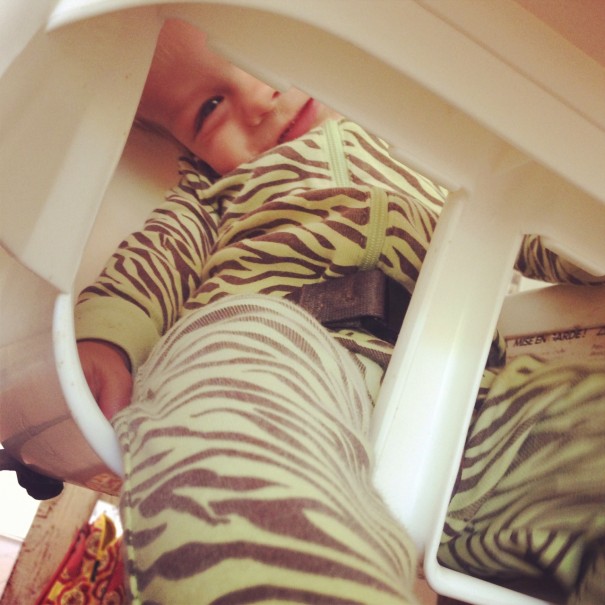 Peek-a-boo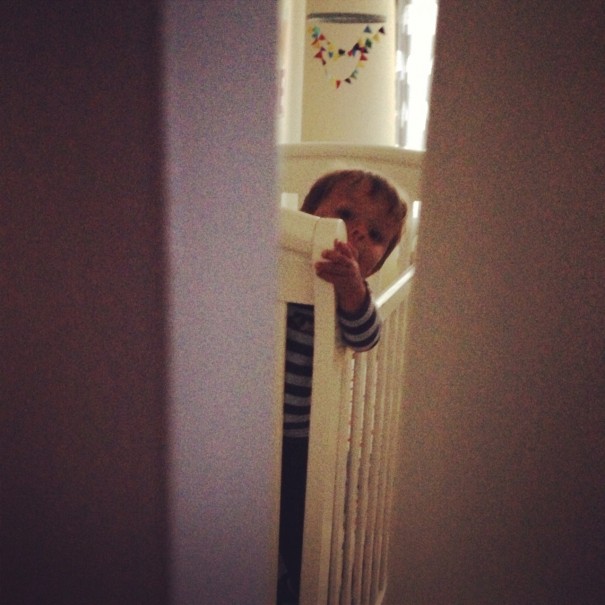 A look through the crack in the door during nap time.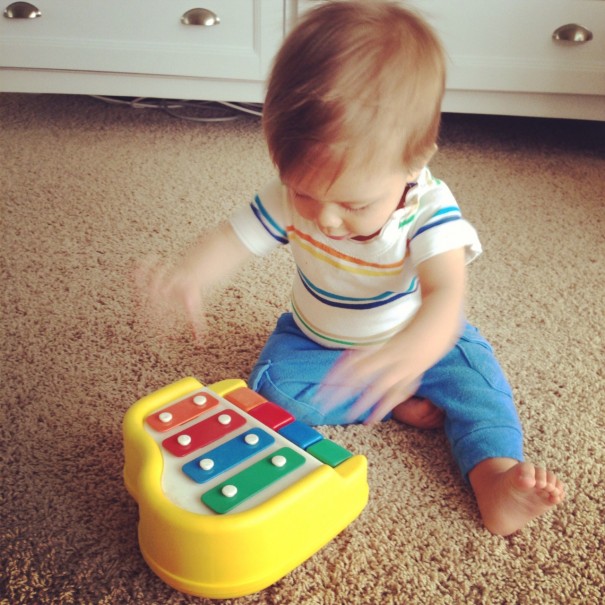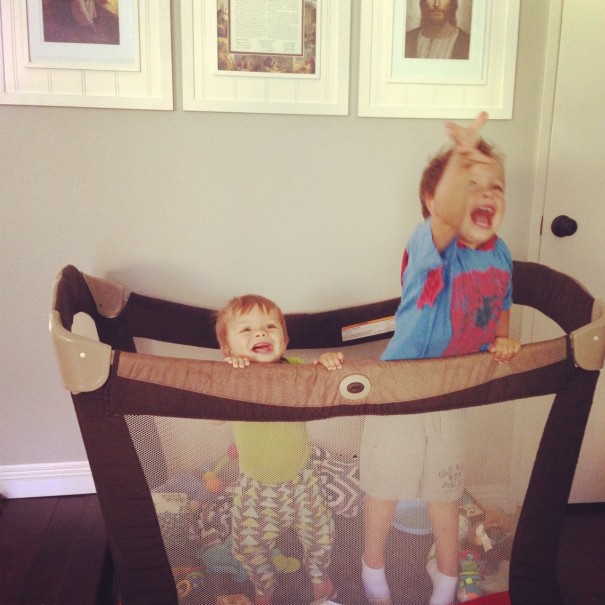 Letter to me, from Sawyer:
Dear Mom,
You're doing OK, Mom.
I'm a pretty easy baby.
For now.
This quality is my gift to you.
Thank you for recognizing this blessing in me every day.
I know how badly you want to be perfect at this–at being my Momma.
And I'm sure there will be times that I'll resent you for the mistakes you'll inevitably make.
But please know, in the future, when I throw a fit, or embarass you in public, or make you question every parenting decision you have ever made–even then, I'm just doing my job. My job as both your greatest trial and your greatest joy.
Please know, I'm happy.
And Wesley is too.
I know you worry about that a lot.
And if I could talk, I would tell you to stop.
Stop worrying.
Because we're doing OK too.
He loves me, you know–Wesley.
And he's proud of me.
I've changed his heart.
And taught him to be gentle.
Wrestling my brother and waiting for him to greet me at my crib every morning are my favorite times of day.
I like to chew on him too. He's pretty awesome for letting me do that.
I know you also worry that you and I don't connect enough, or get our quality time…
because my brother still takes so much of your attention and energy.
But Mom, I feel connected.
To you, to Dad and to Wesley.
Like when you crawl from the front seat of the car
and squish next to me while we're on a long drive and I'm upset.
I love how you do that.
Because all I want is to see your face.
And wrap my tiny hand around your finger.
Or when you wrap me to your chest while you vacuum the house,
just so we can be close.
I like to be close to you Mom.
Like the crawling up your body,
pulling your hair,
and licking your face kind of close.
Thanks for not complaining when I lick your face.
You're cool like that Mom.
Mom, you can't sing.
In fact, you're terrible at it.
But thank you for trying anyway.
Your rendition of "You Are My Sunshine",
no matter how off key, still makes me smile and brings me comfort.
Thanks for being resourceful enough to wipe my nose with your sleeve,
and brave enough to eat that mystery food particle off my cheek when you can't find a wipe,
and infatuated enough to cuddle me close even when I smell like sour spit-up.
It's okay that it sometimes takes you 3 weeks to catch up on my laundry,
or that I sometimes stay in my pajamas all day,
or that you let me eat puffs that have fallen on the floor.
I get it.
Because you're trying.
Really hard.
I can see that,
and I can hear it when you pray for me.
And that "trying hard" part is the lesson you are teaching me.
To not give up.
To learn from failures.
To forgive myself.
And to grow.
Because you're not perfect.
And even though I'm just a little squirt,
I already know that.
And I love you anyway.
love,
Sawyer (10 months old)
**************
Side note: My sweet and talented friend, Heather of River & Bridge, has come up with this really cool new product called bridgeBOX–designed to encourage us to bring back the art of a handwritten note. It's a great way to get beautiful, high quality notecards at a discounted price. Heather is my go-to gal for all of my design and print material (Christmas cards, stationary, post cards, etc). Her eye for design really is amazing. Check out her shop to see what I mean, and sample her work with the new bridgeBOX.