Sweet Potato Pie Pops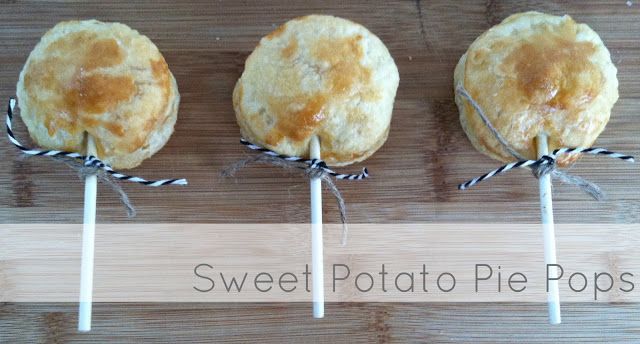 A delicious recipe by my gal Jacqui from
Baby Boy Bakery
. Yum!
Sweet Potato Pie Pops Recipe
What You Need
(Makes about 18 pops)
`1 sweet potato
`4 tbs softened butter
`3/4 cup brown sugar
`1 tsp cinnamon
`1/4 tsp salt
`2 sheets of puff pastry (found in the freezer section)
`about half a bag mini marshmallows
`1 egg
`lollipop sticks
`1/4 cup flour (for rolling the pastry)
Directions
`Cut the sweet potato into small cubes.
`Mix the butter, brown sugar, cinnamon and salt.
`On a baking sheet lined with foil mix the sweet potatoes and brown sugar. Use your hands to really rub in the mixture.
`Roast the sweet potatoes in the oven at 350 degrees. Once they are super soft they are done.
`They should be soft enough to mash with a spoon.
(Follow Photos Below)
1. Roll out the puff pastry with a little flour to keep the dough from sticking. Cut out small circles.
2. Gently press the dough circle with your fingers.
3. Put about 1 tsp of sweet potato mixture in the center.
4. Press two mini marshmallows in the center.
5. Crack an egg and whisk. Use a brush or your finger tip to brush egg around the edges.
6. Use another puff pastry circle and cover. As well as place a stick between the two dough pieces.
7. Use a fork to press together the edges. Brush more egg around the edges and on top of the mini pie.
8. Place on a baking sheet lined with parchment paper. Bake at 325 degrees for 12-15 minutes.
`Once they are golden brown they are ready. Serve warm and enjoy!