From Baby to Brother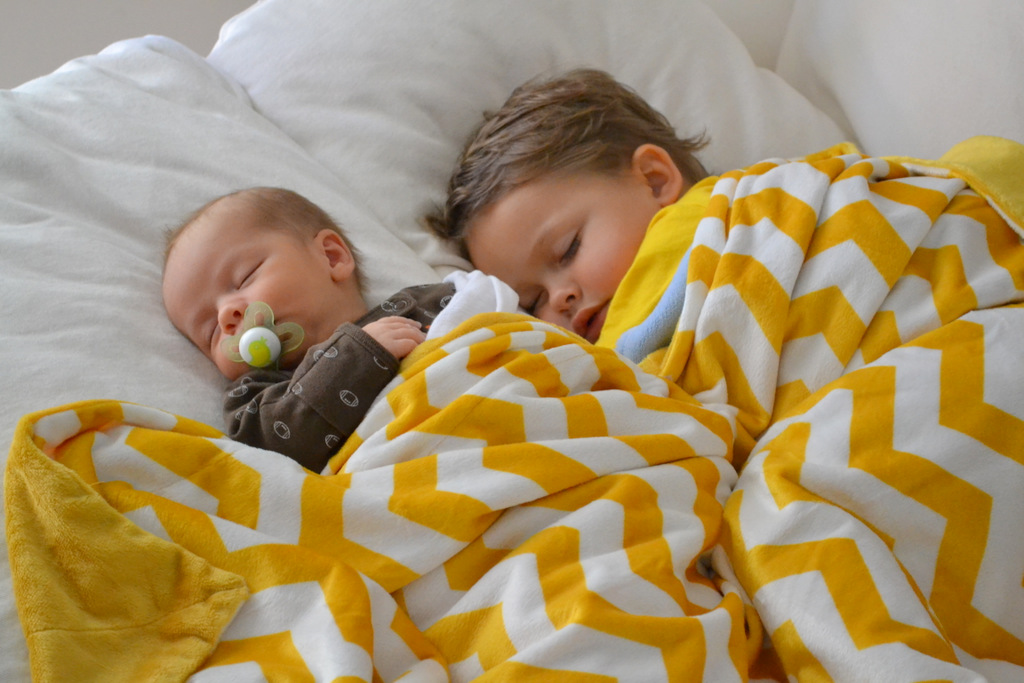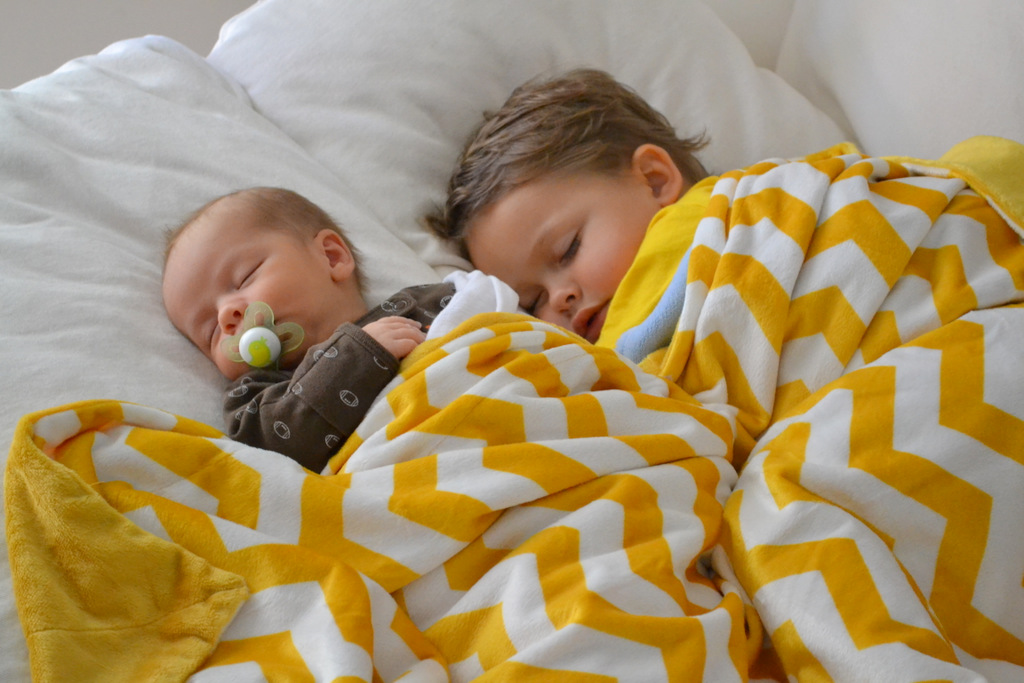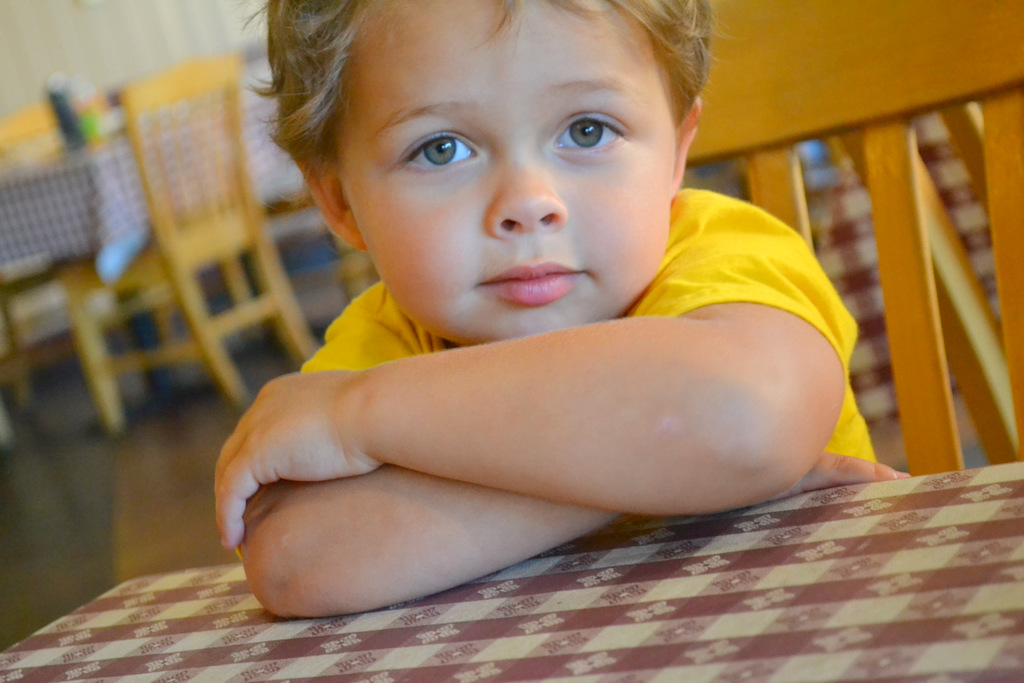 I spent 4 days in the hospital following my c-section delivery of Baby Sawyer.  Every time Lil W came to visit he avoided eye contact, refused to give me a hug and clung to his Daddy for dear life.  Seeing me in a hospital gown with tubes coming out of my body was a bit traumatic for him.  And as much as it made my heart ache, I was prepared for this reaction.
I knew our transition from a family of three to a family of four would not be seamless when Lil W started chanting "No baby, No baby, No baby" for the last 3 months of my pregnancy.  I knew things might be tough when Wesley started knocking over piles of Sawyers baby toys, or when he squeezed himself into a 3 month onesie and wore it for the rest of the day, or when he insisted on testing out the baby crib for himself.
He wasn't ready to share our attention, our love, our time, our home.
The day we brought Sawyer home from the hospital proved to be exhausting–to say the least. It was everything we could do to keep Wesley from clunking Sawyer on his soft spot with a toy car, from putting a blanket over his face, and from nearly knocking over his wicker bassinet. The "No baby, No baby" chant even started up again. Ultimately, Ben and I ended up on separate ends of the house.  Me upstairs with the baby, Ben downstairs entertaining Wesley.
Our intention was not to spoil Wesley, or to give in to his demands.
Our intention was to make sure he knew that he would still be loved to the moon and back.
To make sure he knew that while everything was different, nothing had changed when it came to his security and his role in our family.
A week went by, and temper tantrum after temper tantrum forced Ben and I to continue living in separate rooms so that little Sawyer could have some measure of peace in his first weeks of life.
Those first two weeks were long.
And there seemed to be no light at the end of the tunnel.
And there were tears. Tears of fear that this is how our lives would be from now on.
As much as I was cherishing my bonding moments with Sawyer,
I missed my little boy–my Wesley.
I missed cuddling him on the couch.
I missed his belly laugh and his slobbery kisses.
I missed giving him a bath.
I missed tucking him in at night.
I missed being his Momma.
I wanted them both.
Sawyer and Wesley.
Together.
In the same room.
In peace.
But Wesley wasn't ready for that.
My visions of them cuddling on the couch and sharing a bowl of popcorn together,
of the four of us watching a movie every Friday night,
of Sunday family naps in the living room…
these visions of the future were seeming like less of a reality with each passing day.
My surge of post-pregnancy hormones contributed to the sense of defeat that overwhelmed my heart.
I felt helpless.
One night, after a long and emotional family prayer, I lifted my head and looked at Ben with a feeling of quiet resolve.
Me: I'm not sure how it's going to happen, but we're going to be okay. This is going to get easier. We just need to endure for a short time. Wesley will come around, I just know it. We need to be patient with him. Thank you for enduring with me Benny.
Then I gave him a quick kiss and fell asleep with a sense of peace that in the Lords time we would be able to cuddle on the couch as a family without a meltdown and without fear that Lil W would retaliate against the baby.
For the next few days I took a breath and allowed myself to enjoy my alone time with Sawyer. To soak in his smells and sounds and squishy skin.  I forced myself to not stress about my time away from Wesley, and to keep the faith that I would be cuddling with him again very soon.
And you know what?
The more at peace I became, the more peace that entered our home.
Day by day, and even hour by hour, Lil W started to warm up to the idea of welcoming the newest member of our family.
He stopped his anti-baby chanting.
He began to ask to hold little Sawyer.
To give him his binky–gently even.
He started walking around the house saying,
Don't drop the baby.
And, Baby is so cute.
And, Gentle with the baby.
Apparently these were things I was saying a lot, and Lil W's sweet verbal reminders were proof that he was listening.
That he was growing.
That he was becoming interested in having Sawyer around.
One day I woke up to Wesley pushing a clean newborn diaper in my face.
W: Change brothers diaper Mommy. Change brothers diaper.
And as ridiculous as this may sound, tears ran down my cheeks when I heard his words.
You see, this was the first time that Wesley had called Sawyer his "brother" rather than "baby".
My heart was full, and in that moment I knew my prayers had been answered.
Now, nearly four weeks after Sawyers birth, we still have a long way to go.
But one thing is for certain–Wesley is now head over heals for his baby brother.
He insists on holding him, kissing him, shoving binkies in his mouth, and being Mommy's lil helper.
He wants him around. And as a Mom, there really isn't more I could wish for.
******
Any more tips on helping your kiddo adjust to a new baby in the home? I could use them!