DIY Embroidered Wall Decor: Kojo Designs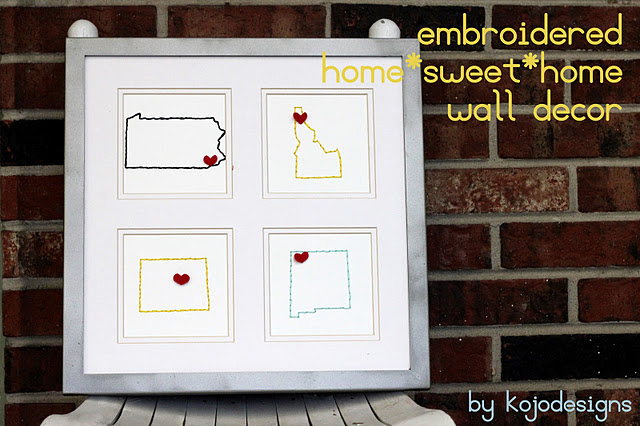 Hello Little Miss Momma friends! I am Kirstin, half of the sister team that blogs at kojodesigns, and I'm thrilled to be here today.
You and I already have a lot in common- you're here, so you love Ashley. Coincidentally, I love Ashley and her blog (don't you just want to be her BFF and come to her awesome dinner parties?). You and I, we should be friends!
And to start off our friendship right, I'm here to share a little home decor tutorial with you. This embroidered HomeSweetHome wall art is a great way to highlight the places that are special to you!
It's simple, fun, and easily personalized, makes a great House Warming gift (or Christmas present). Even better, it matches pretty much any decor style. And it's perfect for the geography buffs (or frequent movers) on your list.
Ready to make one? You'll need:
-a frame with several openings (the number of openings should match your number of locations)
-cardstock (I used Crane's lettra cotton paper)
-embroidery thread (match the recipients existing decor if you want)
-tapestry needle
-small felt hearts
Using the size of your openings as your guide (mine were each 6″x6″), print outlines of your states, provinces, or countries (I used the font 'dingmaps').
With a needle, poke holes along the outline.
Using a tapestry needle (they have large 'eyes'), "embroider" through your already-poked holes. It was easiest for me to go around the perimeter twice (the first time, I covered every other space and then filled in the gaps on the second round).
Finish embroidering all of your places. Mark the specific cities or towns with little felt hearts.
Place each embroidered place in a frame opening and you're finished! This little gem is equally at home sitting on a shelf (or mantle!), hanging on a wall, sitting on a chair or wrapped up to give as a gift!
Thanks for having us over today, Ashley!
And Little Miss Momma friends, come on by and say hi at kojodesigns anytime (a few recommendations of where to start your visit? Our Anthropologie Inspired Grove necklace [or vintage lace anthro knock-off bracelet], Piper Jane's vintage glam nursery reveal, or our latest baby shower- Elephants on Parade)!
_________________________________________________________________
Isn't Kirsten the coolest!
Kojo Designs is one of my favorite craft blogs. Check out all their amazing tutorials here and super fun parties here.
This party might be my favorite. And Piper's nursery makes me ache for a baby girl.