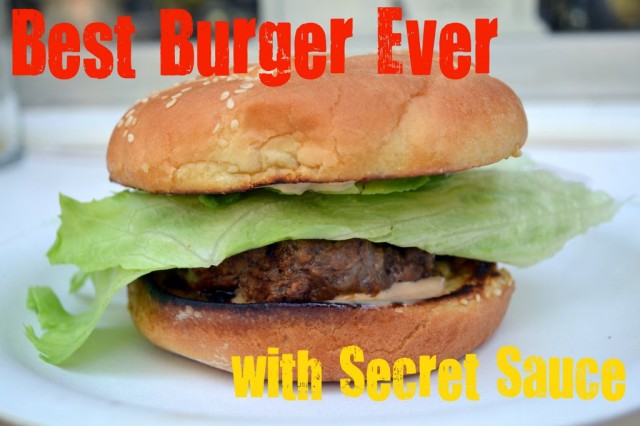 PLEASE SEE UPDATE AT THE END OF THE POST
Seriously, this is the best burger recipe ever–it's a Ben favorite.
I am kinda a stickler when it comes to homemade burgers. I can't stand the dryness of pre-constructed or frozen patties, or when the patty turns into a giant dome that I can hardly bite into–and my burger muuust have cheese.  So last year I set about creating the perfect burger, and you know what? I don't even make it on the grill.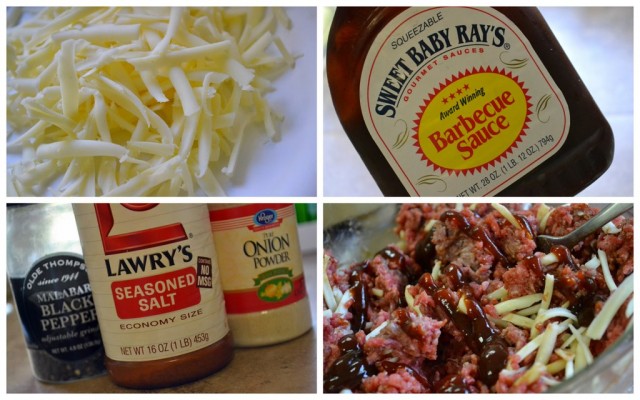 Burger Ingredients:
2 lbs ground beef 85/15
sesame seed buns
1/2 cup of grated Monterrey jack cheese
1/4 cup BBQ sauce
season salt to taste
cracked black pepper
onion powder
We usually like to buy extra lean ground beef around these parts, but when it comes to a juicy burger, you've gotta make an exception.  The best burgers have more fat–naturally.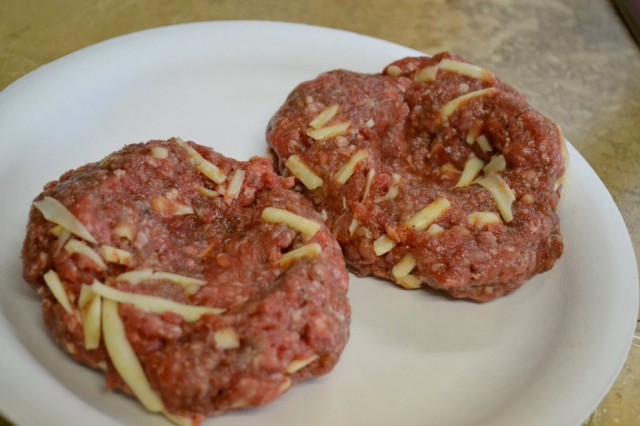 Combine the ground beef, grated cheese, bbq sauce, and seasonings.  Shape patties that are about 1 inch thick.  Then it is very important to  push a 1/2 inch indent into the center of the patty–this is what prevents the patty from becoming a dome.  These burgers stay extra moist because the bbq sauce and cheese are mixed in with the meat.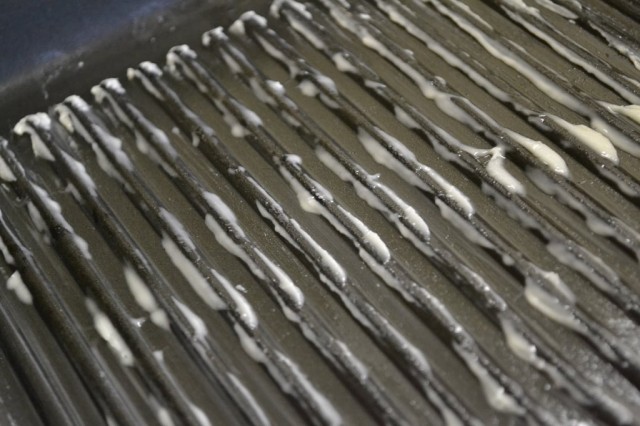 I cook the patties on this really cool skillet that has grill lines.  I wait for the skillet to get super hot and then I apply a very thin layer of butter to the grill lines.  Place the patties on indent side up as pictured.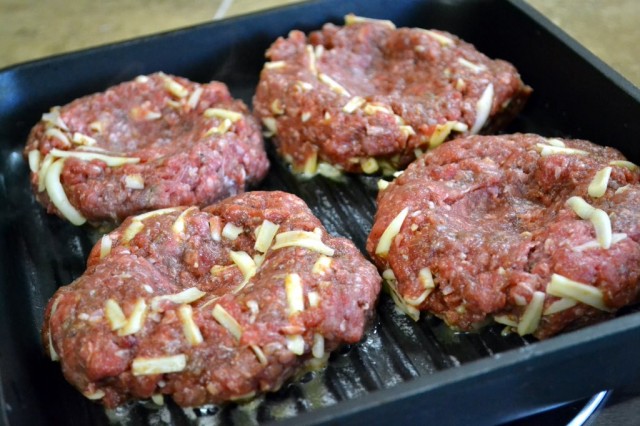 Reduce heat to medium and allow this side of the patty to cook for about 4-6 minutes, but make sure it doesn't burn. Then flip the burger over and cook until done.  I like my burger medium-well.  While the burger is cooking, I like to whip up some secret sauce–sort of my version of In & Out's addicting sauce.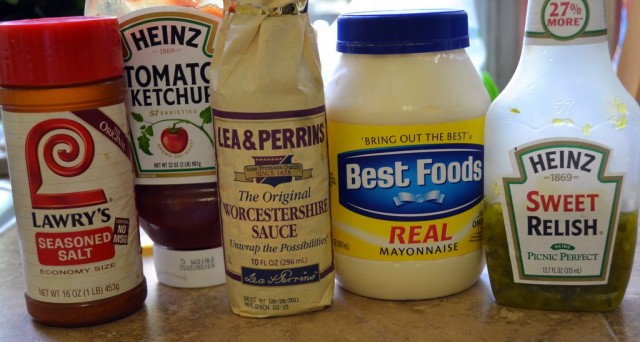 Ingredients:
3/4 cup of mayo
1/4 cup ketchup
1/4 cup relish
2 tablespoons worcestershire
seasoned salt
Combine all ingredients and whisk until well mixed. Taste and adjust ingredients to your liking.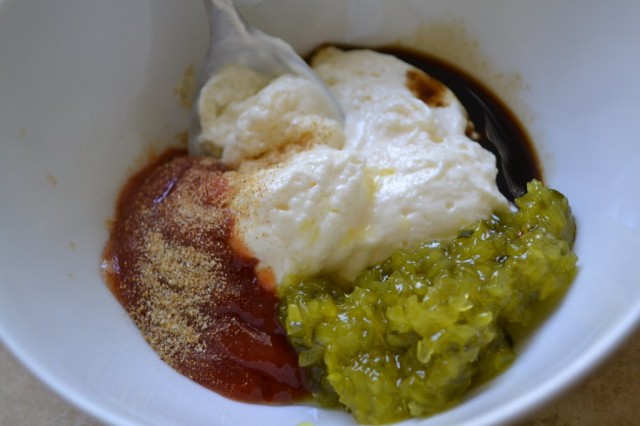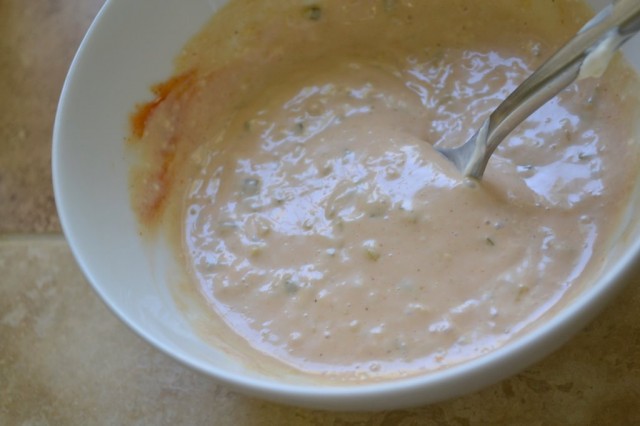 I also butter and toast the buns on a skillet Pioneer Woman style.  Something about a sesame seed bun makes the burger seem more legit.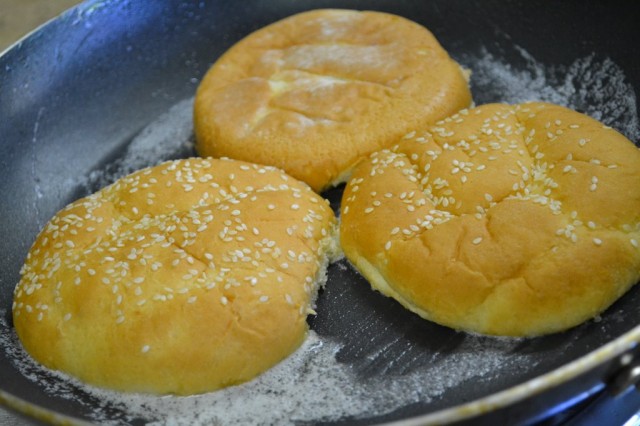 Now while the burger might not look like an award winner, it certainly tastes like it.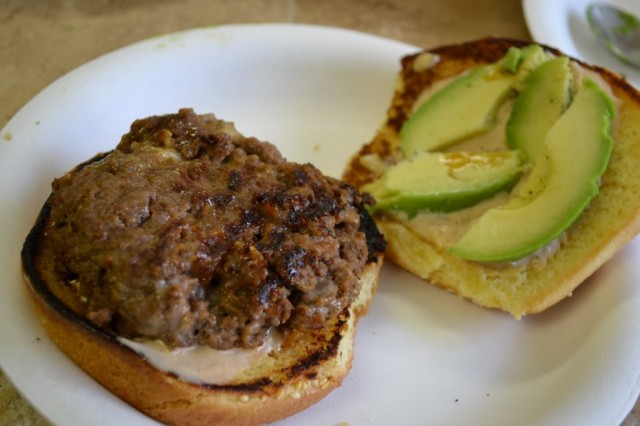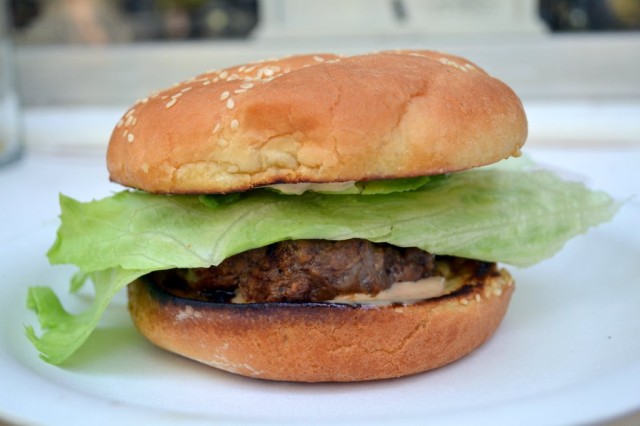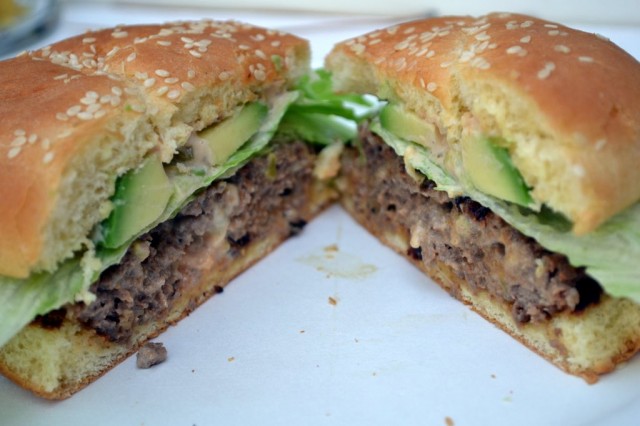 click here for more yummy recipes
UPDATE: Many of you have had trouble with the burgers falling apart. For some reason, I have made these burgers many times and this has not yet happened to me.  But for those who are experiencing this, here are a few of my suggestions.  1. I don't ever put this type of burger on the grill because it is too moist and will fall through the grates–which is why I use a grill pan.  2. I wait to flip the burger until one side is very thoroughly cooked, so that it holds together better before flipping.  3. If you are worried about them falling apart still, perhaps use less BBQ sauce than what I have listed in the recipe (try 2 tablespoons instead).  4. Some commenters have suggested adding some bread crumbs.  I hope these tips help.  These really do have a yummy flavor, sorry for those having trouble.
[easyrecipe id="10916″ n="0″]
I'm Ashley. Sometimes I craft, occasionally I cook, everyday I write, and I'm always Momma. This is my blog. I keep it real while still seeing the rainbows and butterflies in all of life's lessons.
Latest posts by Ashley Stock (see all)