Friday Favorites: TULA Skincare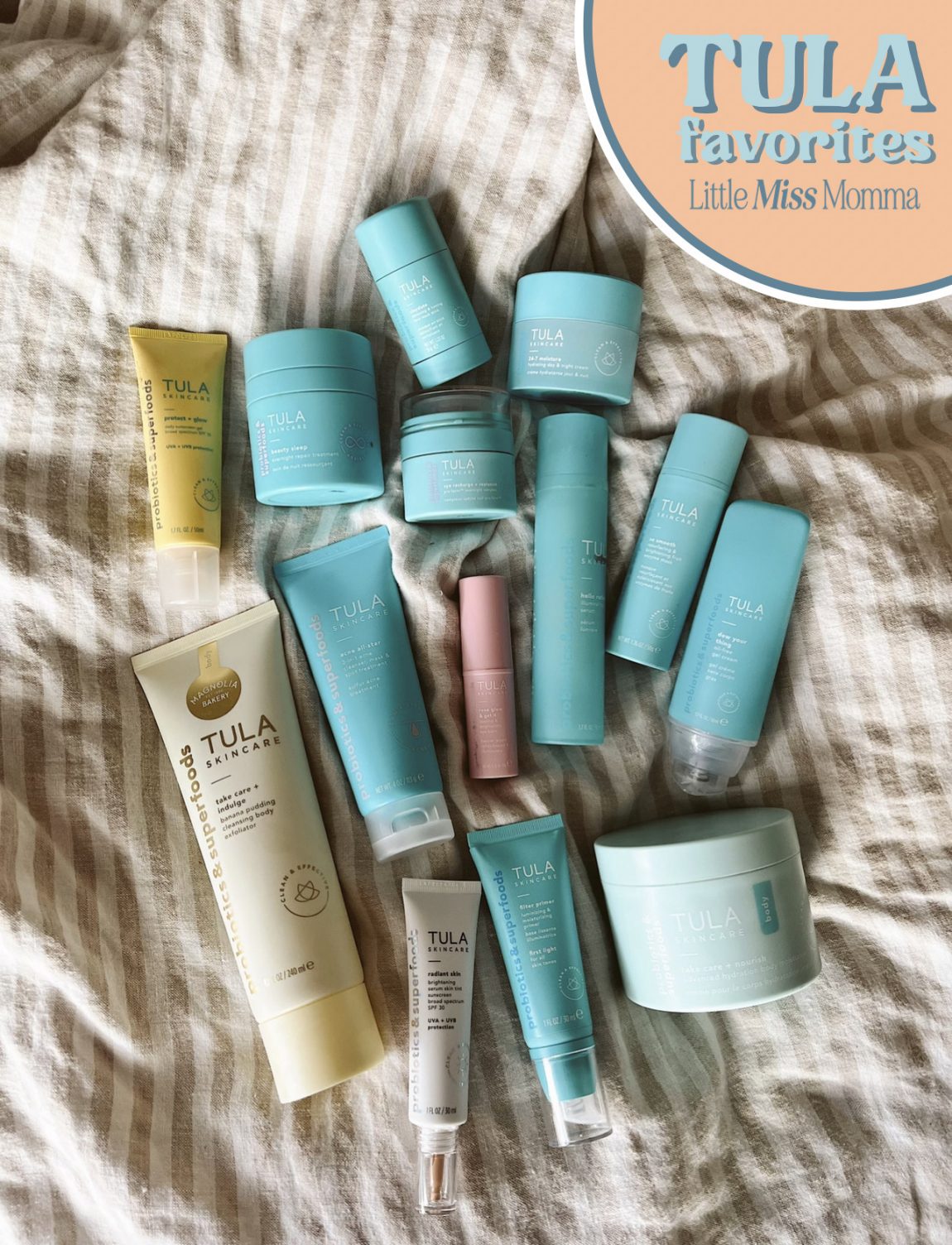 Happy Friday favorites! Let's talk about my favorite skincare! There are. tons of essential oils that I use on my skin and love because they are effective and natural (hello lavender, frankincense and blue tansy)! And when it comes to daily skin care (face wash, serums, moisturizers, sunscreen, primer), I am a HUGE fan. of Tula.
I've been using TULA products on my face + body for almost a year now and my skin couldn't be happier about it. I love everything about the brand – from their clean, doctor-founded products, to their #EmbraceYourSkin confidence movement. Focusing on healthy (not perfect) Tula doesn't retouch any photos to show real skin. AND the products are formulated with probiotic extracts and superfoods to feed your skin the good stuff.
Now that you know why I love them… let me show you all the goods!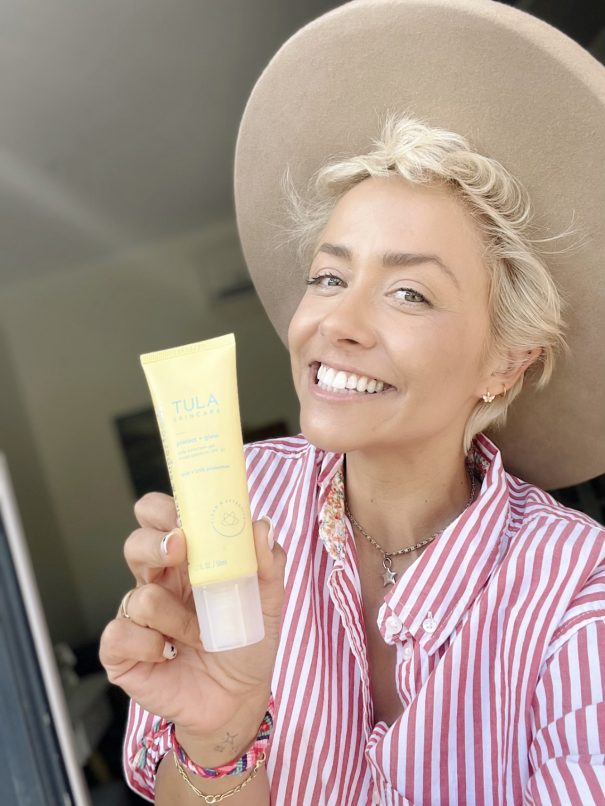 This sunscreen has seen every vacation with me over the last year… Lake Arrowhead through the summer, Utah in the lavender fields, sunny pool days and kiddo soccer games. It does NOT clog pores, not greasy, and NO white cast! It fully absorbs and. does amazing under my makeup or all on. its own. It has kept my skin protected so well and I'm obsessed with the glow it gives my face. It also protects from blue light which is what sealed the deal for me since I work from a computer and phone screen most days.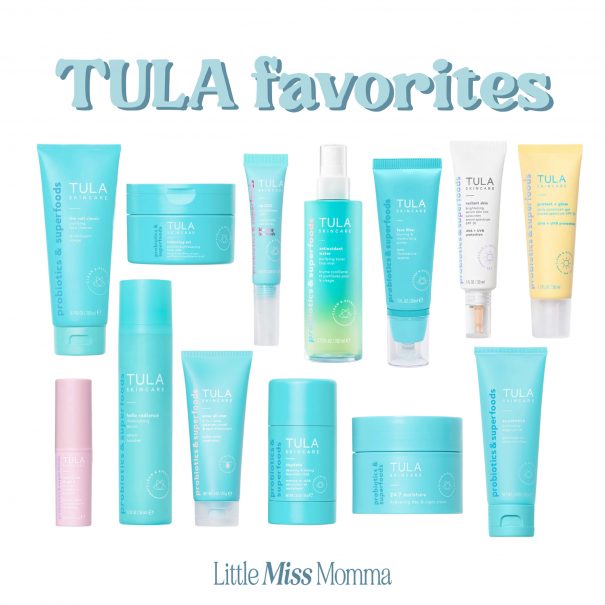 cult classic – gentle cleanser for all skin types
 balancing act – toner pads that lift impurities and shrink pores
lip SOS – hydrating lip gloss that leaves lips so moisturized. my favorite shade is blushing lemonade, but I recommend getting the trio
antioxidant water – purifying toner face mist. I love to spritz on my face throughout the day to refresh!
face filter – love the base this primer gives my face to put on my makeup. it blurs and evens my skin perfectly!
radiant skin – I've been looking for the perfect skin tint and they just released this and I quickly became obsessed. Brightens and evens skin tone and has SPF.
protect + glow – my fave sunscreen!
rose glow & get it – eye balm that soothes and cools when you apply. plus it leaves a rosey glow highlight that brightens up your face. My first love from TULA!
hello radiance – hydrating serum that deeply nourishes and firms skin. This is the secret ingredient to the most glowy skin!
acne all star – love this for when my skin breaks out. It's a 3 in 1 that can be used as a cleanser, spot treatment or mask.
 claydate – detoxing and toning face mask that draws out dirt and oil
24-7 moisture – my daily moisturizer- morning and night. So hydrating and leaves my skin extra soft.
so polished – gentle sugar scrub for exfoliating. I use this once a week and love the way my skin feels so soft the next day!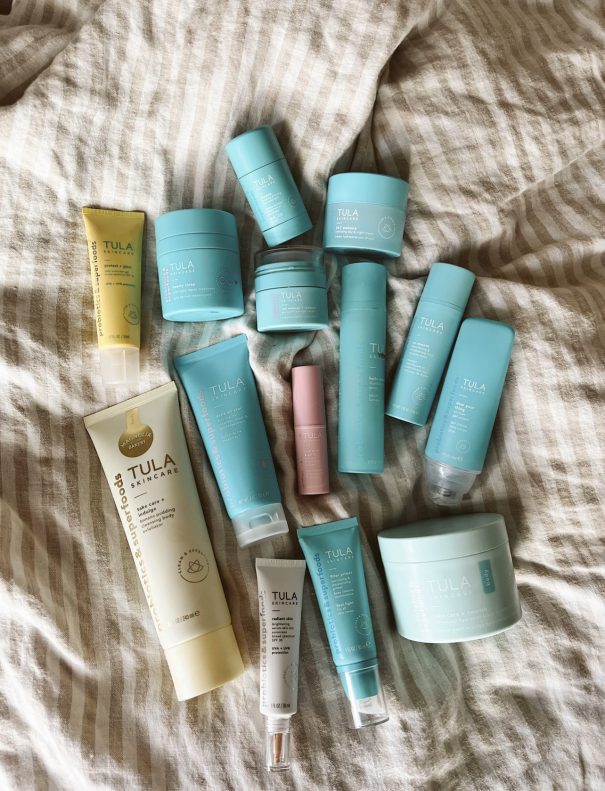 Body care favorites:
take care + nourish – the best body lotion!! So thick and moisturizing, with a subtle shimmer. Plus it smells sooo good.
take care + indulge – this brand new body exfoliater is becoming a quick favorite. The banana pudding flavor smells so yummy and it leaves my skin SO soft.
The best part, I have a 15% off site wide coupon for ya'll!
Use code: littlemissmomma