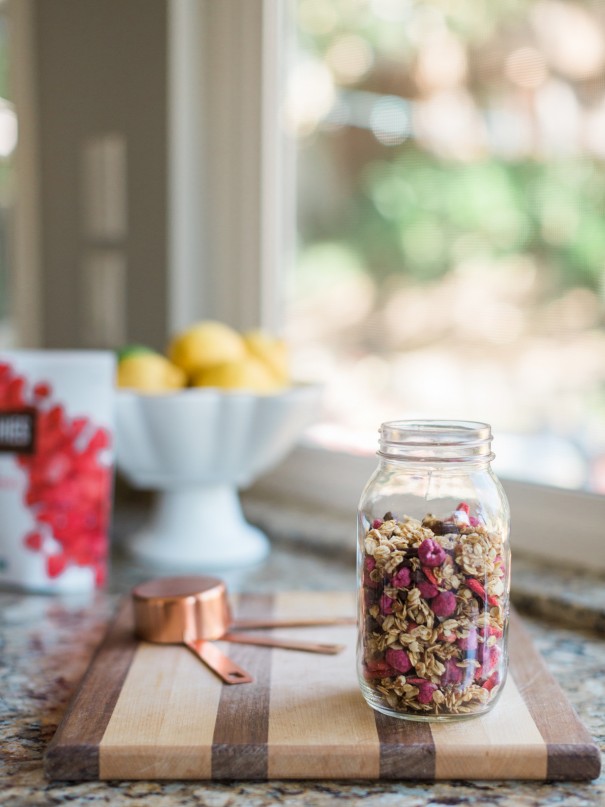 Recipe type:
breakfast, snack
1 cup almonds
3 cups old fashioned oats
½ teaspoon sea salt
⅓ cup light brown sugar
⅓ cup honey
3 tablespoons coconut oil
½ teaspoon vanilla extract
¼ cup dark chocolate chunks
¾ cup Crunchies fruit (strawberries, blueberries, raspberries)
Preheat your oven to 350.
In a blender, blend ½ cup of the almonds until finely chopped (not powdery though).
Finely chop the remaining ½ cup of almonds with a knife.
Combine the oats, salt, and brown sugar with the almonds in a bowl and stir to combine.
Combine honey and coconut oil in a microwave safe bowl and heat in the microwave for 45 seconds. Stir to combine and then add the vanilla.
Pour the honey mixture over the oats and toss until well coated.
Spread the oats evenly on a parchment lined baking sheet. Bake the oats for 5 minutes, stir them and then bake them again for an additional 5 minutes.
Remove the granola and parchment paper from the baking sheet and set aside to cool. Once completely cool you can break the granola into clusters.
Add in your favorite Crunchies fruit and some dark chocolate chunks. Be sure to store in an airtight container.
Tastes amazing over greek yogurt with drizzled agave. Also amazing in ice cream or with milk.