Easy Oreo Cake Pops (no bake)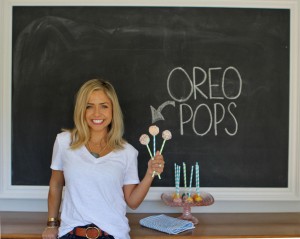 1 package of Oreos
⅔ package of cream cheese
candy melts (melting chocolate)
sprinkles
lollipop or cookie sticks
Use a food processor to crumble cookies. I used that long wand that came with my Vitamix to push the cookies down into the blades. If your blender isn't super powerful then blend the cookies in smaller batches. If you don't have a food processor you can put the cookies in a large plastic bag and use a hard object to crush the cookies as finely as possible.
In a bowl, combine Oreo crumbles and cream cheese.
Form dough into one large ball and chill in refrigerator for about 30 minutes or the freezer for 10 minutes.
Now, roll dough into 1.5 inch balls. This recipe will yield approximately 25 cake pops.
Then use the second half of my Cake Pop Recipe to complete your pops. I like to serve mine chilled.
Recipe by
Little Miss Momma
at https://www.littlemissmomma.com/2014/03/easy-oreo-cake-pops-bake.html