Zucchini Spaghetti with Goat Cheese and Sun Dried Tomatoes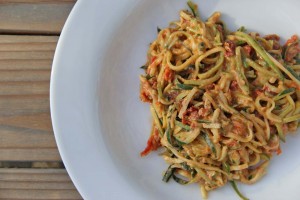 Recipe type:
side dish, main course
3 zucchinis
4 ounces sun dried tomatoes in olive oil
¼ cup of crumbled goat cheese (or more to taste)
¼ tsp of cayenne pepper
salt and pepper to taste (and the good sea salt, not table salt)
yep, that's it
Use your tool/mandolin and turn all your zucchini into spaghetti-like noodles. Be sure to cut the zucchini length-wise so that your noodles are long. I didn't peel my zucchini in advance because I like the peel, but you totally could.
Place the zucchini noodles in a microwave safe dish with a lid. Microwave on high for 2 minutes. You want the noodles firm but not mushy. I like to taste test to see if the firmness is correct after 2 minutes--if not, continue to microwave in 30 second intervals. I like mine to still have a bit of firmness and crunch.
While the noodles are still hot, add the sun dried tomatoes and goat cheese crumbles. Stir until all ingredients are combined. Now add the cayenne pepper--just a bit at a time because this stuff is super spicy (but it adds such great flavor). Now salt and pepper to taste.
Recipe by
Little Miss Momma
at https://www.littlemissmomma.com/2014/02/zucchini-spaghetti-goat-cheese-sun-dried-tomatoes.html