Easy Garlic and Pepper Mashed Cauliflower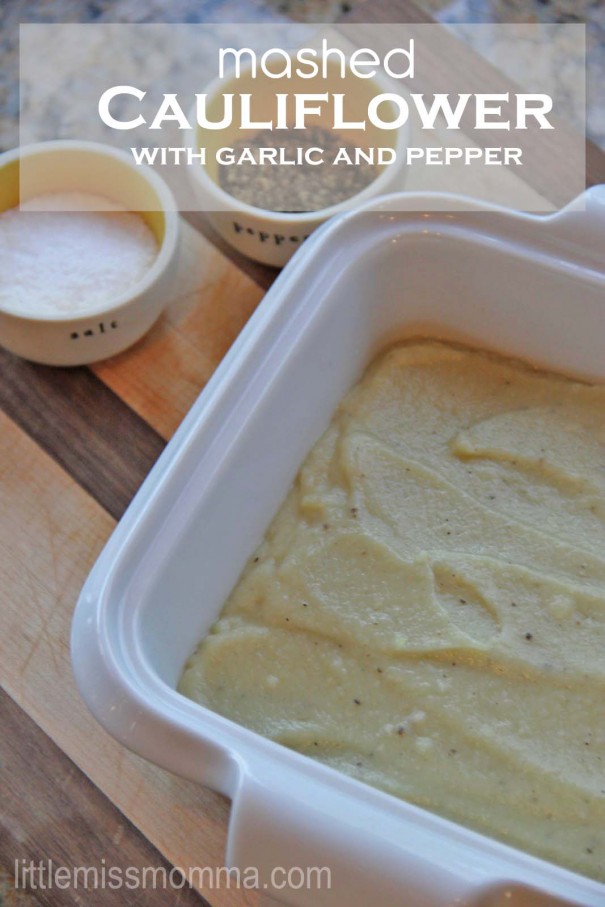 2 bags of Cauliflower Florets
5 cloves of garlic
salt to taste
pepper to taste
Almond milk (optional--I didn't use any)
I bought the cauliflower that can be steamed in the bag. This recipes works fantastic if you steam your own cauliflower too. While the cauliflower was steaming I peeled the garlic cloves. I diced one clove and set it aside. I placed the remaining four cloves in a tablespoon of water and microwaved them for 1 minute. Steaming the garlic cloves like this cuts some of the spicy garlic taste. I kept one clove raw to add just enough flavor.
Next, toss the steamed cauliflower, garlic, salt & pepper into your blender. I use a Vitamix Creation II.
Because there is no liquid to help the ingredients blend evenly, I needed to use this handy tool that came with my blender. It fits into the lid so you can push the ingredients down towards the blade until all is blended smoothly.
After blending, if it is still too thick, you can add a tablespoon of almond milk at a time until desired consistency is reached. Add additional salt and pepper to taste. You can serve immediately, or I like to pour the cauliflower into a baking dish and bake until piping hot and ever so slightly browned on top--about 10 minutes. You can even make in advance and throw it in the oven before dinner time.
Recipe by
Little Miss Momma
at https://www.littlemissmomma.com/2014/01/enough-enough-clean-eating-journey.html