Chocolate Chip Banana Nut Muffins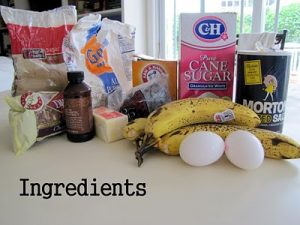 Author:
Ashley Stock - Little Miss Momma
½ cup (1 stick) softened butter
1 cup sugar
2 eggs
2 or 3 RIPE bananas mashed
2 cups flour
1 teaspoon baking soda
1 teaspoon salt
1 teaspoon vanilla extract
3 tablespoons brown sugar
½ to ¾ cup chocolate chips
½ to ¾ pecans or walnuts
Beat the SOFTENED butter and white sugar in a mixing bowl
until light and fluffy.
Add the eggs and mashed bananas and mix well.
Add the flour, baking soda, brown sugar, salt and vanilla and mix until blended. Add chocolate chips and pecans and stir until well mixed.
Spoon into paper muffin cups and place in a muffin pan. Fill each muffin about ¾ full.
Bake at 375 degrees for 20-30 minutes or until a wooden pick inserted in the center comes out clean.
Remove the muffins from the pan immediately after taking them out of the oven and set them aside to cool for about 15 minutes.
Then enjoy their awesomeness.
Your muffins will be all the more fabulous if your bananas are super ripe.

If you want to make this recipe as a loaf instead of muffins then spoon batter into a well greased 5 x 9 inch loaf pan and bake at 350 degrees for 1 hour.
Recipe by
Little Miss Momma
at https://www.littlemissmomma.com/2010/06/chocolate-chip-banana-nut-muffins.html