Summer Spaghetti: Easy, Healthy Vegetable Pasta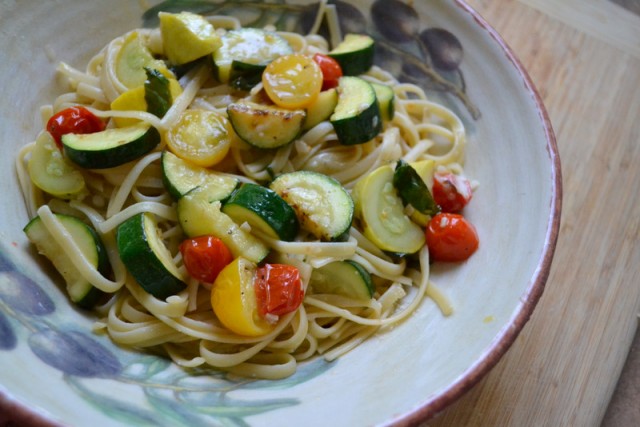 package of spaghetti or linguini
¼ cup extra virgin olive oil
¾ cup grilled zucchini chopped
¾ cup grilled yellow squash chopped
¾ cup chopped cherry tomatoes
¼ cup ripped basil
5 cloves of garlic
¼ cup grated parmesan cheese
dash of red chili powder
salt and pepper to taste
Slice the zucchini and squash length wise and lightly season with olive oil and salt and pepper–getting them ready for the grill.
Slice your yummy tomatoes.
Roughly chop your garlic cloves.
Cook the pasta al dente (approximately 9 minutes). Be sure to reserve about a cup of the water from the boiled pasta.
Grill the zucchini and squash until grill marks appear but veges are still firm.
Chop firm veges.
In a large sauce pan, add the olive oil and garlic. Sautee the garlic until soft but not brown.
Add the grilled veges, the tomatoes, the basil and the chili powder to the saucepan and cook on med-high heat.
Salt and pepper to taste. I don't like my veges mushy, so I cooked everything until soft, but still firm in the center–only a few minutes. If you want your pasta to have more of a kick, you can add more chili powder.
Add pasta and grated parmesan cheese. Add about half of the cup of reserved water and toss the pasta in the saucepan. Add the remaining reserved water only if needed.
Recipe by
Little Miss Momma
at https://www.littlemissmomma.com/2012/05/summer-spaghetti-easy-healthy-vegetable-pasta.html