HALLOWEEN PARTY ROUNDUP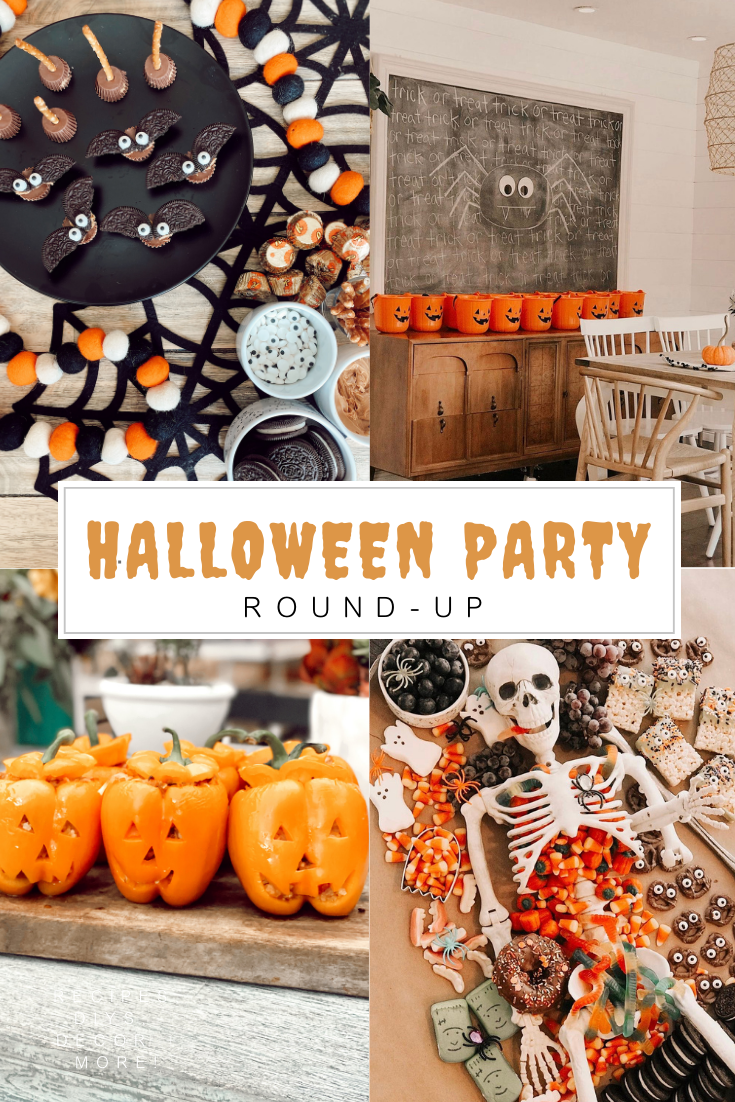 How to Throw the Best Halloween Party: recipes, DIYs, decor + more.
Happy Halloween 2021! Ready to plan your party? Don't stress – I got you! Halloween parties are my jam and I now have it down to a science. Here's a roundup of some of my favorite Halloween recipes, treats, decorations, activities and more! Some of these ideas are from kiddo Halloween parties I have done in the past–so for a bunch of ideas on kid games, activities and treats,  read this post and this one!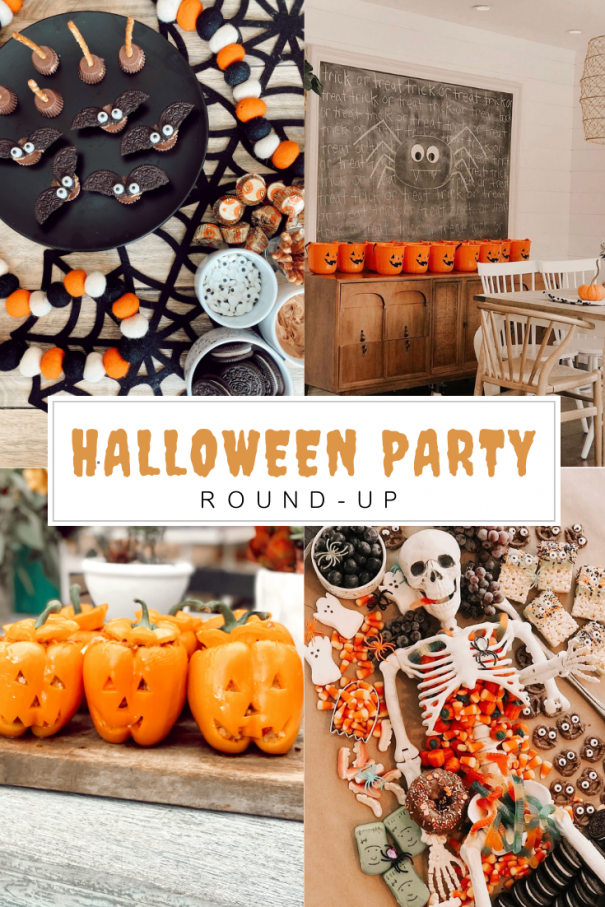 Where should we start? Halloween treats and recipes? Okay, let's dive in! I show you some photos of treats I've done in the past and then share some recipes of what I've been making this year! All of these are simple DIYs because I'm not exactly a master in the kitchen.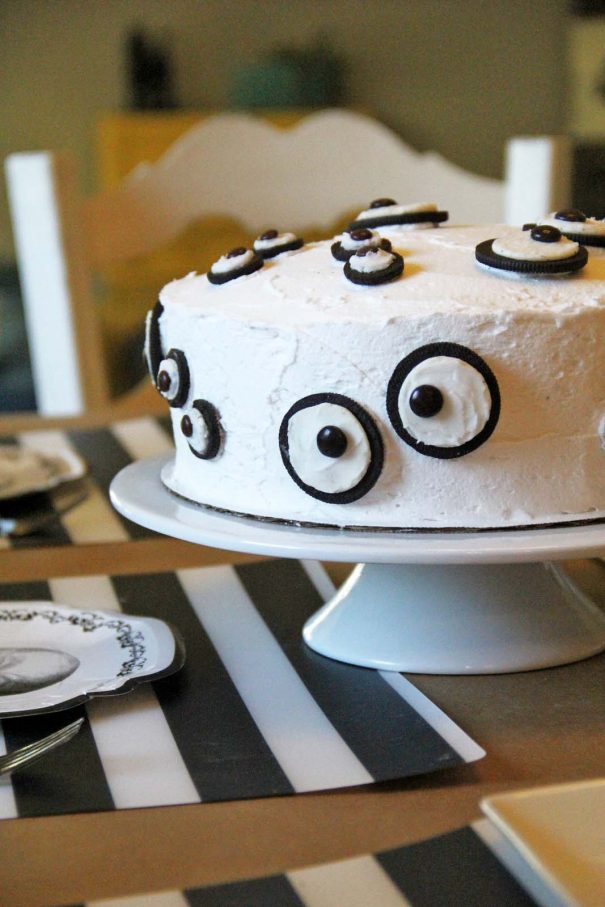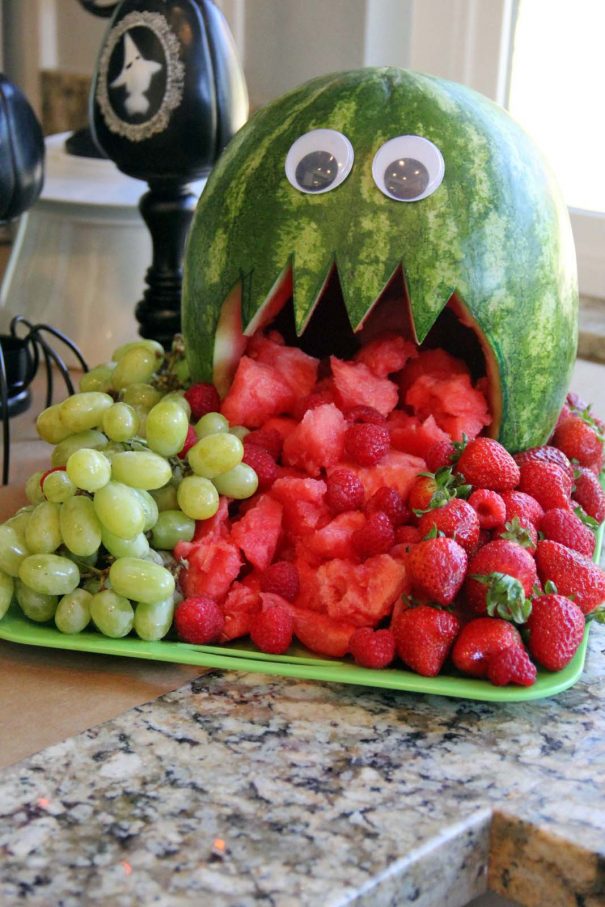 Basically, add eyeballs to any food and it becomes a Halloween treat, LOL!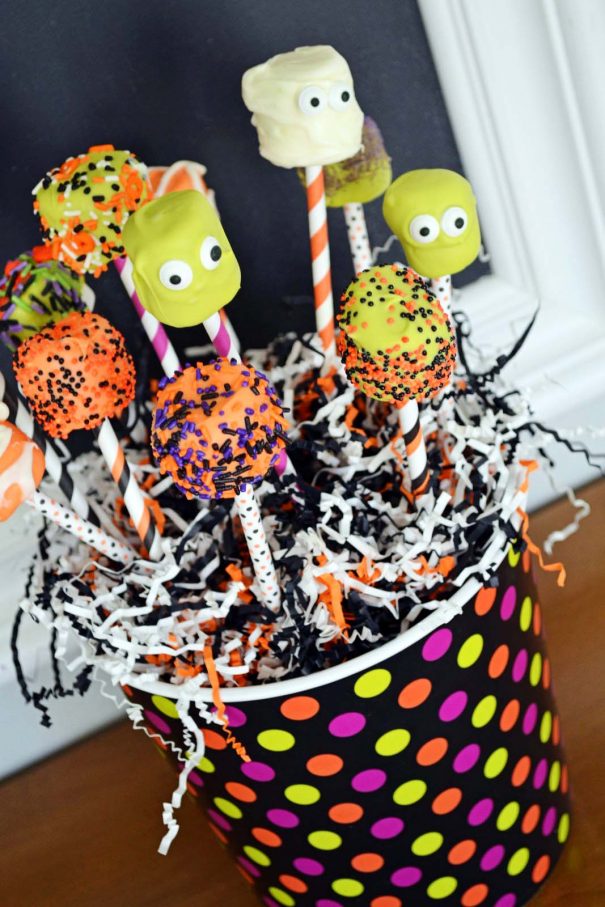 Check out my Halloween Marshmallow Pop recipe here.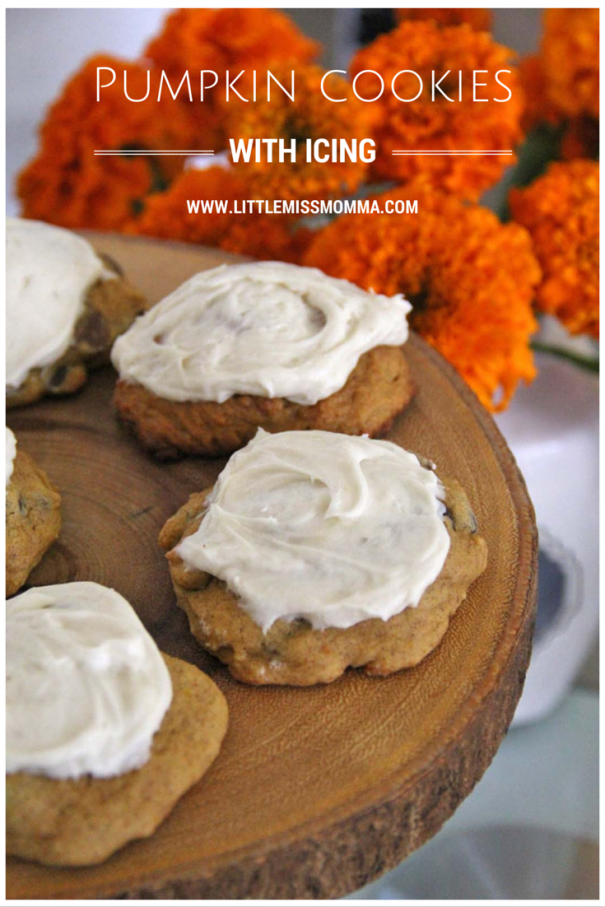 Legit the BEST pumpkin cookies with frosting recipe EVER, read here.
Donut Spiders
What you need:
-Mini Frosted Chocolate Donuts
-Pretzels bag
-Candy Eyeballs
-White Icing
Instructions:
Make the pretzel legs- break pretzels apart and keep the two top curved pieces (these will be the legs. 1 pretzel= 2 legs. Each spider needs 8!)
Grab your donut and push the pretzel legs into each side. 4 legs per side!
Add a small squeeze of icing to the back of each eyeball and stick them onto the front of your spider.
Enjoy your creepy crawly treat!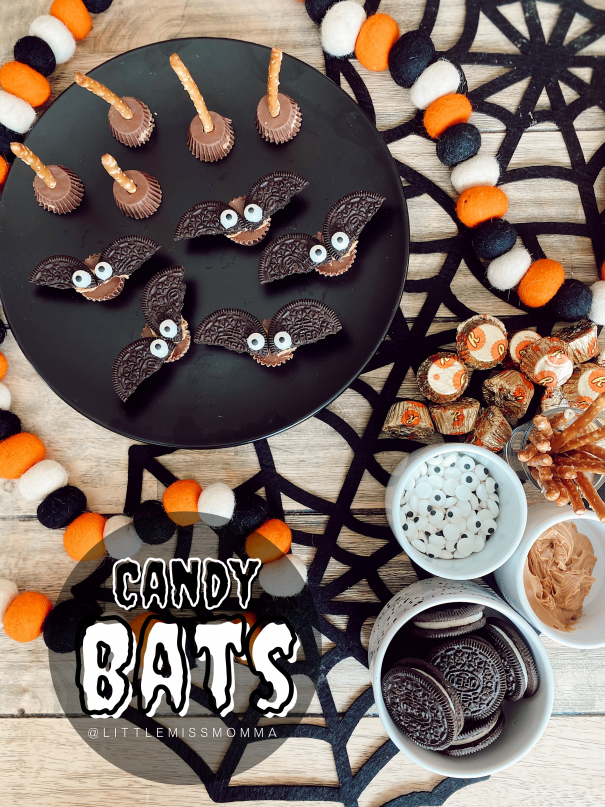 Reese's and Oreo Bats
What you need:
-Reese's Miniatures
-Oreos
-Peanut Butter
-Candy Eyeballs
-White Icing
Instructions:
Open up your Oreos in halves and scoop the cream filling off. Save the cookies but not the filling.
Take your new Oreo cookies and break them into even halves. (These will make your bat wings!)
Apply a small amount of peanut butter to 2 Oreo cookies, on the inner corner on the bottom, and stick them onto the top of the miniature Reese's.
Apply icing to your candy eyeballs and stick them onto where the Oreos connected to the Reese's.
Enjoy!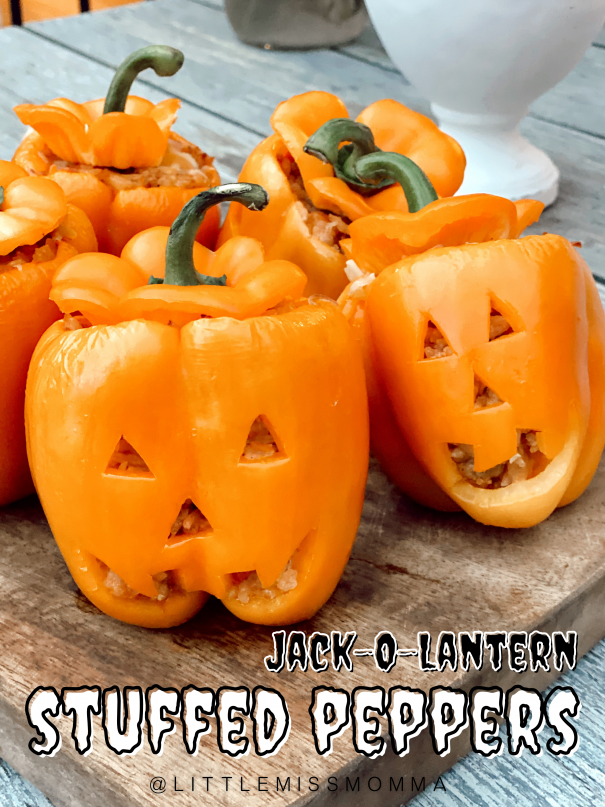 Jack-O-Lantern Stuffed Peppers
How adorable and fun are these?! And so easy, too. I just use my favorite stuffed pepper recipe but make sure to use orange bell peppers and cut out little jack-o-lantern faces! Aside from how yummy and savory they are, I think I love making stuffed peppers most because you don't have to follow a set recipe.  I'll toss whatever in my fridge into these bad boys, lol.  Sometimes I keep them basic, sometimes I add a smorgasbord of new veggies, sometimes I even add a can of bruschetta! But one thing that remains in every batch–cheese!!!!  I have been making these for years and used to boil the peppers to soften them first. I NEVER do that anymore because they get plenty soft when you bake them and there's nothing worse than a mushy pepper! You can try my Healthy Stuffed Peppers recipe (I suggest skipping the boiling pepper part) here.
Some other favorite recipes from Halloween Parties Past:
HOMEMADE SUPER SUPER YUMMY ROOTBEER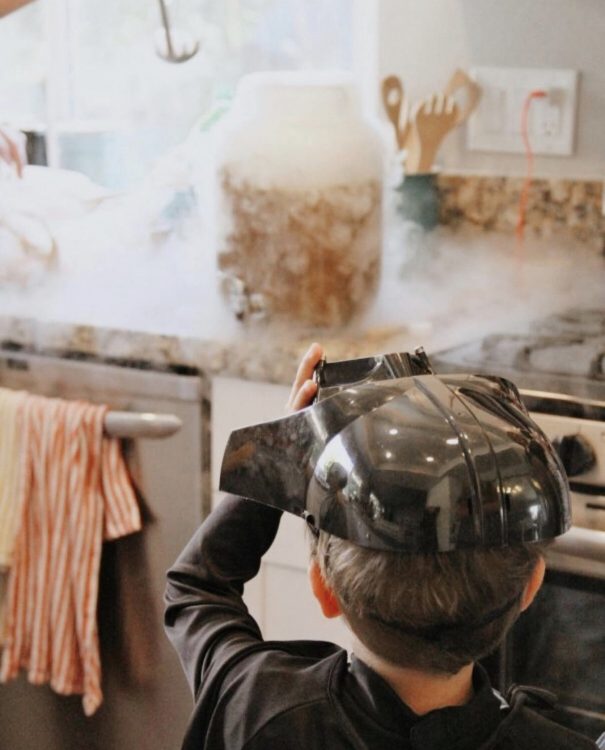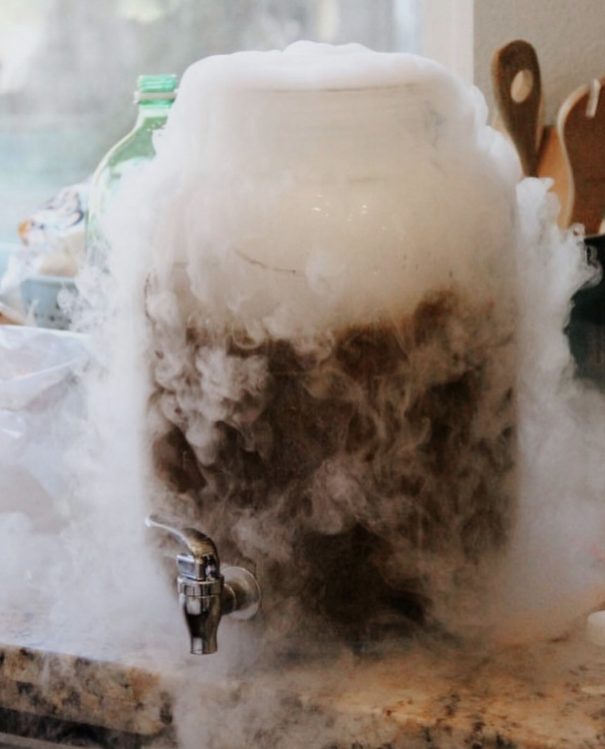 Home Made Rootbeer
A favorite family Halloween tradition of ours!
What you'll need:
– 6 cups white sugar
– 3.5 gallons cold water
– 2 ounce rootbeer extract
– 4 pounds dry ice
For the full recipe, click here!

Dangling donuts. A fun game we always play – hang some donuts from a string and see who can eat the whole thing first with no hands!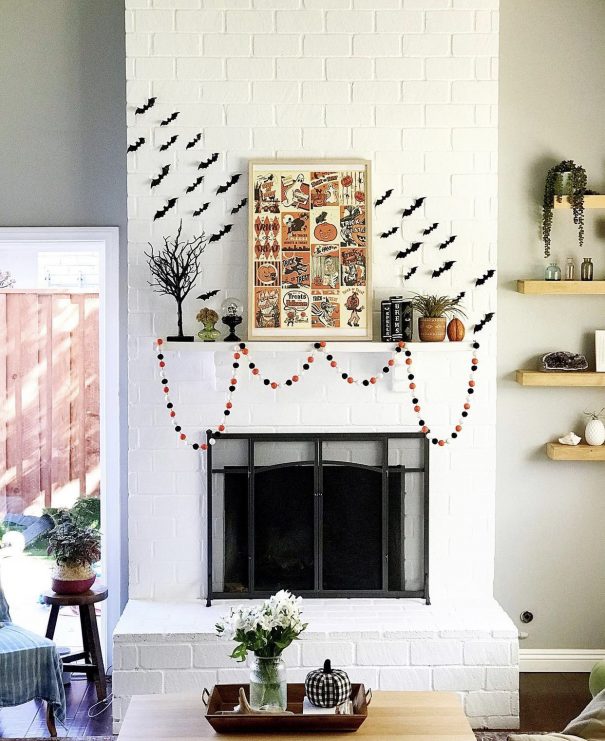 This fireplace decor was a copy years ago.  I had found a cute piece of vintage style wrapping paper at Paper Source and decided to pop it in a $20 target poster frame I had lying around.  I'm not the person who buys all new holiday decor every year, but I also don't want it to look exactly the same from one year to the next, so I try to style it different and maybe toss in a few new elements to switch things up.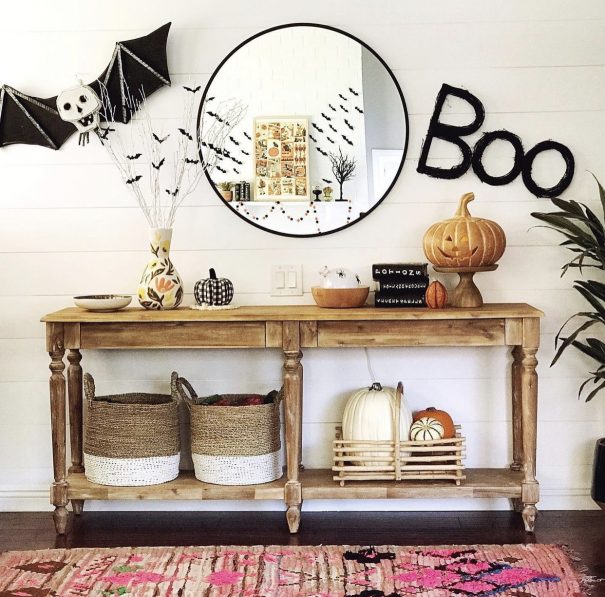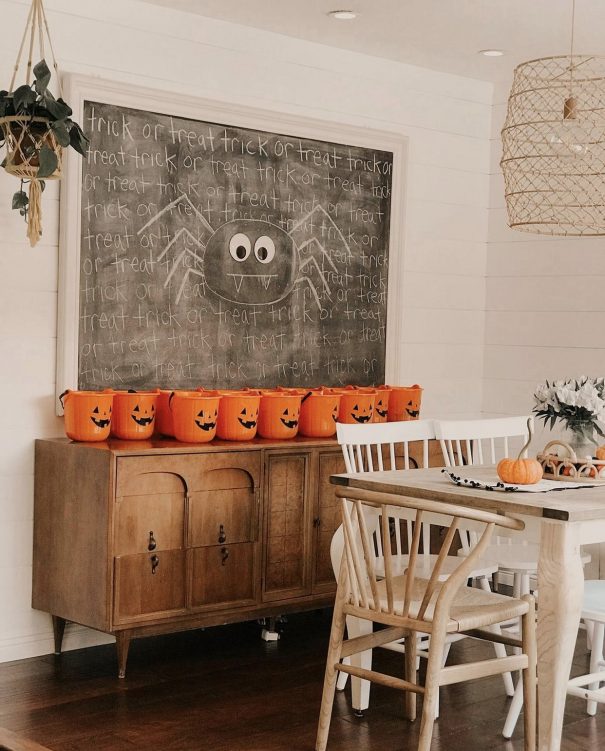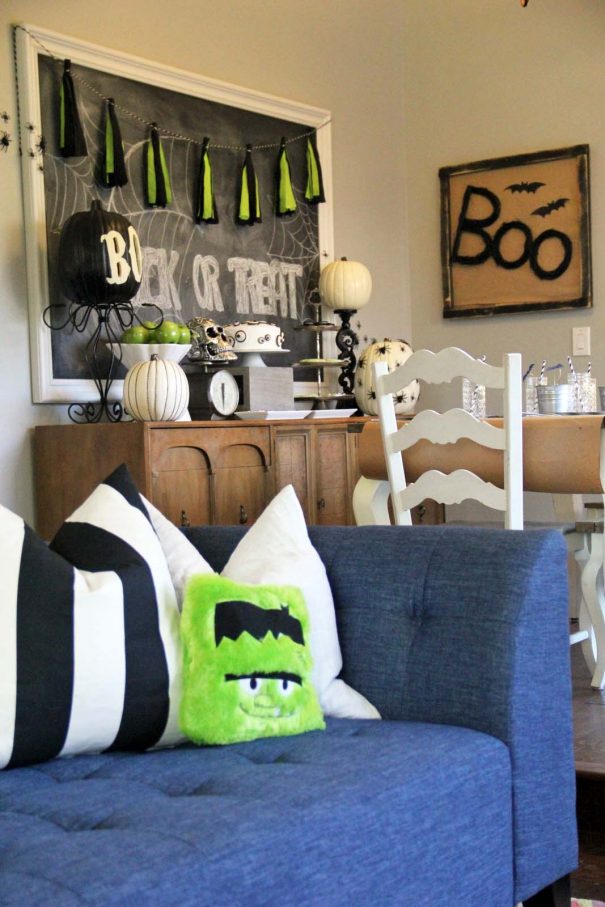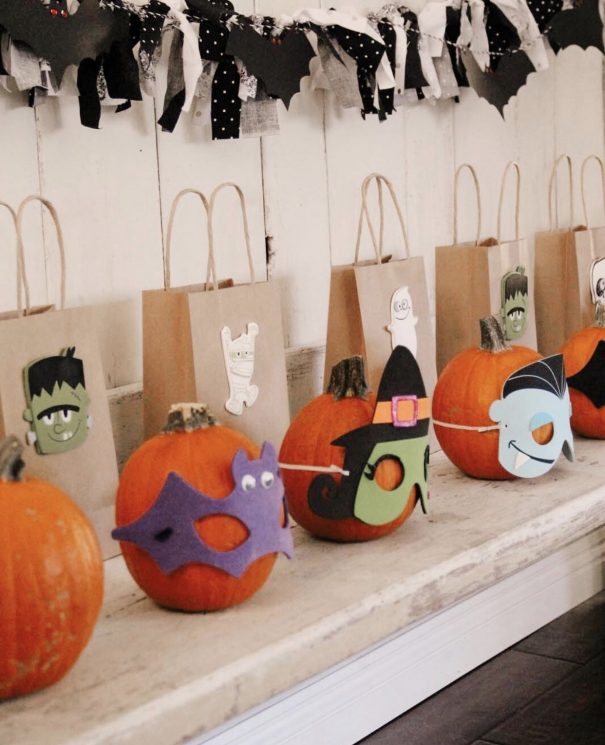 And if you're looking for some more inspo, here's some of my favorite past Halloween decor: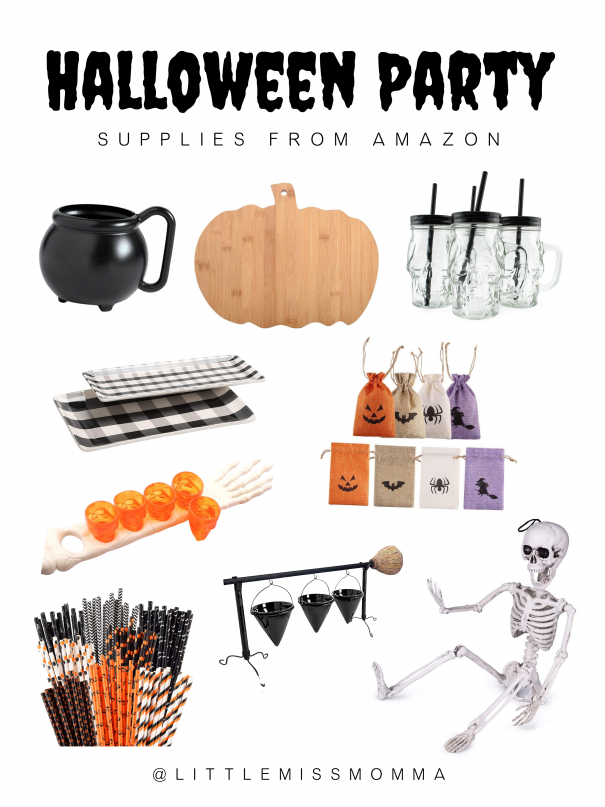 Spooky decor, festive serve wear, and fun party supplies galore!
Shop my favorites from amazon here.
And last but not least, you need to make sure your house smells festive as a bowl full of candy!
Pop any of these blends into your diffusers for a sweet and delicious smelling home.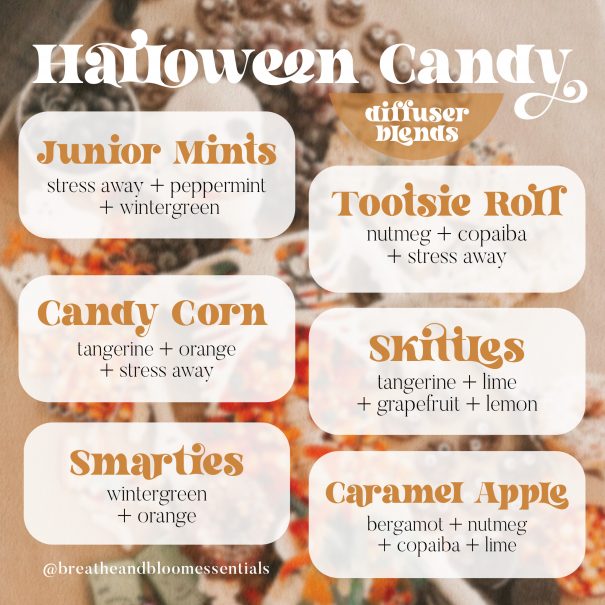 Halloween Candy Diffuser Blends 
Junior Mints | 5 drops Stress Away + 5 drops Peppermint + 2 drops Wintergreen
Candy Corn | 3 Tangerine + 4 Orange + 4 Stress Away
Smarties | 4 drops Wintergreen + 5 drops Orange
Tootsie Roll | 4 drops Nutmeg + 3 drops Copaiba + 4 drops Stress Away
Skittles | 3 drops Tangerine + 3 drops Lime + 3 drops Grapefruit + 3 drops Lemon
Carmel Apple | 3 drops Bergamot + 3 drops Nutmeg + 3 drops Copaiba + 5 drops Lime
Don't have your oils yet? Shop all of the above mentioned here.
Links to past posts:
First Annual Cousin Halloween Party Part 2
First Annual Cousin Halloween Party Part 1
Halloween Memories + Baby Costumes