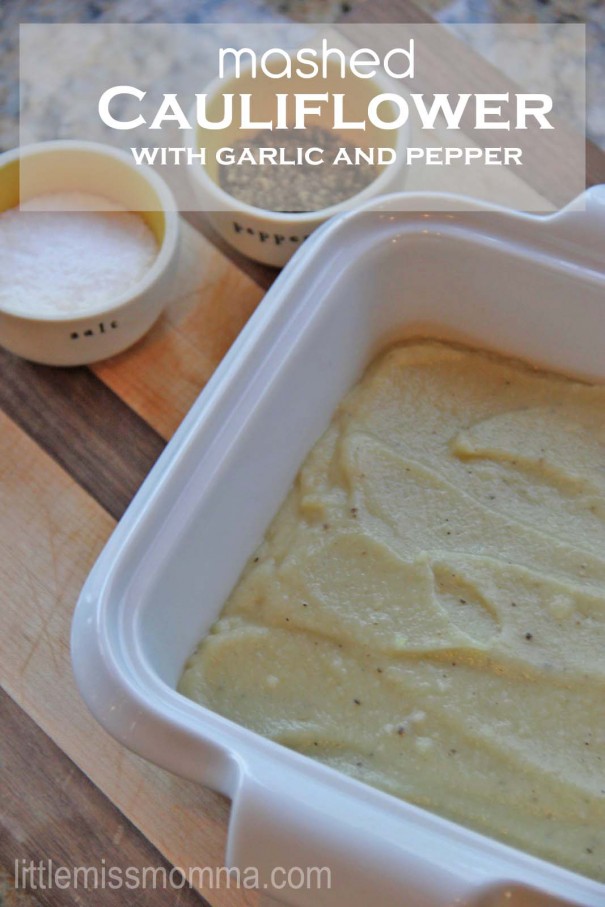 A big change towards a healthier lifestyle has been a long time coming in our home. After Sawyer's birth, meals in our family became more about convenience and indulgence rather than health.  Recently, with the encouragement of close friends, I decided that enough was enough.  This perpetual sluggish state of exhaustion I was in needed to end.  Not to mention the extra rolls around my waist have been a real blow to my self esteem.  I wasn't looking for some quick "fad/extreme diet", something that would only result in me returning to my old habits after the diet ended–I wanted a lifestyle change., something permanent.
This week marks my fourth week of "clean eating". Which means eating three meals and two to three small snacks each day. Each meal includes a lean protein, lots of fresh fruit and vegetables and a complex carbohydrate. It means drinking LOTS of water and no soda–ahhh, you know how hard that soda restriction is for me, and I haven't been perfect. I eat healthy fats and lean proteins. I avoid processed foods, sugars, dairy (this means no cheese, another ahhhh!) and no gluten. And of course, organic whenever possible.
I know this sounds super restrictive, and to be honest it felt that way during the first week of the diet.  But eventually I found that my cravings subsided. I still get a hunkering for chocolate chip cookies and peanut butter & jelly sandwiches.  And I still allow myself those "cheats" in moderation.  My motto is: Progress, not Perfection. And since I'm looking for a lifestyle change not a quick diet, I sure as hec have no intentions of cutting cookies out of my life forever.
For those who are interested, I'd love to start sharing some of my go-to meals and recipes for clean eating. This first one is a favorite of mine.  We are big fans of mashed potatoes around these parts, and this is the best, most healthy substitution I've made. Great served with grilled chicken and a vegetable.
Easy Garlic and Pepper Mashed Cauliflower
(no butter, no dairy, no potatoes)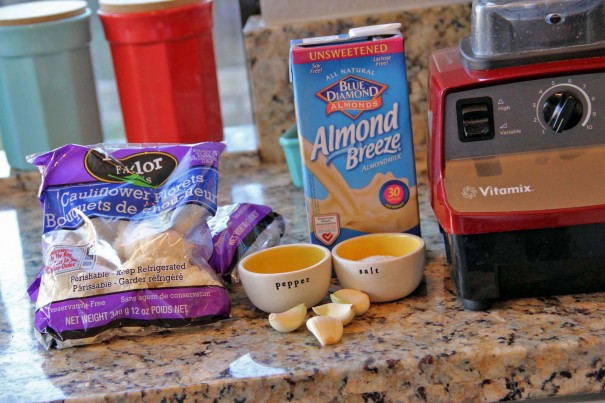 Ingredients:
2 bags of Cauliflower Florets
5 cloves of garlic
salt to taste
pepper to taste
Almond milk (optional–I didn't use any)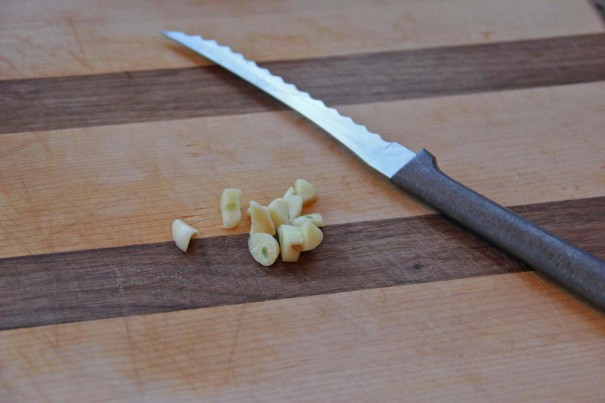 I bought the cauliflower that can be steamed in the bag.  This recipes works fantastic if you steam your own cauliflower too. While the cauliflower was steaming I peeled the garlic cloves.  I diced one clove and set it aside. I placed the remaining four cloves in a tablespoon of water and microwaved them for 1 minute.  Steaming the garlic cloves like this cuts some of the spicy garlic taste.  I kept one clove raw to add just enough flavor.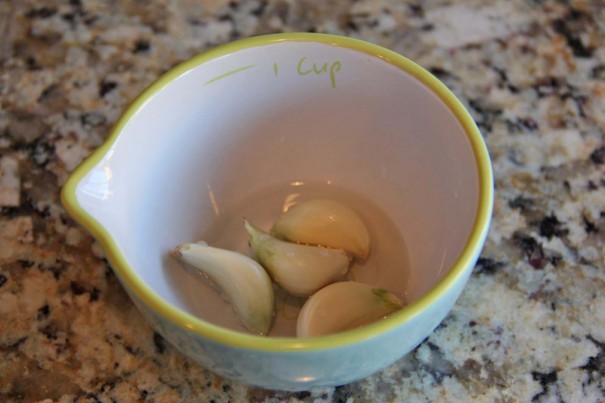 Next, toss the steamed cauliflower, garlic, salt & pepper into your blender. I use a Vitamix Creation II.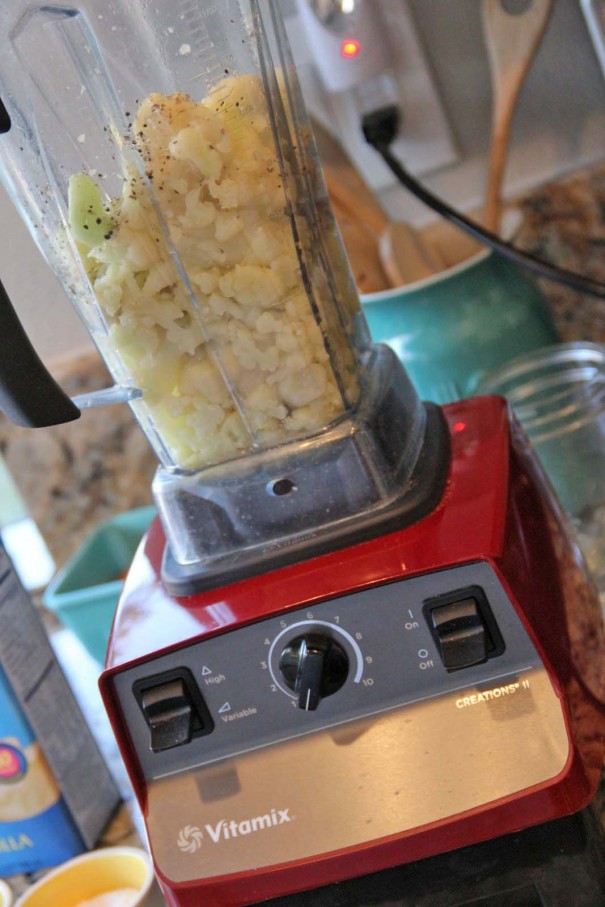 Because there is no liquid to help the ingredients blend evenly, I needed to use this handy tool that came with my blender.  It fits into the lid so you can push the ingredients down towards the blade until all is blended smoothly.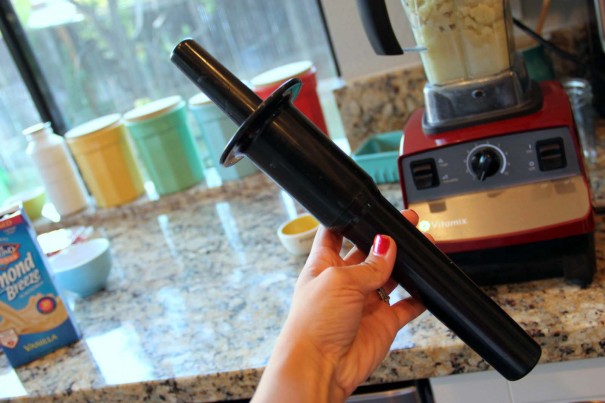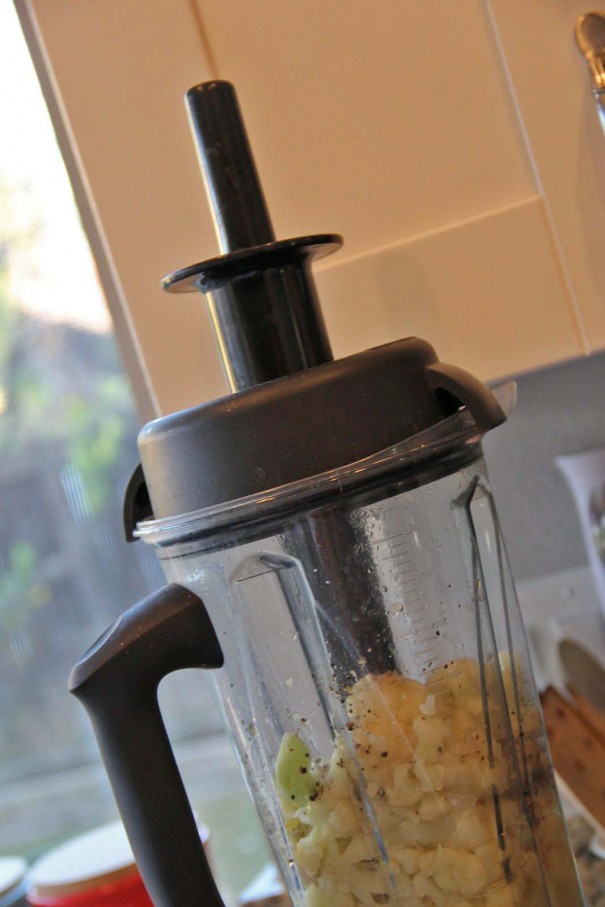 After blending, if it is still too thick, you can add a tablespoon of almond milk at a time until desired consistency is reached. Add additional salt and pepper to taste. You can serve immediately, or I like to pour the cauliflower into a baking dish and bake until piping hot and ever so slightly browned on top–about 10 minutes. You can even make in advance and throw it in the oven before dinner time.
If you have any plans to purchase a Vitamix, use this coupon code to get FREE SHIPPING ($25US/$35CN)
CODE: 06-008709
Shop here.
Additional recipes I've made using my Vitamix:
Green Drink Power Smoothie
Roasted Red Pepper Hummus
Sneaky Kid Spaghetti Sauce
[easyrecipe id="19252″ n="0″]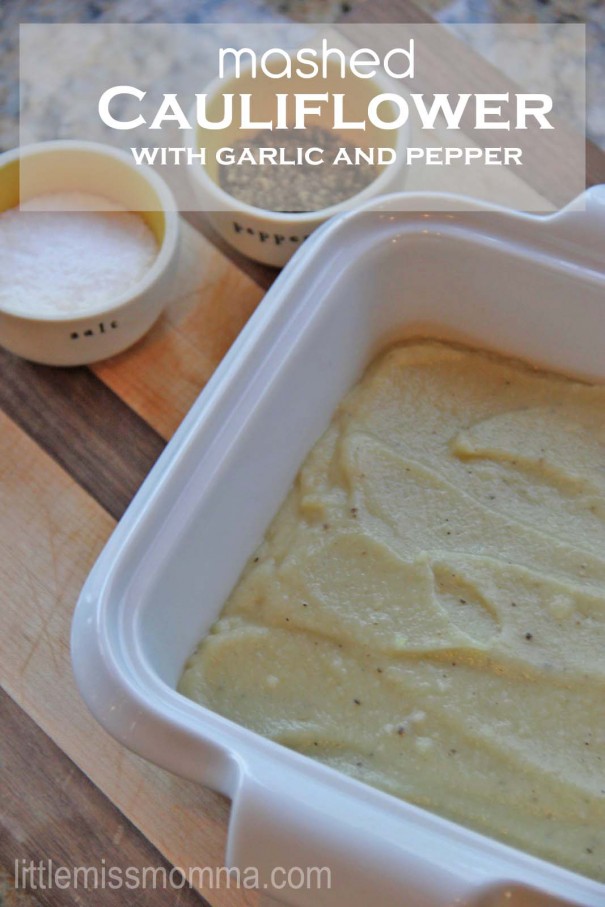 *I was given the Vitamix Creation II to review. As always, all opinions are my own and I am completely head over heels in love with my Vitamix.
I'm Ashley. Sometimes I craft, occasionally I cook, everyday I write, and I'm always Momma. This is my blog. I keep it real while still seeing the rainbows and butterflies in all of life's lessons.
Latest posts by Ashley Stock (see all)