GIVEAWAY CLOSED, WINNER SELECTED
CONGRATS TO THE WINNER OF THE BOP 'BE REAL' CANVAS

___________________________________________________
You know when you fall in love with a band before they've made it big time. And then they get huge and everyone loves them and knows who they are. And you try to tell everyone, Yeah I knew them when…aren't they the greatest!
Well, that's pretty much how I feel about Kristi at Barn Owl Primitives. It has been super exciting and a privilege to witness her success over the past couple years. Kristi even wrote a guest post for us a little while back with some tips about how she grew her handmade business. In fact, I'm not sure if y'all have heard, but a handful of her fabulous typography word art designs have been licensed and have even been picked up by some very big stores.
My most favorite of all her designs—the one I have up in my craft room–the "Be Real" design—can now be purchased as a canvas in Target!  Yes, Target! The happiest place on Earth!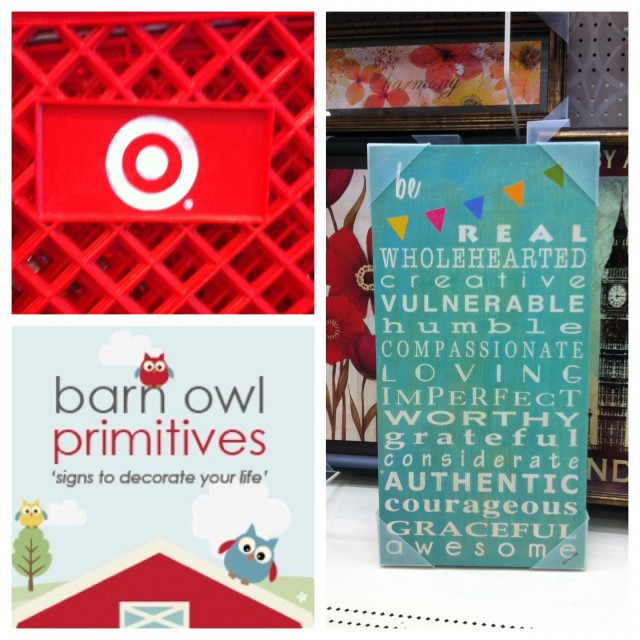 **And to celebrate, BOP is giving away one of these beauties to a lucky winner**
To enter this giveaway, leave one comment letting me know your favorite word.
That's it! No hoops to jump through.  Just a celebration in honor of Kristi!
I'll pick a winner this Friday, June 15th.
 This post is not affiliated or sponsored by Target.  I was not compensated in any way for this post. I just love Kristi and all Barn Owl Primitives products.  I am so happy for her success! 
I'm Ashley. Sometimes I craft, occasionally I cook, everyday I write, and I'm always Momma. This is my blog. I keep it real while still seeing the rainbows and butterflies in all of life's lessons.
Latest posts by Ashley Stock (see all)