Ben and I spent the first few months of our marriage squished on a tiny love seat in our teeny apartment living room watching episodes of 24 until the wee hours of the night. That tiny love seat was the only piece of furniture in the room.
So it was kinda a big deal when we made our first big purchase as a married couple–our giant, white fluffy couches from Sofas U Love, couches that fit more than two "affectionaite" newlyweds.  At the time, I didn't think twice about choosing white.
And then, 3 years later we welcomed our little babe into the world.
And that's when it started.
This couch has seen its share of messy moments.
Blueberries, yogurt, dorritto fingerprints, mushy goldfish crackers, apple juice…
and pee.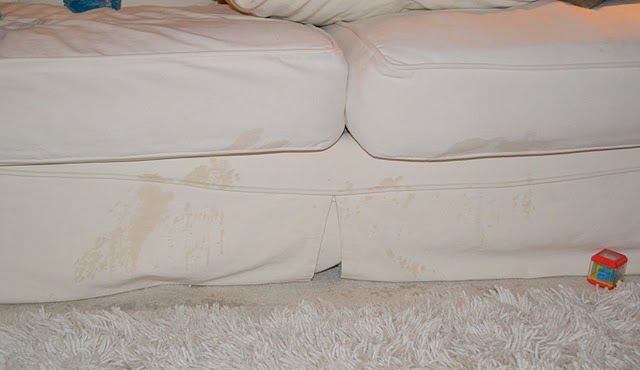 Yes, pee.
Only a few short days after the poo incident, Lil W was a bit too quiet by himself in the living room.
And after finding his diaper had been removed in the hallway, I went into the room to learn that he had managed to cover nearly every single cushion with his "stream" in a matter of seconds.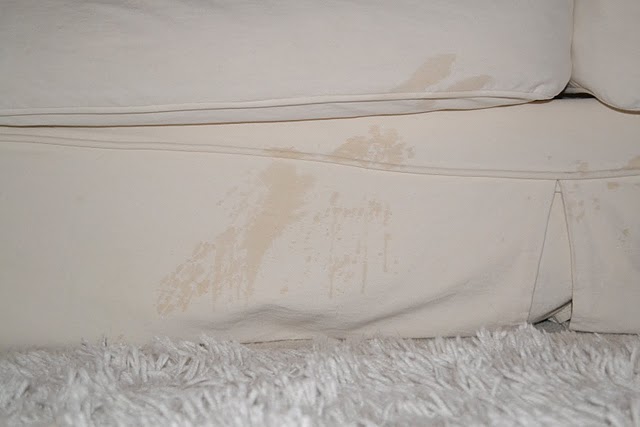 And while I'm not sure what I was thinking getting white couches, I'm giving myself a pat on the back for getting a couch with slip covers. Because in a few short hours, a load of laundry and a cap of bleach later–and my white couches were as good as new.
***
I am being compensated by The Clorox Company to talk about life's messy moments as part of the Bleach It Away Program.
*Plus, I'm really excited to share this opportunity you have to win a whopping $25,000 for writing about your Messy Moments.
***
Clorox created the Bleach It Away program to help make sure you are prepared to tackle the next messy moment you face.  Clorox wants you to share your messy moments, and wants to reward you for sharing and surviving with a chance to win $25,000. Visit www.BleachItAway.com to share your story.
Site visitors can vote for their favorite stories, and the ones that receive the most votes in a two-week period will be entered for a chance to win $25,000.
In addition, each day a featured story will be selected and awarded a $100 gift card.
Everybody who shares a story will receive a Clorox Liquid Bleach coupon to help make it easier to fight their next messy moment.
So head over and share your Messy Moment today!
If you write about a messy moment, I would love for you to leave a link here in the comments section so I can read all about it!
I'm Ashley. Sometimes I craft, occasionally I cook, everyday I write, and I'm always Momma. This is my blog. I keep it real while still seeing the rainbows and butterflies in all of life's lessons.
Latest posts by Ashley Stock (see all)